On May 2, 2023, Nordan Shat, popularly known as "FaZe Rain," took to Twitter to voice his frustration against Sebastian "FaZe CBass." It all started when FaZe Clan tweeted a joke about their co-founder Yousef "Apex" and called him "short." A few hours later, FaZe Rain responded by saying:
"Yeah, I'm leaving FaZe until we publicly kick CBass. F**king loser."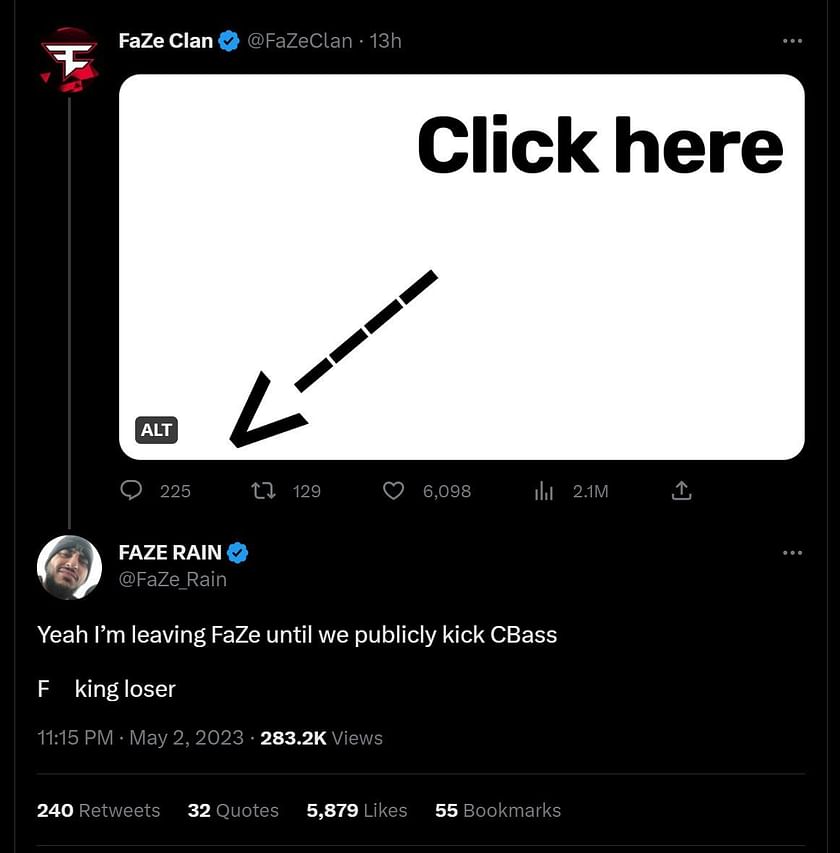 ---
"As co-owner, you should have a say on if he has a job" - Netizens react to FaZe Rain saying that he's leaving FaZe Clan
FaZe Rain has been very outspoken about the things happening in FaZe Clan. Last year, on November 30, 2022, he posted a cryptic Instagram post in which he claimed people wanted to "kill him" because he wanted to share a "story" as soon as possible.
Eight days later, the 26-year-old provided context for the social media update and claimed that FaZe Clan had "sold out the brand." He went on to say that he never made a "single dollar" from the organization and that if money was his priority, he would have taken NFT (non-fungible token) deals like "everyone else."
An excerpt from his Instagram Story read:
"Keep in mind I love FaZe the brand, not the company. The company is what sold out the brand that I sacrificed my whole childhood to build. I care so much about the true FaZe fans and gaming community. I'm one of y'all. The issue is we built such an amazing community that a lot of the wrong people got interested in the money involved and f**ked everything up."
Fast forward to May 2, 2023, and FaZe Rain has once again expressed his sentiments about FaZe Clan by saying he would quit the organization if FaZe CBass was not fired.
As expected, the post went viral, with Twitter user @XSETLaden commenting:
"I think as co-owner, you should have a say on if he has a job. But IDK (I don't know) what goes on behind the scenes, they're probably something keeping him there. If you all vote though, y'all should be able to overrule the board of directors.
Fitness influencer Brando stated that the YouTuber was in "demon mode":
According to Twitter user @MattConley, the current state of esports is similar to a "sixth-grade group project":
Prominent esports personality Jake "JakeSucky" Lucky also weighed in on the situation:
Some of the most relevant reactions were along these lines:
Hailing from Canada, FaZe Rain is a 26-year-old internet influencer best known for his Call of Duty content. He joined YouTube in 2010 and currently has over 5.3 million subscribers on his channel.
Edited by Rachel Syiemlieh