On March 22, 2023, Twitch streamer Rebecca "JustaMinx" took to her channel to host a livestream, where she was joined by her family members. Things, however, took an unfortunate turn as the content creator got into a heated argument with her mother and sister.
During the concluding moments of the broadcast, JustaMinx ended up having an off-camera physical altercation with her sister. The two could be heard calling each other out, with the former leveling some serious accusations. The streamer exclaimed:
"You are f**king coming into my room and you're lying to them (the camera tips over at this point and a loud crash is heard). Why are you lying?! Because your boyfriend is underaged! Yeah! Oh, no? You don't like that? You don't like me telling the truth? You like f**king little men! She f**ks little men!"
Timestamp: 01:45
---
"Literally turning into Gabbie Hanna of Twitch" - Streaming community shocked after watching JustaMinx's recent livestream
A short clip from JustaMinx's recent livestream was shared on the r/LivestreamFail subreddit, with over 435 community members offering their thoughts on the tricky situation. According to Redditor u/DotDotDot42069, the Twitch streamer was "turning into" Gabrielle "Gabbie" Hanna of the platform:

Another Redditor user, u/SubzeroKing, suggested that Rebecca should stop using social media:

Another community member further explained the situation, claiming that JustaMinx's sister was allegedly "leaking personal information" about her: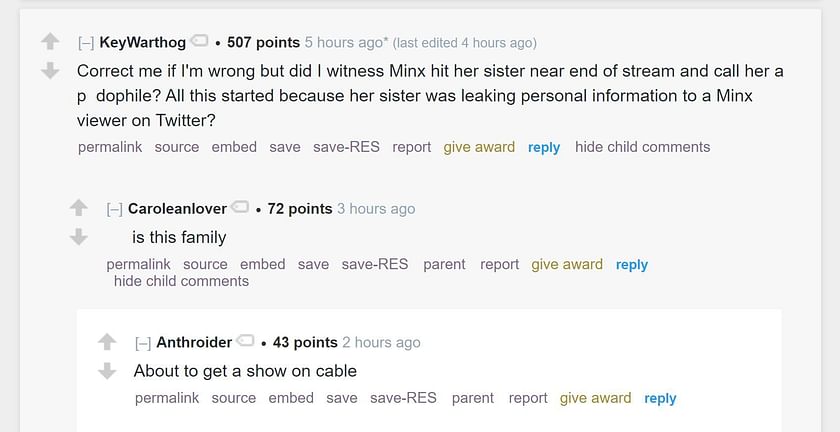 One Redditor stated that the concluding moments of the streamer's most recent broadcast were the "craziest s**t" they had ever seen on Twitch:

Some of the more relevant fan reactions were along these lines: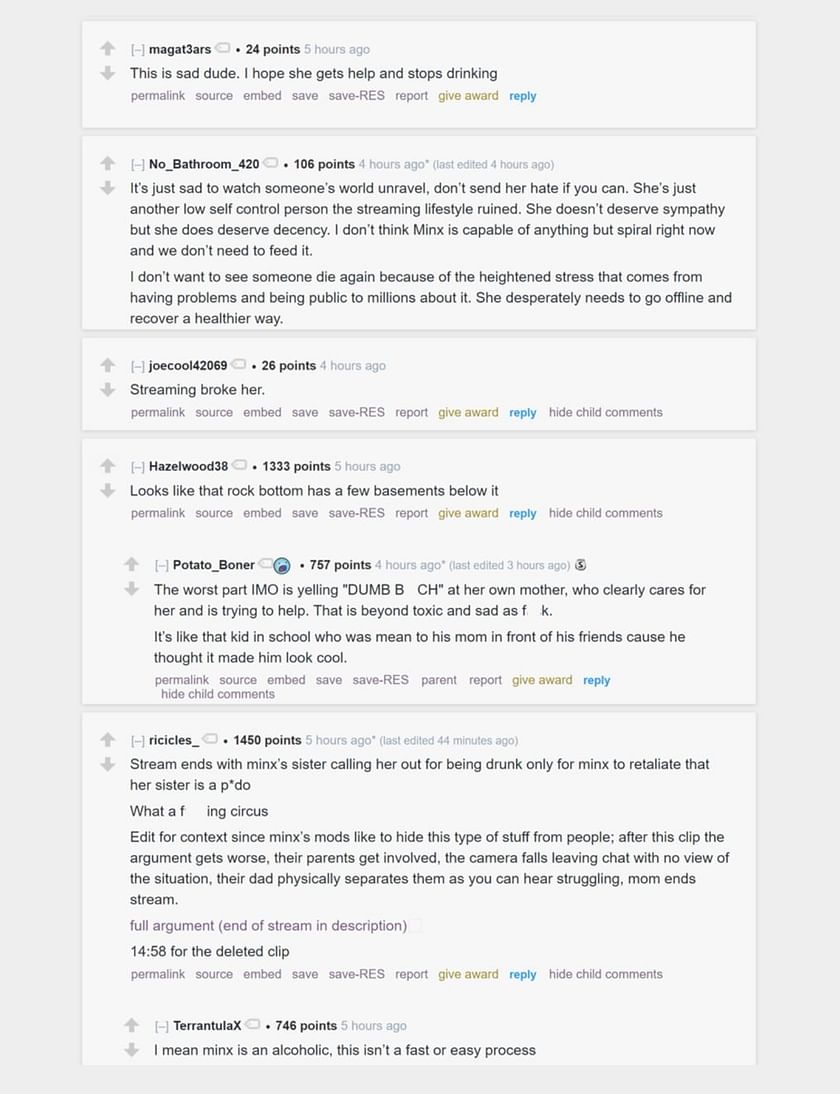 ---
The streamer responds after the controversial livestream
Drama Alert's official Twitter handle shared a livestreaming moment from Rebecca's most recent broadcast. However, the video was swiftly removed from the social media platform:
Drama Alert host Daniel "Keemstar" clarified that the streamer wasn't being accused, but was the one accusing her sister instead:
Shortly after, Keemstar shared the Irish personality's response, in which she backtracked from her previous statements:
The livestream has since been deleted from the 26-year-old's Twitch channel. Readers can access the VOD (Video on Demand) here:
---
JustaMinx has been making headlines ever since it was revealed that the Streamer Awards 2023 afterparty was allegedly shut down after she got intoxicated. Twitch content creators Felix "xQc" and Blaire "QTCinderella" provided additional context about the incident on their respective channels.