On January 22, Twitch sensation Matthew "Mizkif" returned to his channel to team up with One True King (OTK) member Bruce "BruceDropEmOff." Before the collaboration, the streamer responded to Twitch star Kai Cenat, who accused him of "snitching."
Mizkif recalled seeing Kai Cenat's viral video on the r/LivestreamFail subreddit and was saddened to see community members refer to him as "Fedkif." The Austin, Texas-based personality stated that he was upset about the situation and apologized for "snitching."
---
"I'm sorry, I snitched" - Mizkif responds following "snitching" controversy
Mizkif addressed the debacle at the start of his January 21 live stream, where he mentioned watching a clip featuring Kai Cenat sharing his opinions on the former. He stated:
"Bro, can I say something? I saw a clip of Kai getting mad at me. Dude, shout out to LSF, which is pretty much Mizkif's Reddit, at the moment, apparently. Because apparently, it's all my viewers just sitting there, all day, waiting to defend me. Shout out to you guy. Really! I didn't know I had such a die-hard, you know, LSF-only community."
The OTK co-owner expressed sadness after hearing some community members call him "Fedkif." He elaborated:
"Dude, Kai... I... it makes me sad. It makes me really f***ing sad, because like, they called me Fedkif. Like, they think I'm the Fed because they said I snitched on Kai because Kai has (IShow)Speed on stream, and I... apparently in my old stream, snitched on that. They called me... they said I'm the Fed. So I got a little upset about that because..."
Timestamp: 00:15:00
Mizkif admitted to "snitching" and apologized for making the statement. He stated:
"(I) just want to let you know, I... I'm sorry, I snitched. I snitched. I told Pluto that he (Kai Cenat) had (IShow)Speed on stream. Sorry, I snitched. I did. I did, I'm sorry. I did. Sorry. 'Rare Miz L.' I know. That's right. I know. And Pluto told me, 'Yikes!'"
After a brief pause, Mizkif claimed that he made a "blanket statement" about Twitch bans being "inconsistent." He remarked:
"The only thing I said, which is true and it's a blanket statement, and you know it's true, chat. It was! Twitch bans are inconsistent and terrible! The reason why I was p*ssed and I'm still p*ssed is because I hate what Twitch tells me. When they ban somebody, they go; because I got banned for watching that Gross Gore clip. I'm like, 'What the f**k?! Why was I banned?' And they're like, 'Yeah, it took one guy in your chat to report you and if one guy reports you, GG no re, you are, you know, you're getting banned.'"
Mizkif cited other streamers watching indefinitely banned content creators on their channels as examples. According to him, it was during this time that he mentioned Kai Cenat collaborating with IShowSpeed. He added:
"This is what I was saying, that like, 'No one's ever reported xQc for watching Destiny. No one's ever reported anybody for watching anybody. No one's ever reported Kai for watching (IShow)Speed.' That's what Kai saw and Kai immediately said that I'm a snitch. Am I a snitch for that? Let's just be honest."
---
Fans react to streamer's address
The YouTube comments section amassed over 45 fan reactions. Here are some relevant ones: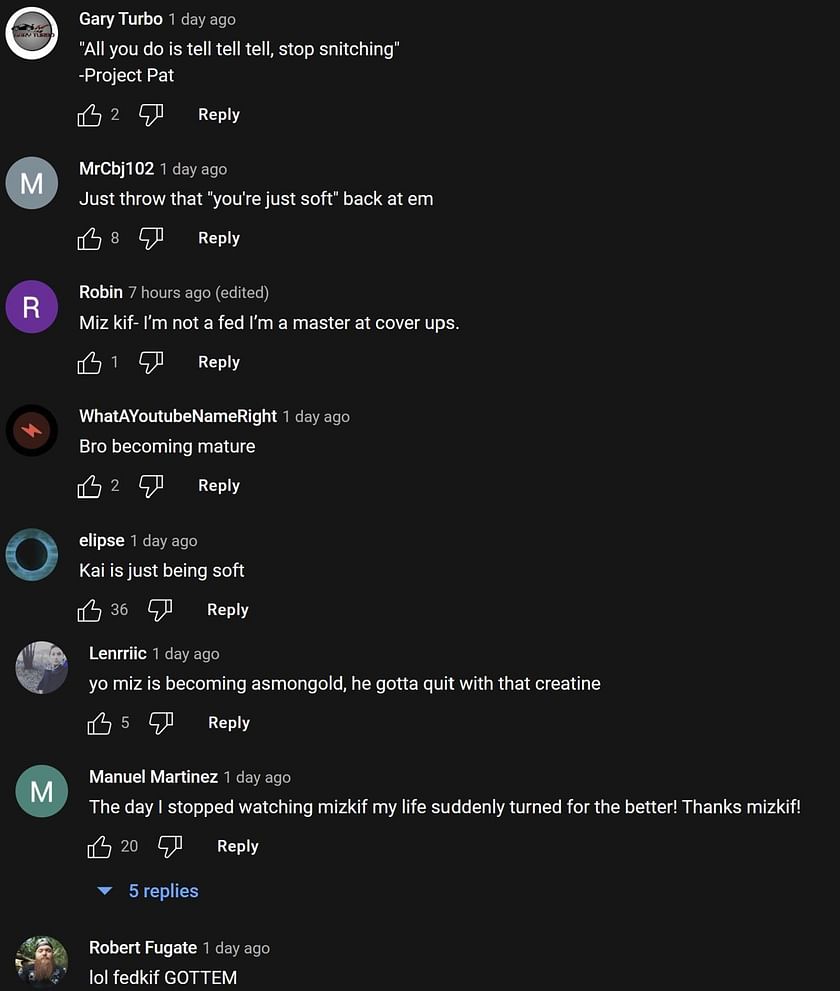 ---
For context, Kai Cenat called out Mizkif during a livestream on December 20, when the latter recalled the former inviting indefinitely banned Twitch streamer Darren "IShowSpeed" on a livestream.
Kai Cenat called Matthew's statements "weird," claiming that he "never" collaborated with IShowSpeed during the Twitch broadcast.
Edited by Dinesh Renthlei