Current Genshin Impact revenue data suggests that Nahida and Nilou's recent run in Version 3.6 is among the top ten best-selling banners for the Chinese iOS market. For those who don't know, this Event Wish phase recently ended on May 2, 2023. Thus, much of the current data about it is already available to compare to other banners. Just keep in mind that this information comes from Genshin Lab, and it's not guaranteed to be 100% accurate.
Still, some Travelers like to compare available data, so this article will contain the latest information about the best-selling banners in the Chinese iOS market. Other regions will have different figures. This article will solely focus on the Chinese iOS market.
---
Nahida and Nilou rerun is 10th place in the Chinese iOS market regarding Genshin Impact banner revenue

In case the above infographic is hard to read, here is a summary:
Hu Tao & Yelan: $45,648,916
Raiden Shogun & Ayato: $37,919,130
Ayaka & Shenhe: $35,962,024
Ayaka: $35,939,066
Nahida & Yoimiya: $34,017,290
Raiden Shogun & Kokomi: $33,560,259
Raiden Shogun: $33,020,905
Yelan & Xiao: $32,177,144
Venti: $30,632,752
Nahida & Nilou: $28,019,235
The banner phase relevant to this topic is the tenth one, which featured Nahida and Nilou in the first half of Genshin Impact 3.6. Interestingly, it is not the Dendro Archon's only placement on this list, for she was also present in fifth place.
Her fifth-place ranking was also her debut, which would help explain why that banner did better than her rerun. However, it is worth noting that this character's debut was for an Event Wish that lasted only 16 days, whereas her rerun was 20 days long.
---
Other information about Nahida's banner in Genshin Impact 3.6
It is vital to mention that the impressive sales figure of $28,019,235 includes both Nahida and Nilou's banners from Genshin Impact 3.6. Unfortunately, no data exists to confirm which of the two Event Wishes had the bigger impact on the overall sales. Nilou's debut banner was far less successful than the Dendro Archon's, but that detail doesn't necessarily mean people would have the same mind for their reruns.
Let's look at alternate data since Genshin Lab has no specific proof for this topic. Paimon.moe data indicates that Nahida was more popular than Nilou by a fair margin, based on the following information.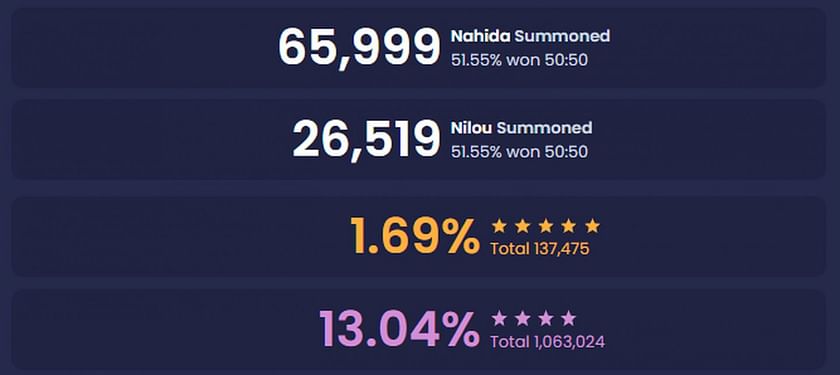 It would be logical to assume that the Chinese iOS market would follow a similar pattern as the global playerbase, especially since the Dendro Archon is far more important to the game's story. HoYoverse has not released any official figures on these Event Wishes.
Besides that, it's worth mentioning that Genshin Lab does not have any specific Android data, so this article focuses solely on Chinese iOS revenue. That information is derived from App Store data. The latest Event Wishes features Baizhu and Ganyu in the second half of Genshin Impact 3.6.
By the time this article was written, it was far too early to tell how Baizhu and Ganyu would fare by comparison.
Poll : Did you spend money on Nahida's banner in Genshin Impact 3.6?
43 votes
Edited by Sijo Samuel Paul