The 2022 PUBG Mobile Global Championship (PMGC), a $4 million prize pool tournament, concludes on January 8 with 51 global squads competing. The League Stage ($2.5 million) of the yearly mega competition was completed on December 4, while the Grand Finals ($1.5 million) wrapped up yesterday. S2G Esports from Turkey lifted the elusive trophy.
The tournament has generated peak viewership of over 851K, crossing the 2021 PMGC (646K) mark but failing to surpass the 2020 edition (3.8 million), according to a report by Esports Charts. Incidentally, the last championship match attracted the highest number of concurrent viewers.
---
PMGC 2022 Grand Finals viewership, popular language, and platform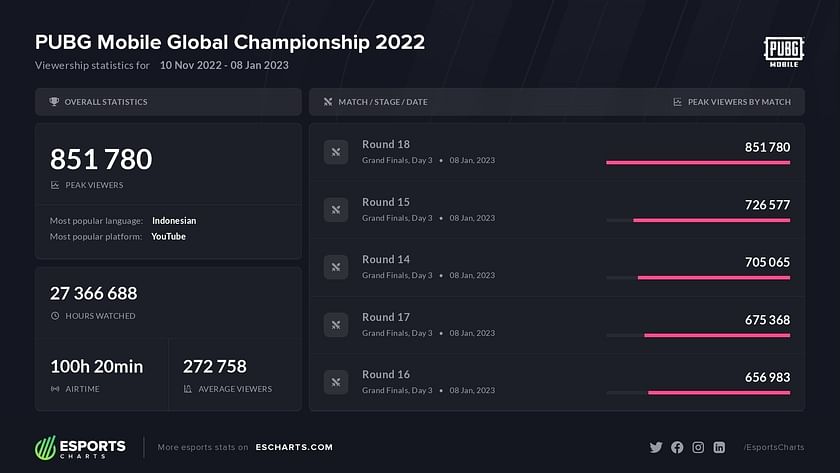 It is also worth mentioning that the viewership graph increased on the last day of PMGC. The second match of the day, held on the Miramar map, crossed 700K concurrent viewers for the first time in the event, while the third encounter also generated approximately 726K in viewership. It averaged 2,72,758 viewers and generated over 27 million hours of viewership.
The Grand Finals was broadcast in 14 languages and live-streamed on four platforms: YouTube, Twitch, Facebook, and Tik Tok. The event was held in Jakarta, Indonesia, with three popular Indonesian celebrities performing live at the venue on Day 2 and Day 3.
Indonesian was the most popular language in the PUBG Mobile event, as the largest number of viewers watched the tournament broadcast specifically in this language. Meanwhile, YouTube was once again the most popular streaming platform during the event.
Nepal's DRS Gaming attracted the fans' attention by producing an unpredictable performance to earn second spot. Meanwhile, Brazilian side Alpha 7 also had another good tournament to finish in third place.
However, the 2020 and 2021 world champions Nova Esports failed to live up to expectations. GodLike Stalwart and IHC Esports, on the other hand, had an extraordinary comeback, taking fourth and fifth spots.
During the Grand Finals, it was also announced that the first international event of 2023 will be the PUBG Mobile World Invitational, which will take place in July in Riyadh, KSA. The fourth season of the Global Championship will be held in Turkey. It will be interesting to see how much viewership these events garner later this year.
Edited by Dinesh Renthlei