During a livestream on March 20, 2023, Twitch star Chance "Sodapoppin" reacted to the platform recently laying off 400 employees. While reading a blog post detailing the matter, the content creator's attention was drawn to a Twitch staff member in his chat room, Pluto, who commented:
"Won't know till next week."
Flabbergasted after reading this, Sodapoppin wondered whether the fired employees were still unaware of their situation. He then stated:
"I mean, I don't know how this kind of stuff works. But... I'm just a stupid streamer. That sucks! That's got to be stressful as f**k!"
---
"50% chance that you're fired" - Sodapoppin reacts to Twitch staff member
Sodapoppin was two hours into his broadcast on March 20 when viewers informed him that Twitch had laid off 400 employees. The streamer began reading the address of new Twitch CEO Dan Clancy.
An excerpt from the most recent blog post read:
"Today I shared with Twitch employees that we've made the difficult decision to reduce the size of our workforce, which results in us having to say goodbye to just over 400 people. As a company focused on building community together, this decision was incredibly difficult and one we did not make without considerable thought."
The One True King (OTK) co-owner began pondering which verticals of the platform were fired when Pluto, a Twitch staff member, claimed they had no idea about the situation and said:
"No clue yet."
Timestamp: 02:14:00
After reading Pluto's comments, Sodapoppin exclaimed:
"What?! Is that actually it? 'Amazon laid 9,000 people...,' I don't know. Damn! That's crazy! (the streamer reads Pluto's comments) Wait, the people who got fired don't even know who yet? Oh, my god! That's crazy!"
The Austin, Texas-based personality claimed that the situation "sucked," and that nearly half of the workforce was let go:
"I don't know. I'm just reading Twitch chat. But it's like, there's 1,100 people working and 400 people got fired. It's almost half! It's like, 50% chance you're fired. What the f**k. 'I'm moving in next week.' Dude! Holy s**t!"
---
Online community reacts to Pluto's comment
A reaction thread featuring Pluto's revelation was a highly upvoted post on the r/LivestreamFail subreddit. According to Redditor u/cgc86, Twitch made a "horrendous leadership decision.":

Another Reddit user commented on the situation: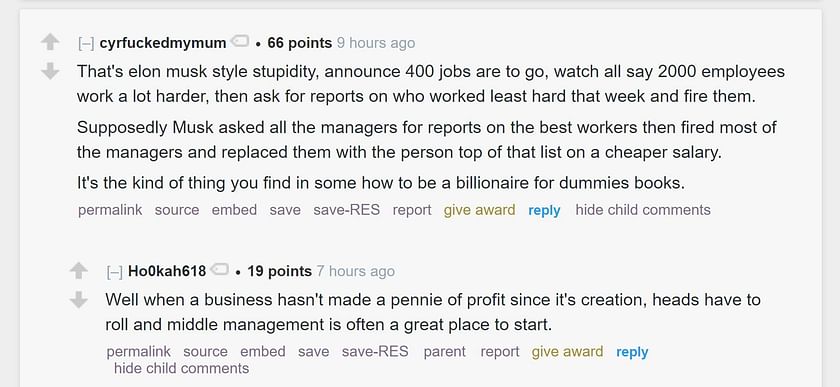 Here are some more relevant fan reactions: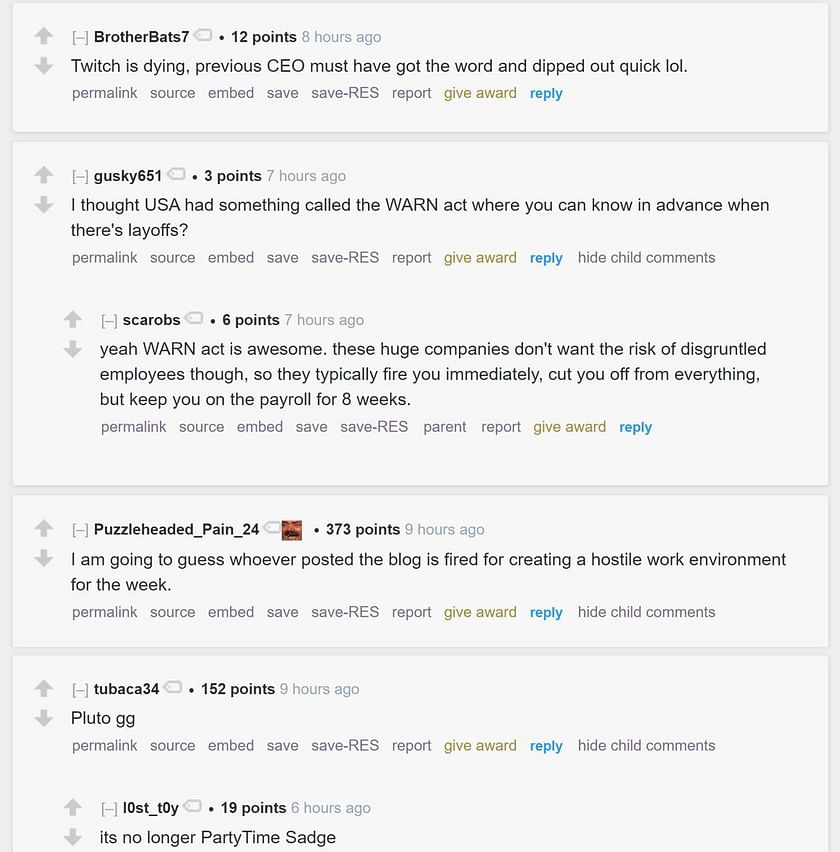 ---
Twitch's decision to lay off 400 employees sparked a heated debate on the internet, with many Twitter users wondering if the affected employees were informed of the decision.
Edited by Sandeep Banerjee