Zack "Asmongold" faced a game-breaking crash minutes after getting into Diablo 4, which deleted his character, forcing him to restart his playthrough from the beginning.
Blizzard's brand-new ARPG is a highly anticipated entry in the famous Diablo franchise. Those who have pre-ordered certain versions of the game have been given access to a BETA build over the weekend. As a longtime Diablo fan, Asmongold was one of the many creators streaming the game as soon as possible.
However, a server crash hilariously disconnected him from the game moments after he claimed to have streamer privilege. The OTK co-founder was furious and ended up cussing the game out:
"This is disgusting. What a dumb f*cking game!"
---
Asmongold's Diablo 4 hilariously crashes seconds after he claims immunity to bugs as a streamer
After a bit of progress in Diablo 4, the streamer found himself following an NPC into a tavern. After some exposition, his audience informed him of a mass 'DC' or disconnection error happening to some of them.
Zack, however, reassured them that because of his content creator status, he was safe before making the fateful mistake of clicking on a random NPC:
"DC incoming? No it's not going to DC me. I'm a streamer, I am special... it's not going to be a problem guys, I'm not worried about it. So let's see what happens when I interact with like a random NPC."
Hilariously, immediately after clicking on the old lady in the tavern, Asmongold's game crashed, and a dialog box popped up on the screen which read:
"Network Disconnect. The game connection has been lost: your client has been disconnected from the server."
Timestamp 1:57:28
After staring at the screen in disbelief, Asmongold tried to start a new game and got quite furious, considering he had just started playing it. But that wasn't even the worst part, as he soon found out that his character, which he had painstakingly customized at the beginning of the last playthrough, was completely gone and could not be retrieved. He roared:
"What's this? Come on! I thought I was a streamer, how is this happening to me? This is disgusting, what a dumb f*cking game! Wait, where is my character?"
After trying a few times, he finally got back into the game and claimed that whatever the issue was would not bother him again. He stated:
"This happened to everybody? Nah, nah, nah, it's not going to happen. Trust me, it's not a big deal."
Thankfully, Asmongold was quite right, as after a bit of a scare with pop-ups claiming that he was locked out of his account, the streamer got back in. After skipping all the initial cutscenes, he started playing like normal.
---
Some fan reactions to the game
Here are some comments from the clip shared on YouTube. Most of them made fun of Blizzard, the developers behind Diablo 4, for a bug that could potentially wipe out entire character save files from the game.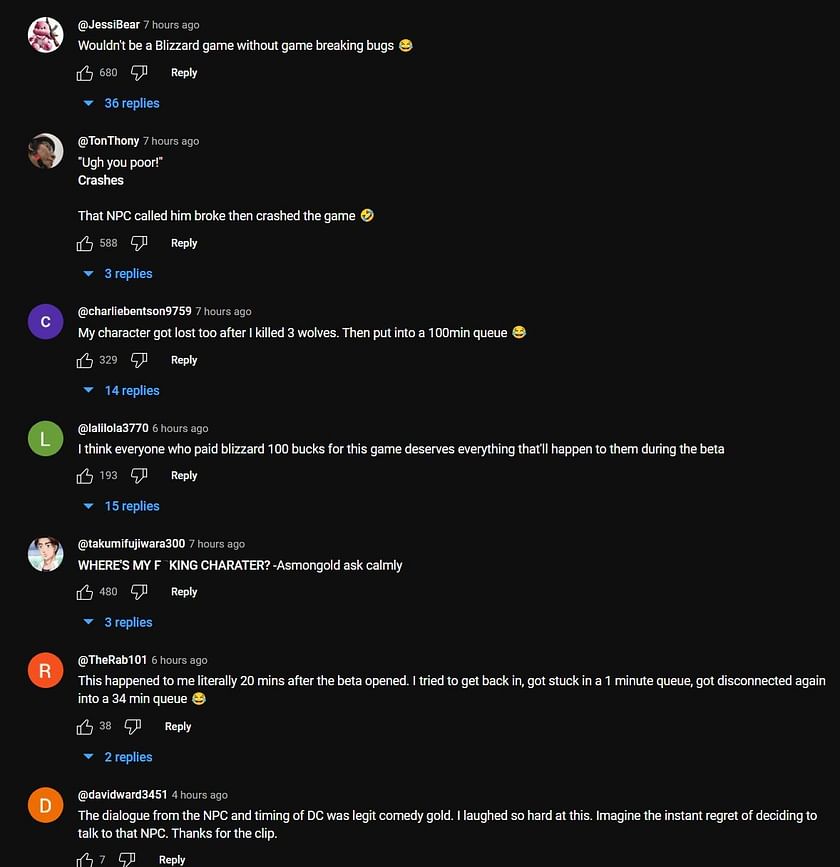 ---
Diablo 4 will also have another beta, open to all players the following weekend, from March 24-26. The official release date for the full game will be in June, so fans will have to wait a while to get their hands on it.
Edited by Sijo Samuel Paul