Twitch streamers Felix "xQc" and Kai Cenat have shared their thoughts regarding the recent Twitch ban of Bruce "BruceDropEmOff," albeit in different ways. While xQc remained on the fence, refraining from taking a firm stance, Kai disagreed with the ban.
For those unaware, Bruce's previous ban was due to his use of the word "cracker," which some consider a racial slur. In the second instance, he sarcastically displayed a banner with the 'F' word and a box of saltine crackers.
While the incident sparked much debate and controversy, Felix and Kai's responses were relatively measured.
---
"I could buy salt and crackers" - Kai Cenat and xQc speak about BruceDropEmOff's recent Twitch ban
BruceDropEmOff has been in the headlines over the past few months for various reasons. He first made headlines when he announced his departure from OTK, which surprised many of his fans. However, his recent Twitch bans have caused the most controversy.
As a result, many in the streaming community have been discussing the situation, with both xQc and Kai Cenat providing their take on the matter while co-streaming. The latter said:
"I woke up to it. Bro, I really don't know what's going on right now, I'm ain't gonna lie. I'm just waiting to sleep."
(Timestamp: 03:35:11)
Kai, in turn, asked Felix for his opinions regarding the ban. The Canadian reflected:
"I don't know...I think he did something first, right? The platform didn't like it and then he did it again."
He continued:
"Well, I think the first ban was because he kept saying it and after that, he didn't say it, he kinda show it."
Kai, who has previously streamed with Bruce, said that showing the banner and box should not be considered a bannable offense. He stated:
"Yeah, but I could go to the store and buy saltine crackers and show on my stream."
The Canadian responded by stating:
"Yeah, makes sense."
Despite the measured takes from both xQc and Kai regarding BruceDropEmOff's recent Twitch ban, the topic remains highly debated within the streaming community.
---
Here's what the internet said
Reacting to the duo's latest take on the ban, many viewers commented on it. Here are some of the comments: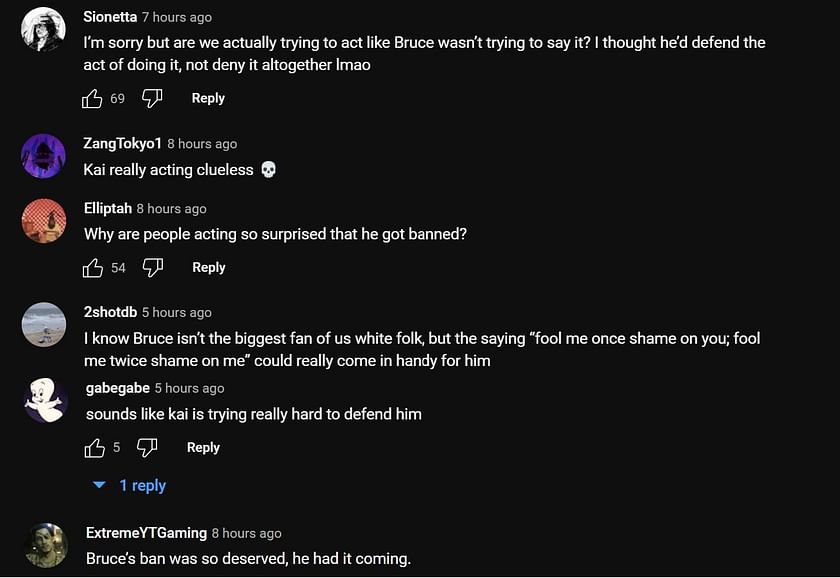 ---
While many believe that BruceDropEmOff's recent Twitch bans directly resulted from his behavior on his live streams, the streamer himself has claimed otherwise. In a recent tweet, Bruce asserted that the ban was not due to his actions but rather a result of spam reports.