A new chapter unfolded in the ongoing controversy between Twitch streamer Hasan "HasanAbi" and Kick content creator Adin Ross. For those unaware, Ross made headlines on May 1, 2023, when he boasted about copyright striking a YouTuber and pocketing $8,000 in ad revenue. HasanAbi addressed the situation in a livestream, claiming that he would provide financial assistance to those who wanted to sue Ross.
On May 2, 2023, fans shared YouTube's response to the debacle, confirming that Adin Ross had retracted his copyright claims. When HasanAbi saw this, he called out the Florida native's antics and exclaimed:
"Oh, they f**king went and reversed this one. Okay! F**king p**sy! Yeah, that's right! You f**king b**ch! Exactly! Motherf**ker!"
---
"He knows it's f**king bulls**t" - HasanAbi rejoices after Adin Ross retracts his copyright claims against YouTubers
HasanAbi was six hours into his broadcast earlier today when his audience asked him to take a look at YouTube's response to Adin Ross' copyright claims. After reading the social media update, he called the 22-year-old streamer a "b**ch" and added:
"Because he knows, he knows that's f**king bulls**t! He knows it's f**king bulls**t! Oh, my god! What a f**king a**hole, dude. What a f**king b**ch!"
The Turkish-American personality was relieved that the situation had been resolved. He also stated that content creators who issue false strikes should be "marked" on the platform:
"I'm so glad! I'm glad that this was resolved. I'm glad that this matter was resolved. He's such a f**king a**hole, dude. What a f**king piece of s**t. YouTube should make it so that there is a literal f**king mark for content creators that actually are issuing false copy strikes. They receive no punishment, whatsoever!"
Timestamp: 06:15:50
The political commentator then started to look at things off-stream and was surprised to see that YouTube had removed a strike from his channel that Adin Ross issued:
"Wait, hold on. What happened on this? I think, wait. Did YouTube resolve mine too? Oh, my god! Wait, wait, wait! I'm looking at it right now. It says, 'Important notification. You've received a copyright claim,' I click on the, 'View options,' and it says, 'Video...' wait, oh, no! Go on. Wait a minute. Whoa, whoa, whoa. Well, well, well. Wait a minute, video copyright details - channel not affected! Interesting! Interesting development that just happened on this video!"
---
Fans react to the streamer's clip
HasanAbi's take on Adin Ross retracting the copyright claims was among the top posts on the r/LivestreamFail subreddit. Here's what the Reddit community had to say: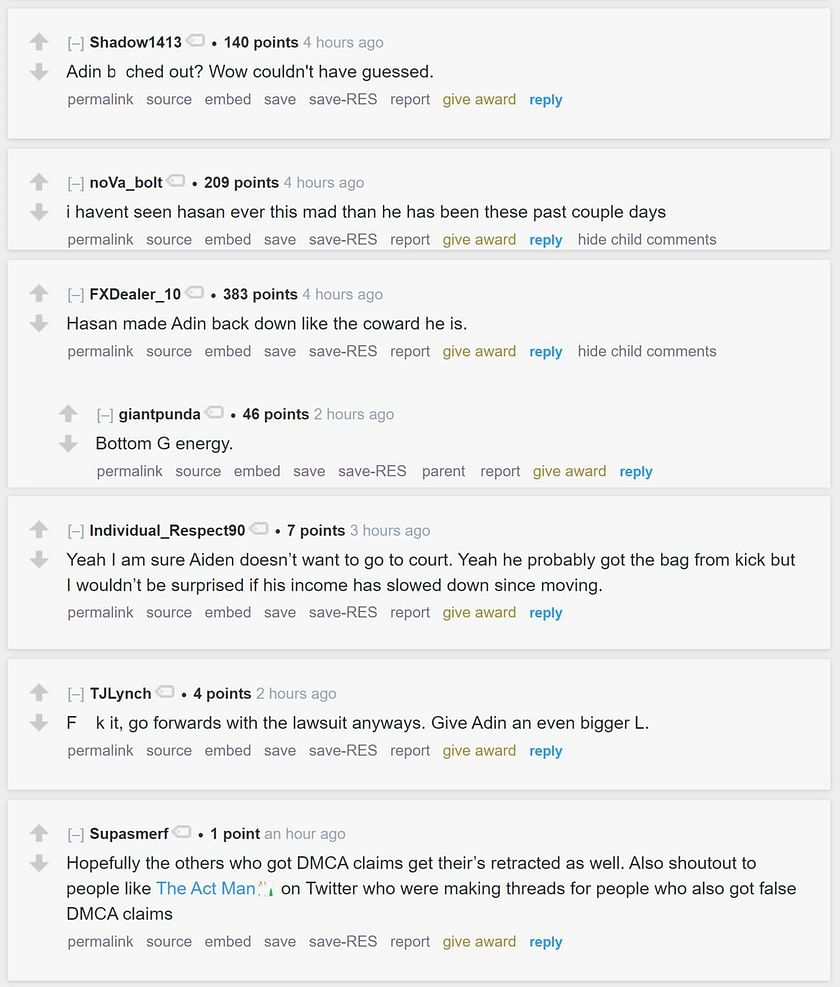 While one Redditor claimed that they had never seen HasanAbi so enraged by a situation, another speculated that Adin Ross retracted the claims because he did not want to go to court.
Edited by Rachel Syiemlieh