The latest Genshin Impact 3.6 leaks reveal the pictures and effects of two new artifact sets. One is called Nymph's Dream, and the other is known as Dewflower's Glow. Nymph's Dream has a Hydro buff for its two-piece set effect, whereas Dewflower's Glow's 2-piece effect increases the user's HP.
Do note that everything shown in this article is subject to change. What is shown here could be the final product, or it could be tweaked.
---
Genshin Impact 3.6 leaks: All you need to know about Nymph's Dream and Dewflower's Glow artifact sets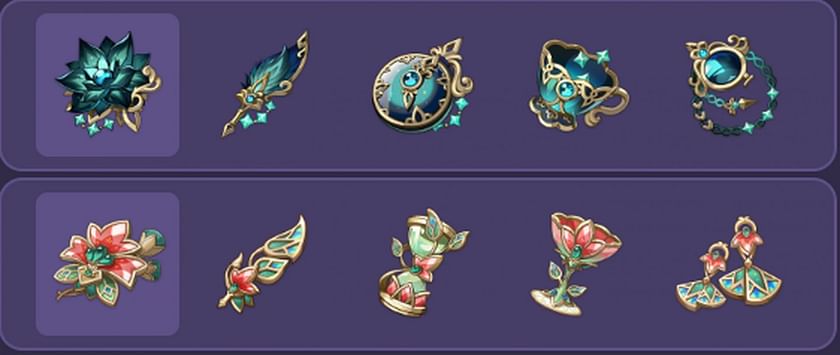 Let's start with Nymph's Dream. It's the blue-green set in the top row pictured above.
The two-piece set effect is +15% Hydro DMG. By comparison, its four-piece set effect is much more specialized, with the current Genshin Impact 3.6 leaks stating:
"When Normal, Charged, or Plunging Attacks, Elemental Skills or Elemental Bursts hit an opponent, each attack type can provide 1 stack of Nymph's Croix for 8s. Max 5 stacks. Each stack's duration is counted independently. While 1, 2, or 3 or more Nymph's Croix stacks are in effect, ATK is increased by 7%/16%/25%, and Hydro DMG is increased by 4%/9%/15%."
Interestingly, there was a leak earlier that stated that Childe would get a new artifact set in Genshin Impact 3.6. The leaker later admitted that it was fake, but the above set does synergize with the character nicely.
Any Hydro character who can reliably stack Nymph's Croix will likely appreciate this new set (like Childe).
Up next is Dewflower's Glow. Its two-piece set effect is +20% HP. According to the Genshin Impact 3.6 leaks, here is the four-piece set's effect:
"Gain 10% Elemental Skill and Elemental Burst DMG Bonus. When the equipping character takes DMG, this basic effect is increased by 80% for 8s. Max 5 stacks. The duration of each stack is counted independently. These stacks will continue to take effect even when the equipping character is not on the field."
This artifact set should be helpful for characters like Dehya. Whether it will make her viable or not is a different question altogether. On a related note, some players might wonder where they can find these new artifact sets.
A new Domain will debut in Genshin Impact 3.6, which will feature these pieces of equipment.
---
What else is new in Genshin Impact 3.6?
A ton of content has been leaked about Genshin Impact 3.6 thus far. Examples of what has been revealed thus far include:
Baizhu's abilities and materials
Kaveh's abilities and materials
New map locations
New Genius Invokation TCG cards (Itto, Ayato, and Tighnari)
New enemies and materials
True Fruit Angler, Halycon Jade Axe Marlin, and Lazurite Axe Marlin
The unnamed main event, Fulminating Sandstorm, Brewing Developments, and The Recollector's Path
Everything listed above is subject to change. Baizhu and Kaveh are two brand-new characters that many players are looking forward to getting in the upcoming update. This content and the forthcoming artifact sets are sure to excite players once they're released.
Poll : Do you already have a good artifact set for Childe?
388 votes
Edited by Rachel Syiemlieh