Genshin Impact 3.5 leaks currently reveal the 4-star characters for Dehya's banner and the weapons for the upcoming Epitome Invocation. Everything shown below is subject to change. It should be noted that these leaks come from reliable sources, so there's a solid chance that this information could be accurate.
The current rumors reveal:
The featured 4-star characters for both banner phases
The entire first Epitome Invocation
HoYoverse has yet to reveal any full details on these two topics by the time this article was written. This roundup will start with the rumored 4-star characters that will get boosted summon rates on Dehya's banner in Genshin Impact 3.5.
---
Genshin Impact 3.5 leaks: Dehya 4-star characters and weapon banner
The above tweet refers to a leak on Baidu where a user wrote the featured 4-star characters. It came out of nowhere, but other leakers started to support it and call it accurate. The part relevant to Dehya's banner is that the following 4-star characters will be featured:
Technically speaking, these units also have boosted summon rates on Cyno's Event Wish since it happens simultaneously with Dehya's.
A countdown should give players an idea of when the first phase will begin. It also reveals when Genshin Impact 3.5 will launch since it will be released on the same day as the upcoming banners.
11 am (UTC+8) on March 1, 2023 is when Dehya's banner will debut. HoYoverse is expected to reveal the official banners sometime before that date, which will either prove or disconfirm the legitimacy of the above leak.
It is worth noting that the above countdown is also relevant for the upcoming Epitome Invocation leak.
---
Weapon banner leak
According to the leaker Mero, the featured weapons for the first Epitome Invocation of Genshin Impact 3.5 will be:
Beacon of the Reed Sea
Staff of the Scarlet Sands
The Alley Flash
Alley Hunter
Dragon's Bane
Eye of Perception
Sacrificial Greatsword
Beacon of the Reed Sea is meant to be Dehya's signature weapon, whereas Staff of the Scarlet Sands is Cyno's. It is vital to mention that Dehya has been confirmed to be on Wanderlust Invocation from Version 3.6 onward. Thus, it is unknown if Beacon of the Reed Sea will return.
Something similar happened with Tighnari, and his signature weapon, Hunter's Path, is yet to return.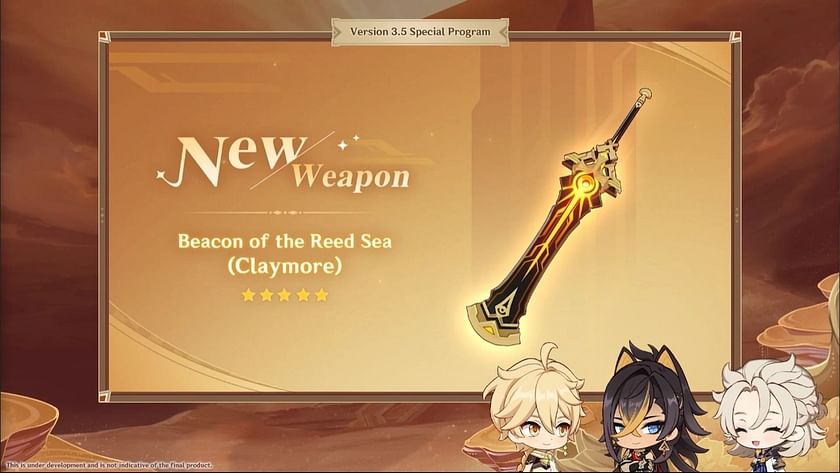 Just for reference, here are the last times these weapons were featured on a banner in Genshin Impact:
Beacon of the Reed Sea: N/A
Staff of the Scarlet Sands: September 28 - October 14, 2022
The Alley Flash: July 13 - August 2, 2022
Alley Hunter: August 2 - August 23, 2022
Dragon's Bane: February 7 - February 28, 2023
Eye of Perception: December 7 - December 27, 2022
Sacrificial Greatsword: November 2 - November 18, 2022
Interestingly, Dragon's Bane was just on the previous Epitome Invocation. Travelers will soon find out if this weapon banner leak is legitimate. Its release date is also March 1, 2023.
Poll : Will you try to get Beacon of the Reed Sea?
51 votes
Edited by Sijo Samuel Paul