The latest overnight sensation on TikTok is a former member of the US Navy - Bella Poarch.
According to reports, Poarch is a 19-year-old social media influencer who originally hails from the Philippines, having moved to the United States at the age of 13, and currently resides in Hawaii.
Her claim to fame is a viral TikTok where she lip syncs to Millie B's infectious track 'M to the B' and dishes out a range of facial expressions.
In the aftermath of the clip (which has so far amassed a whopping half a billion views and 38 million likes) and despite having only joined the video-sharing app in April this year, she has been averaging around 1 million followers each day.
Check out Bella Poarch's viral 'M to the B' TikTok clip below, which started it all:
Over the past few months, Bella Poarch has been facing criticism for blowing up all over the internet for no apparent reason as several believe her TikTok's are repetitive and lack wholesome content/effort.
Despite this, she seems to constitute one of the best examples of an internet success story, considering her popularity continues to be on the rise, as we speak.
---
The life of Bella Poarch: PTSD, Rising Sun tattoo and Tyga
According to her Instagram bio, Bella Poarch initially started out as a 'US Navy vet'.
She is believed to have joined the US Navy in 2017 and was in service for three years, until she left in 2020 to pursue other avenues.
Her initial Instagram posts are mostly pictures from her Navy days, which offer a glimpse into her pre-TikTok life:
Apart from being an extensive traveller, Bella Poarch is also a fan of video games, music, anime and art and has revealed that she would like to join popular streaming platform Twitch someday.
While she can be found occasionally streaming on Twitch these days, she has her own set of apprehensions pertaining to this due to mental health-related issues which include PTSD and depressive disorder, which she revealed in a recent tweet:
Bella Poarch has also been embroiled in a few controversies lately. Firstly, a section of the online community labelled her as 'racist' for seemingly making an offensive reference to address her friend, who is a person of colour.
She refers to him as 'Harambe' the gorilla, who was infamously killed in the Cincinnati Zoo back in 2016.
In reality, it turned out to be his actual nickname:
Secondly, she again received flak for an offensive 'rising sun ' tattoo, which is considered to be a 'hate symbol' as it serves as a painful reminder of Japanese war crimes and human rights abuses during their reign of Imperialism.
In the face of rising backlash, Bella Poarch went on to make a public apology to all Koreans specifically:
However, she seems to have gotten the better of her controversies as her stock continues to rise in the realm of social media.
For example, she recently appeared alongside Grammy-nominated American rapper and Kylie Jenner's ex, Tyga, in a TikTok video, which has now gone viral all over social media.
Due to her sudden popularity and proclivity towards portraying the 'kawaii creator', some fans even seem to have noticed a resemblance with controversial internet personality, Belle Delphine.
All in all, despite the controversies and comparisons, it seems like Bella Poarch is currently sitting comfortably atop the TikTok charts as her followers continue to grow steadily with each passing day.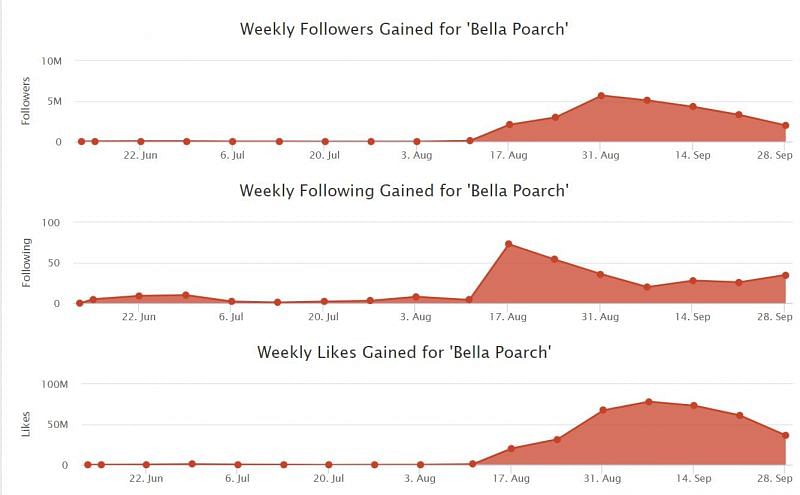 Edited by Rachel Syiemlieh