Popular Twitch streamer Felix "xQc" used to be one of the top sponsored gamblers on the website before it was severely restricted back in October of 2022. As one of the top streamers, he used to bet obscene amounts of money, winning and losing hundreds of thousands betting on Slots. Back in June 2022, Felix lost nearly a million dollars gambling on Stake.com after a glitch on the website wiped away his earnings.
While the huge loss bothered him quite a bit, xQc did not call it quits and continued streaming under the Slots category of Twitch for months. This article looks back at how his record wins, worth more than $800,000, in a gambling game called The Wild Machine, were lost due to a site glitch.
---
"F*ck I am so stupid": How xQc lost $825K gambling on Stake.com due to a server glitch
The Twitch clip titled 'gamba gamba gamba' has almost 30K views and captures the exact moment the Canadian streamer lost almost a million dollars playing Slots on Stake.com. As a sponsored streamer, he was in the habit of gambling for hours on his streams, interspersed with other game streams.
As mentioned before, he was playing the game called The Wild Machine and as per the clip, had won exactly $825,050. A huge number, even for a successful streamer such as xQc. He welcomed the results as a nice respite from his constant losses and reacted thusly:
"F*ck! It was about time for this piece of f*cking dogsh*t."
Furthermore, when he checked the 'Big Wins' tab, it turns out that it was a world record:
"So we're world record by a margin of two."
The victory, however, was short-lived as what he did next glitched out the website, causing him to lose all his winnings. xQc had pressed the reload button, which did not have a good effect, as a white screen with the letters that read "500 Internal Server Error" appeared on the screen.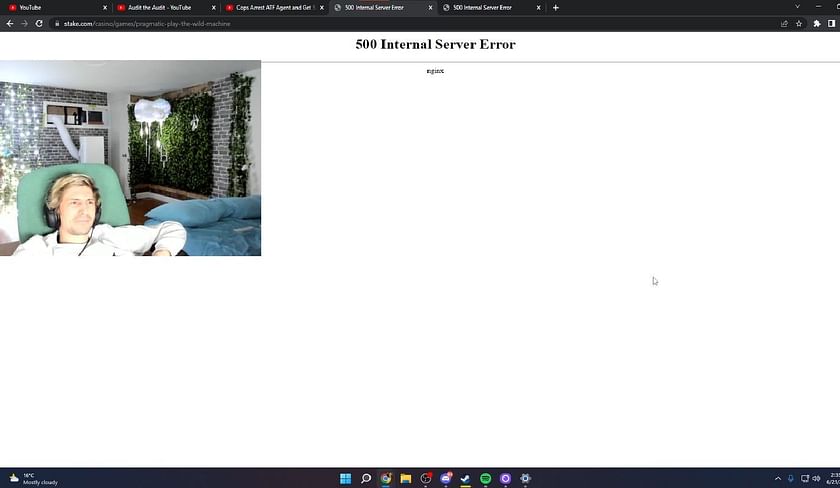 Suffice it to say, the streamer reacted violently to the glitch, cursing and blaming himself for being responsible for wiping out his world record earnings of almost a million dollars. Here is what he said:
"No! What did I do, f*ck I am so f*cking stupid. F*ck I am so stupid. F*ck!"
The former Overwatch pro was distraught at the disaster for a few minutes before he moved on to play other games. Incidentally, he didn't have a good time there either after he got banned from a Day Z server and blamed for stream-sniping one of the admins.
---
The Just Chatting streamer of the Year has continued to gamble on stream, be it on crypto gambling websites such as Stake or the more conventional games such as Counter-Strike: Global Offensive which have a loot box mechanic akin to gambling.
Edited by Sijo Samuel Paul