It is winter. Winters are hard for F1 fans. There's nothing to feed the adrenaline. Winter testing is a few months away. So what do you do, while waiting for the F1 season to begin? Well, here are some suggestions. Adopt at your convenience.
1. Start training for a marathon.
2. Watch classic races on YouTube.
3. Make an F1 list on Twitter for nuggets of news.
4. Memorise the car numbers for all the next year's drivers.
5. Practice parallel parking around the block.
6. Search prices for Kimi Raikkonen bobbleheads.
7. Mark reminders for all 21 races on Google Calendar.
8. Start posting ironically on F1 Reddit threads.
9. Give in to the guilty pleasure temptation and see Talladega Nights: The Ballad of Ricky Bobby.
10. Request graphic designer friend to make your favourite driver's wallpaper(s).
11. Try doing a shoey at a wedding party.
12. Register for local go-karting.
13. Don't overspend on plum cakes for Christmas.
14. Resolve to stick to New Year resolutions at least until the season starts.
15. Decide on running the half marathon instead. 21 kms is 3 laps around Spa-Francorchamps. It is enough.
16. Watch the 2018 throwback animation below everyday
17. Set a Google alert for any Adrian Newey news.
18. Start a Daniel Ricciardo fan club at the go-karting club.
19. Order 'LICK THE STAMP AND SEND IT ' red hoodies for the winter.
20. Find more petrolheads to add to the F1 Twitter list.
21. Search e-bay for Fernando Alonso classic Indy 500 memorabilia. Kimoa?
22. Re-watch Asif Kapadia's stunning Ayrton Senna documentary.
23. Try to not cry during the funeral scenes. Fail at it.
24. Figure out how F1 Jefe - Chase Carey gained his wealth.
25. Figure out what moustache grooming product he uses.
26. Start following Jennie Gow and Lando Norris.
27. Follow-up on Sophia Floersch's health after her Macau Grand Prix crash.
28. Finnish Finish Kimi's Biography.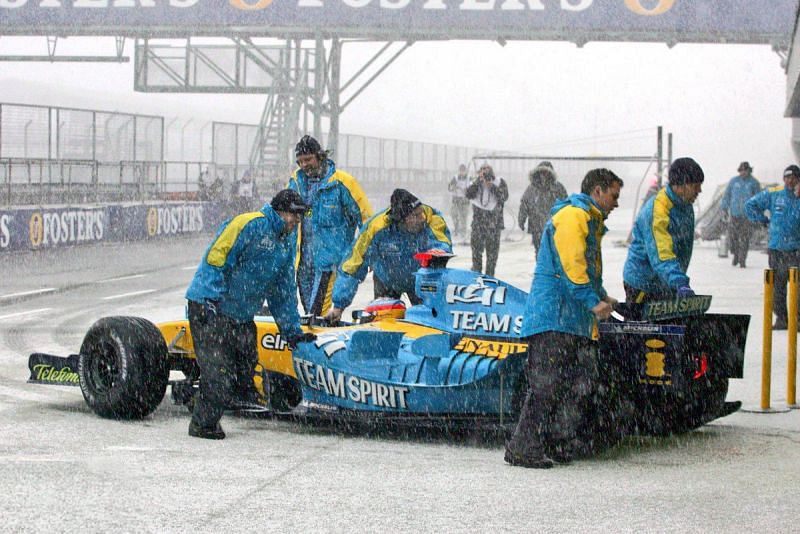 29. Research the rise and fall and all of Flavio Briatore.
30. Make an F1 playlist on Spotify.
31. Wait for it to go viral.
32. Subscribe to Auto Magazines. Use the discount when you can.
33. Support F1 channels on Patreon. Spread the Christmas spirit.
34. Sign up petitions online to keep the British Grand Prix at Silverstone.
35. Start watching Formula E ( The cars have gotten real quick! ).
36. Of course, watch the Dakar Rally! And Daytona.
37. Find out if Pastor Maldonado can somehow find an F1 drive.
38. Edit a Maldonado-Grosjean crash compilation.
39. Place your early bets on Vettel v Leclerc.
40. Spray paint a graffiti - Leave Me Alone. I Know What I'm Doing.
41. Set Les Toreadors by Georges Bizet from Carmen Suite No. 1 as the ringtone.
42. Try making the perfect, endless, seamless F1 gif. Like Honda did.