What is Kimoa and who owns it?
Kimoa is a lifestyle brand owned by the double Formula one world champion Fernando Alonso.
The fashion label Kimoa was established in March 2017. The net-worth of Alonso is estimated to be around $220million and he was one of the three F1 drivers listed in the Forbes 2018 for the highest paid athletes in the world. He started the brand along with some of his friends.
Fernando Alonso is one of the biggest names when it comes to Formula 1, he shot to fame in his racing days with the Renault F1 team where he fought head to head with the legendary Michael Schumacher to win two titles against the mighty Ferrari driver.
He is considered to be one of the best drivers in the sport today while he has not won a single title since 2006 which also attributes to the performance of the respective teams in the sport, he is currently chasing his triple crown in the Motorsport after his 24H of Le Mans win in 2018, a win at the Indy500 is the only race separating him and his "triple crown".
Why did Fernando Alonso Name his brand KIMOA and what does it mean?
Fernando Alonso believes the reason behind naming his fashion label 'Kimoa', is inspired by the beaches and sunsets in California. The fashion label takes an inspiration from the beach, the waves, the sunsets, the surfers and the surfboards. Kimoa in Hawaiian relates to 'sitting and watching the sun going down together'.


What does Kimoa Sell?
Kimoa sell a wide range of products like clothing and accessories for both men and women only through their online stores. They are currently serving to 77 countries, 46 in Europe, and are on an expansion.
You get to choose from a wide range of sunglasses, especially the colored sunglasses, swimsuits, t-shirts, hoodies, jumpers and cardigans for men.
The Kimoa collection is much bigger for women with skirts, shorts, jumpers, coats, swimsuits, cardigans and dresses inspired by beach life in offering.
Kimoa also has a wonderful array of accessories like Surfboards, Skateboards, Hats, Caps, Wallets, Key-Chains, Shoes, Scarves, and much more.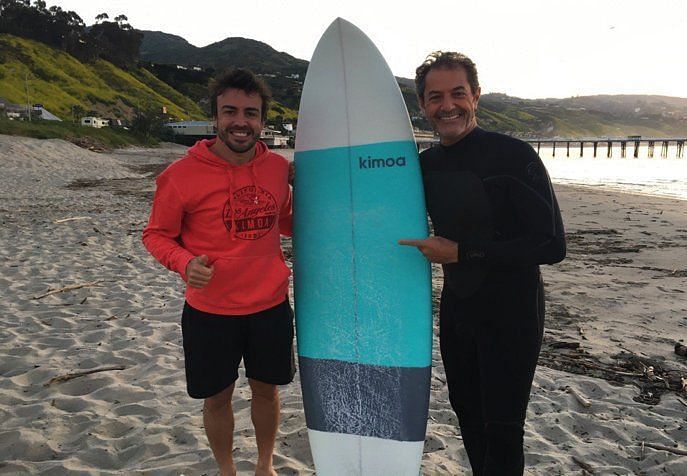 Fernando Alonso sporting a Kimoa Surfboard


What is the connection between KIMOA and McLaren F1 team?
Kimoa has a multi year partnership with the Mclaren F1 team as their official surfwear partner starting from 2018. The brand name is also featured on McLaren's race cars, driver overalls and helmets along with Fernando's team kit and driver cap.
For more information about the brand, and to buy some cool Kimoa sunglasses and other merchandise visit www.kimoa.com.