Bernie Ecclestone: Hamilton wanted Red Bull move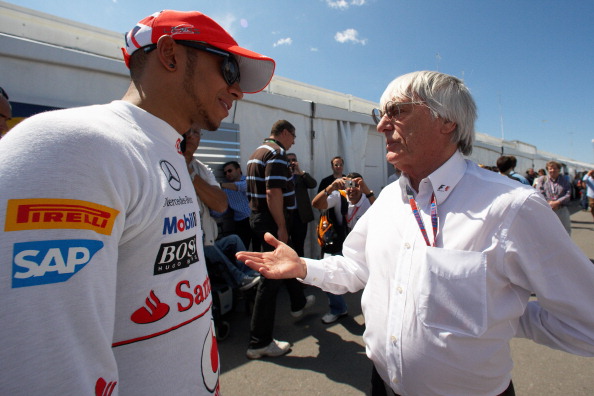 Bernie Ecclestone, the last remaining global czar of the sport, is 82, but his influence on F1 is tightening more than ever. While he gleefully admits leaving 'all the internet things' to his third wife, Brazilian Fabiana Flosi, no other person has influenced the sport as Ecclestone has. Little happens in F1 outside of Ecclestone's purview, or should we say, on most occasions, without his approval.
Now Ecclestone has thrown in a surprise stating that when Lewis Hamilton was searching for a new team during the off-season, the 28-year-old British driver went up to him to negotiate a move for him with Red Bull along with Sebastian Vettel, who has been the darling of F1 for the past three seasons with three consecutive world championship title.
Discussions were in the advanced stages at the British Grand Prix last summer but collapsed only because of the politeness of Red Bull's owner Dietrich Mateschitz, who, at the end of the day, declined the move to create the most feared partnership on the grid out of loyalty to long serving Red Bull driver, Mark Webber.
Webber, by his own admittance, was considering his own options last year after a meeting with Ferrari representatives; all this was going on at a time when he questioned his stay at Red Bull for another year in a team where Vettel is the undisputed star. But, Mateschitz still wanted the Australian to make a decision whether to be a Red Bull driver before exploring options elsewhere.
Ecclestone said that: 'Dietrich is a very honest, straightforward guy and told Mark the door was open for him to stay, was good of him.
'Had Mark gone, Dietrich would have signed Lewis,' concluded Ecclestone.
Ecclestone, though, on his part, didn't disappoint Lewis. Ecclestone recalled advising Hamilton: 'Why not talk to Mercedes, Lewis?'
Ecclestone also distinctly remembered Hamilton's response. 'Lewis rolled his eyes … but I told him that he had nothing to lose as he wanted out of McLaren.'
By the end of September, Niki Lauda, clinched the deal for Mercedes, who are paying a handsome amount of £60million to Hamilton for the next three years, in addition to granting him the liberty which was denied by McLaren to expand his own brand and commercial portfolio. To Ecclestone, it was a help served; and another favour to fall back on, if and when needed.
Source – Daily Mail