Could Massa and Ferrari do the unthinkable?
767 //
22 Nov 2012, 21:34 IST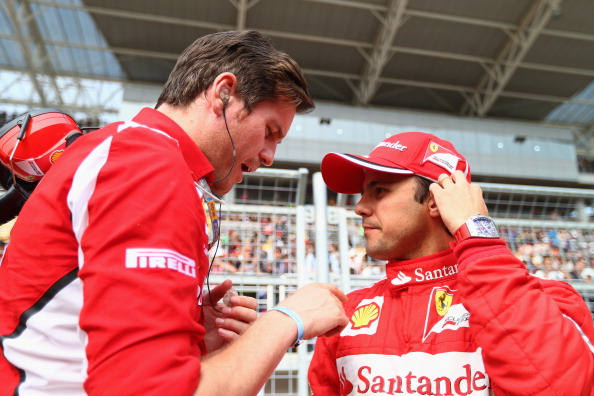 Last week's unqualified success in Austin was, undoubtedly, good for F1. In order to secure its long term future, it needs to break the American market. There is no reason why America shouldn't love F1 – it's fast, it's a big show with plenty of 'wow' factor that Americans seem to love. It's also currently enjoying one of the most exciting periods in its long and celebrated history.
There are currently 6 world champions on the grid, something that's never happened before. The competition is fierce, as evidenced by the titanic title fight Alonso and Vettel are currently engaged in. The sport is even taking responsible steps to being more green. Hurrah, the polar bears are saved! So, all is well in the world of F1.
But what if a nasty little controversy could be coming right round the corner? In Austin, Ferrari took the utterly ruthless decision to break open Felipe Massa's gearbox, thus moving Alonso up a place on the grid and, crucially, onto the clean side of the track. The decision came under scrutiny, teams and drivers were asked whether they thought it was fair. Few hopped off the fence, perhaps understandably considering F1′s new desire to stay out of the news for the wrong reasons. Martin Whitmarsh did say it was something he wouldn't have done, but that perhaps shines more of a light on McLaren and whether they have the ruthless streak it takes to win. They, and not Lewis Hamilton, are certainly the reason he is not in the title fight. Indeed, he might even be winning it had McLaren not been so incapable throughout the season. Anyway, I'm going off on a tangent. Damn McLaren.
In demoting Massa, Ferrari displayed their 'win at any cost' attitude, which could prove crucial in Brazil on Sunday. Now, this is just an idea, and an admittedly far fetched one at that. Could Massa purposefully end Vettel's race? Thus handing Alonso the Championship on a shiny silver platter.
Now, I'm not saying Ferrari will have a meeting about it and demand Massa take Vettel out. Massa will probably not even be close enough to Vettel to force such a move. But what if Massa's having a torrid race (very possible) and Vettel is dominating at the front (more than very possible). Massa sees Vettel in his rear view mirror and 'accidentally' gets in Vettel's way. Vettel has had problems with backmarkers in the past and such an incident might be what it takes for Alonso and Ferrari to win that much coveted title.
Massa obviously wouldn't admit to it, he couldn't. But I have a feeling Stefano Domenicalli and Luca Di Montezelo, the Ferrari king pins, would be rather pleased with Massa's actions. I must clarify again that this will almost certainly not happen, it's actually rather ridiculous to even suggest it.
But maybe, just maybe, Massa will feel inclined to 'take one for the team'. After all, Ferrari will try and win at any cost.