What to expect at the Monaco Grand Prix
1.61K //
13 May 2015, 14:31 IST
Mercedes continue their domination
In what is decidedly a consolidation of Mercedes' power, they continued to hold sway. But this time, it was perpetual winner Lewis Hamilton's teammate Nico Rosberg who took top spot following pole position at the qualifiers.
The constructors have had a stellar run at the races so far, with Hamilton winning 3 of the past 5 Grands Prix this year. Rosberg and Hamilton were on the podium together at April's Bahrain Grand Prix as well – Hamilton winning, with Rosberg in 3rd. Ferrari are doing very well as well, despite rumours of Raikkonen's non-renewal and a potential purchase of Lewis Hamilton – both of which have been addressed in no uncertain terms as being untrue by Ferrari team principal Maurizio Arrivabene.
Every single Grand Prix so far– has been a permutation of Ferrari and Mercedes drivers, with Mercedes taking the lion's share of the wins. At Melbourne, Hamilton and Rosberg took first and second; Vettel came in third. In Malaysia, Vettel won and Hamilton and Rosberg followed, respectively. Shanghai also saw a Hamilton win. Rosberg and Vettel followed.
Bahrain was an exception, but in only one way: the Ferrari driver sandwiched by the 1st and 3rd place Mercedes drivers was not Vettel this time, but the Iceman, Kimi Raikkonen.
At the Spanish Grand Prix, the gap between the two Mercedes drivers was 17 seconds, less than half the time between Hamilton and 3rd place winner Sebastian Vettel, at 45.342 sec.
However, it is still Hamilton who holds firmly onto the top spot among the drivers – Rosberg's win at the Circuit de Catalunya reduced Hamilton's points lead over him to 20.
There has also been talk about Hamilton's contract with Mercedes, although officials say it looks as though they will be resolved prior to the Monaco Grand Prix.
Red Bull: Audi or Out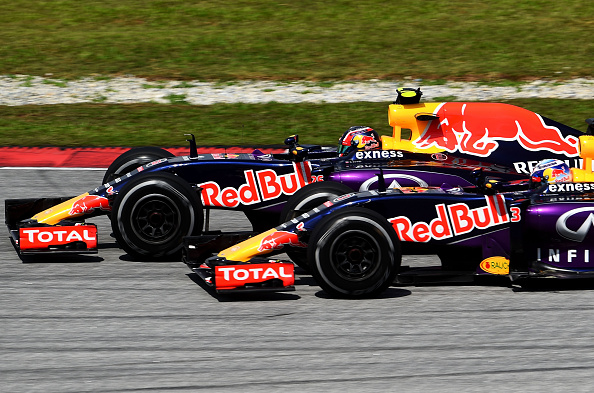 In recent, major developments, Red Bull Racing are looking to switch from using Renault engines to Audi, and effectively end their partnership with motor sponsor Renault. Much has been written about the team's severe engine issues this entire racing season, issues that have also affected sister team Toro Rosso – which, interestingly, outperformed them in qualifying at this year's Spanish Grand Prix. Daniel Ricciardo, however, has performed well this year despite repeated issues, though he is on his last allowed engine after having suffered serious issues through the season.
Scuderia Toro Rosso drivers Max Verstappen and Carlos Sainz Jr have also had repeated engine failure and electrical issues all year.
Rumours were rife that Red Bull Racing were set to end their partnership with Renault with immediate effect, and had a $300mn deal with Audi that was waiting to be inked. Helmut Marko, Red Bull's chief of motorsport, and boss Dietrich Mateschitz both denied these rumours at the time, with Red Bull principal Christian Horner even saying that the team would remain with Renault until 2016. However, official news has emerged that Red Bull will quit the sport altogether unless they are supplied better engines, and have a strong preference that Audi manufacture them.
All that is required at this point is the approval of the VW Group, who own the German automaker.
Are McLaren doomed?
McLaren-Honda have had a terrible start to the season, which did not change at Catalunya. Jenson Button was lapped, with Fernando Alonso, faced with brake issues, unable to complete the race at all. Both drivers were also lapped in Shanghai.
The Malaysian Grand Prix at Sepang brought double retirement for McLaren-Honda, even though Alonso was as high as 8th during the race.
Driving with Button for McLaren at the Australian Grand Prix, Kevin Magnussen did not start the race.
Button, who has not been silent about his displeasure with the motor he is currently using, has since gone on to describe the Spanish Grand Prix as the "...scariest of my life". McLaren had provided upgrades to both car and engine, and had hoped for a turnaround which was sadly not to be. Jenson was audibly troubled by his car during the race, as evinced by radio conversations. He also went on to say that he found the rear of the car fragile, and he could not feel it when he accelerated. He described his discomfort in no uncertain terms, stating his car "didn't feel right."
Completely downcast by his car and the developments of the race, Button said that after the experience he did "not expect points at all this year." T
he only recent news from McLaren has been a redesign to their livery.
Ferrari on track
The Iceman, currently back with the Prancing Horse, is yet to have his contract renewed, as is Mercedes' Hamilton. This gave rise to rumours that Ferrari were planning to replace Raikkonen with Hamilton, which team principal Maurizio Arrivabene has denied on more than one occasion. However, Arrivabene himself has admitted that Mercedes have the "better engine" and superior infrastructure, but Ferrari were by no means lacking in terms of driver talent and technical skill.
With a team of World Champions Kimi Raikkonen and Sebastian Vettel, most F1 analysts and enthusiasts will agree. As Ferrari have featured in the top 3 every Grand Prix and secured a win at Sepang, they will not be too worried. Their main aim will now be to repeat that feat and best Mercedes.
So near yet Sauber
Sauber's legal woes have made repeated headlines, but their issues seem to have settled for now. A legal battle between Dutch driver Giedo van der Gaarde and Sauber was settled out of court, with the team paying the driver a "significant settlement". German Adrian Sutil is currently going through a similar battle with Sauber, both alleging breach of contract.
Currently, however, drivers Felipe Nasr and Marcus Ericsson have both found their zone with the cars, and there have been no new developments as of the Spanish Grand Prix.
Matters seem to be calm at the financially and legally troubled team for the time being, or until Sutil's legal battle gains full swing.