Fernando Alonso Traning
The first race of the F1s first ever Triple Header, the French Grand Prix just took place and the hangover still goes on as the defending champion, Lewis Hamilton came back in style to retake the championship lead.
Talk about Formula One to a someone who doesn't follow the sport as much you do and these question always arises, are F1 drivers athletes? What does fitness have to do with F1?
The drivers have the easiest job in the world, don't they? Drive these really fast cars lap after lap to win a fancy trophy and bottle of champagne at the end of it.
Athletes are people who use their bodies and physical strength for sports like football, weightlifting, running but not those who drive cars.
Maneuvering F1 cars that weigh more than half a tonne, one needs to be iron-willed and unbending to carry themselves during the course of the race and then stand headstrong at the end. These drivers are exposed to high gravitational (G) forces, close to 5Gs during braking ( the deacceleration from 300 Kmph - 60 Kmph within seconds) and much more during a high-speed crash which results in a blackout at times. The heart rate of an F1 driver will increase to a staggering 170-180 beats per minute (bpm) for close to two hours. They also tend to lose around 3-4kgs weight because of high temperatures, G-forces, and dehydration ( close to 3 liters of water is lost).
While we all know F1 as the most glamorous sport where the celebration is taken to a level up but the fact that remains hidden is the amount of competence and strenuousness that drivers take up while making it to the podium. To remain in all the glitz and glamour, drivers exert themselves to rigorous fitness training and exercises.
When the sport checks the ultimate endurance and toughness, drivers cannot go easy with their daily routines and workouts. To enjoy the peak in the sport, they need to put in a real lot of physical labor. Here we look up to the F1 drivers who are at the epitome of their athletic capabilities along with driving skills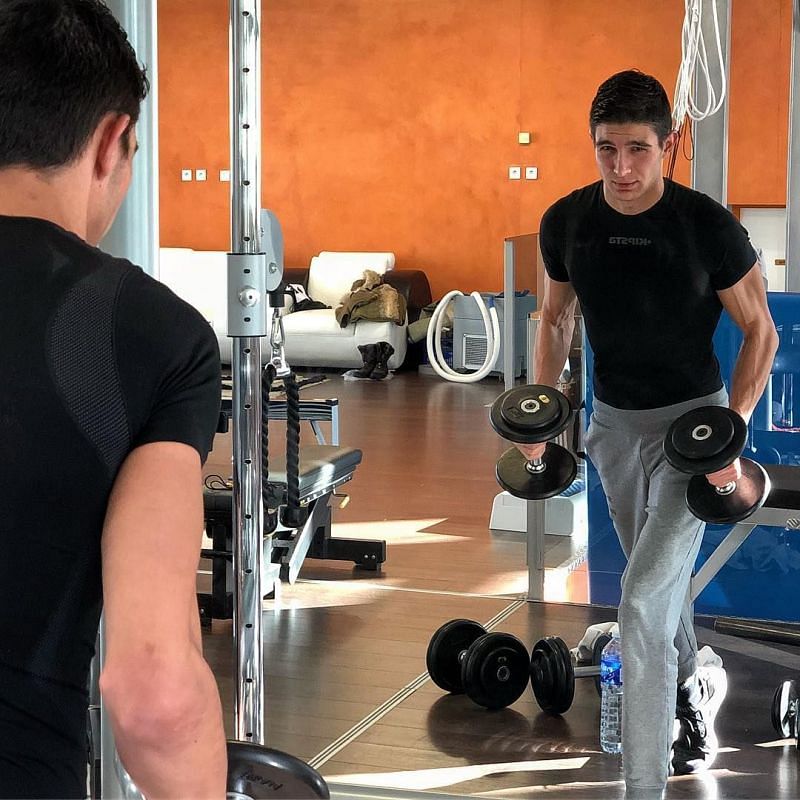 #10 Esteban Ocon
The 22-year-old, young talent is a French racing driver who currently drives in F1 for the Force India team and also is a part of Mercedes Benz driver development programme. He has an all-time record for most consecutive number of finishes from the start of the career, with 27 finishes. Ocon made his debut in the year 2016 at the Belgian Grand Prix.
Ocon is keen on fitness as he has gone to take up intense level fitness training ahead of the season which includes Snowshoeing in freezing conditions. A snowshoe is a footwear for walking over snow. Snowshoes help in distributing the weight of the person over a larger area so that the person's foot does not sink completely into the snow. This activity is recommended by doctors for building strength, endurance, and agility and we see how Ocon is doing it on point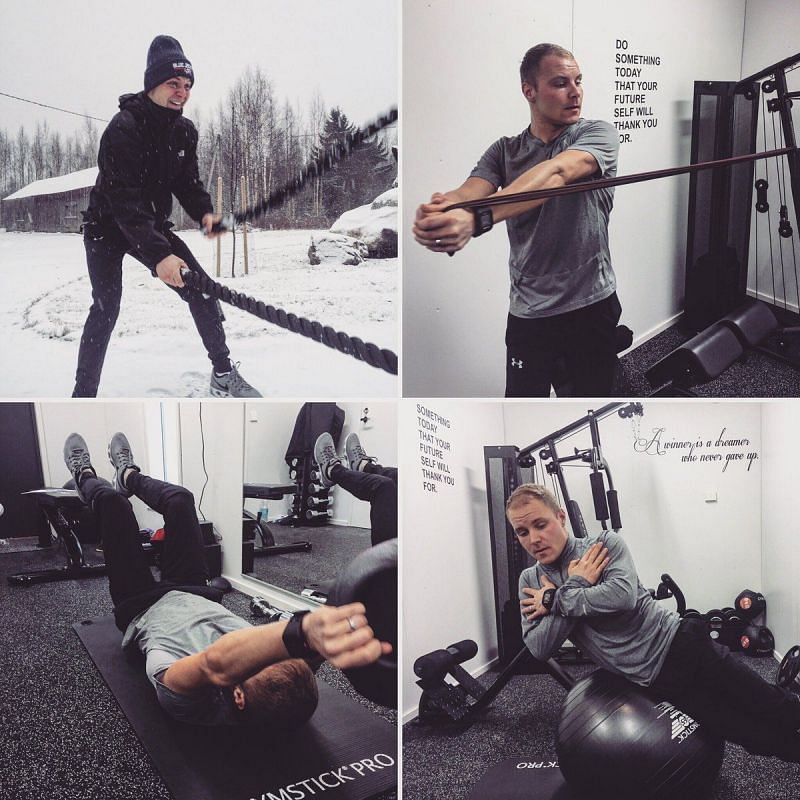 #9 Valtteri Bottas
Valtteri Viktor Bottas is a Finnish F1 racing driver who is presently driving for Mercedes. He marked his debut in the year 2013 with Williams and drove with the same till the end of 2016 season. He has in total bagged 3 Grand Prix wins with the last one at Abu Dhabi Grand Prix in 2017. He finished his 2017 season absolutely bang on by taking pole position, fastest lap and ultimately stepping on the top step of the podium.
Recently he shared a photo of him training rigorously, which includes plenty of exercises. His intense workout session includes cardio sessions along with weight training to strengthen the core, arms, chest, and shoulders. As huge upper body strength is required to manage the effective control over Grand Prix distance.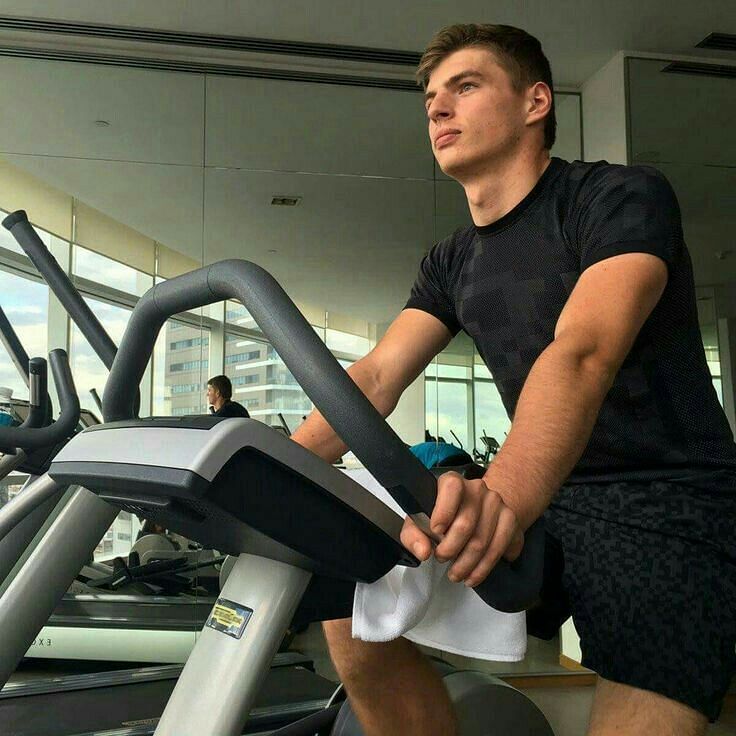 #8 Max Verstappen
Max Verstappen is a Belgian-Dutch F1 driver who currently drives with the Red Bull Racing under the Dutch Flag. The youthful talent kicked off his F1 journey in the year 2014 with Scuderia Toro Rosso and has 4 Grand Prix wins in total. In fact, He is the youngest F1 driver and also the youngest Grand Prix winner in F1 history. He marked his last win at 2017 Mexican GP while his first was the 2016 Spani Grand Prix
Verstappen is a regular on Instagram, posts his workout videos and pictures. To keep himself strong and sturdy, he does variations of weight training with the barbell. His most intense fitness regime takes place before the season begins and during the season, he only maintains the form. He indulges in exercises such as squat and lunge patterns to work on his balance and control. Max also does high repetition core exercises strengthening his core and back.
Video: Max Verstappen Work Out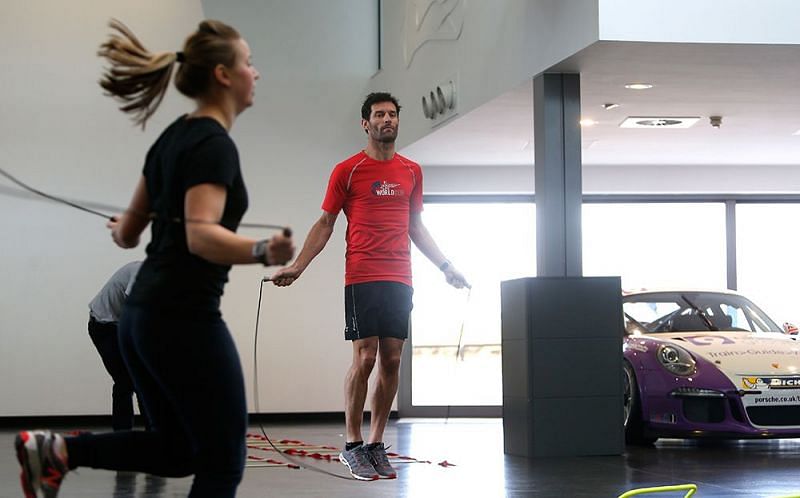 #7 Mark Webber
Mark Webber is a former Australian F1 driver who drove in the sport for a good 11 years with teams like Minardi, Williams, Jaguar and finally Red Bull where he left the team and F1 at the end of 2013 season. He clinched a total of 8 Grand Prix wins. Webber is a famed competitor in intense adventurous sports like Rock climbing, mountain running, and mountain biking. He has done all these strenuous activities for around a decade which make him an extremely agile man.
At the age of 39, Webber took part in Tasmania Challenge that is an extremely rigorous and adventurous event including Mountain biking, Kayak and Trek for a period of 5 days straight. He prefers Sprinting and cycling over monotonous gym sessions and also lays focus on cardio conditioning and therefore stand as one of the fittest drivers in F1 so till date.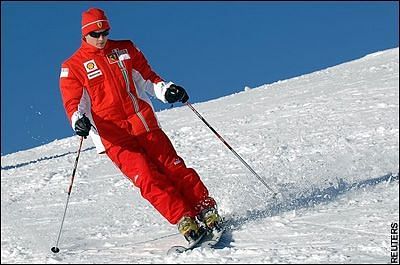 #6 Kimi Raikkonen
Kimi who is currently racing in Formula One with Scuderia Ferrari bagged his one and only World Championship title back in 2007 with Ferrari, which also is Ferrari's last title to date. In his 17 years F1 career, he has in total marked 20 wins with last one back in 2013 Australian Grand Prix and first being at 2003 Malaysian Grand Prix. He has driven so far for Sauber(debut), McLaren Mercedes, Lotus, and Ferrari. Literally justifying his title "Iceman", Kimi loves snow sports and is famed for participating often in Snowboarding and Skiing under several pen names.
Being the oldest driver in the current F1 driver line up, he is as fit and agile as his younger counterparts. He also took part in other forms of racing such as World Rally Championship, Snow Mobile racing, and NASCAR. No wonder his 6 packs grabs attention, all the way.
The chances are high that Kimi Raikkonen might be replaced at Ferrari for the 2019 season and the Finn might also bid goodbye to the sport, end of this year.
#5 Fernando Alonso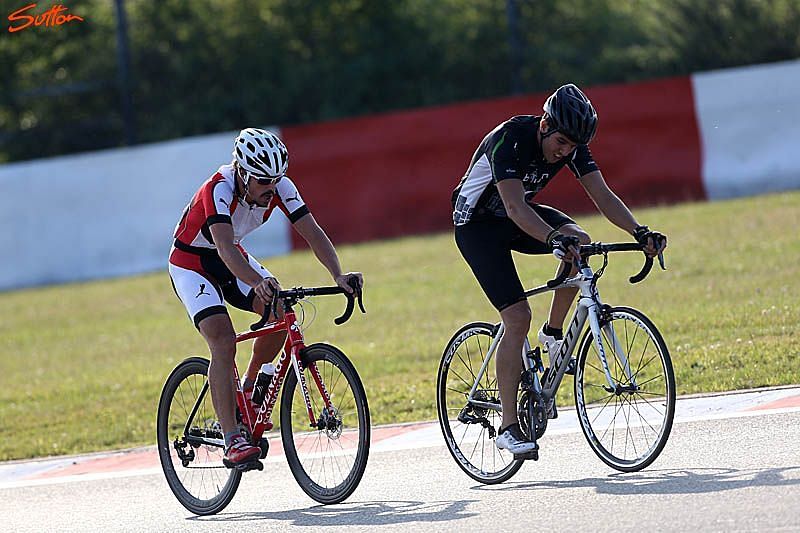 The Double World Champion, one of the most versatile F1 drivers ever, winning the 24 Hours of Le Mans on debut and chasing the triple crown to join Graham Hill. Alonso is currently driving for the McLaren F1 team. The Spaniard made his F1 debut in the year 2000 as a test driver for Benetton and has a total of 32 Grand Prix wins with the last one at his home Grand Prix, 2013 Spanish Grand Prix. He has so far driven for teams like Minardi, Renault, McLaren, and Ferrari. He has a passion for cycling and biking. Alonso has forever been dreaming about setting up his own professional cycling team from Spain.
He is also often seen playing tennis off the tracks and puts in the highest amount of efforts to keep up with his fitness and physical health. It is heard that he is working very closely with a popular Spanish Cyclist. Alonso is also known for having employed the service of best physios from the world to maintain his sturdy built.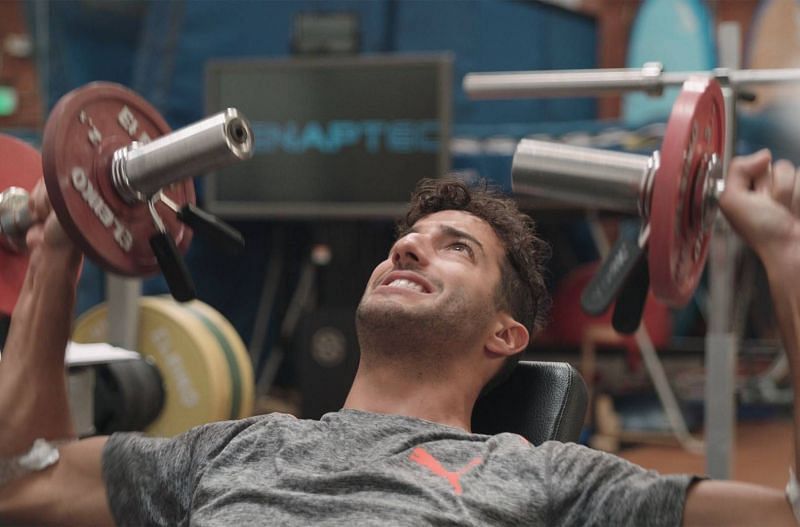 #4 Daniel Ricciardo
Daniel Ricciardo is an Australia F1 driver who is currently driving with Red Bull Racing. He made his debut in the year 2011 with Hispania Racing Team and achieved his first Grand Prix win at 2014 Canadian Grand Prix and his last win was at Monaco Grand Prix in 2018. He has in total 7 GP wins with 12 fastest laps.
Ricciardo always pushes himself harder during training exercises and focuses more on muscle training. He also does intense cardio sessions to keep the check on weight. In a statement made by outspoken Ricciardo, he said "this year will be challenging but a bit more rewarding and I believe I'm the most ripped guy on the grid"
He was certainly right about the statement he made as he is enjoying one of his best seasons in F1 outperforming his teammate Verstappen and two wins already and chasing more.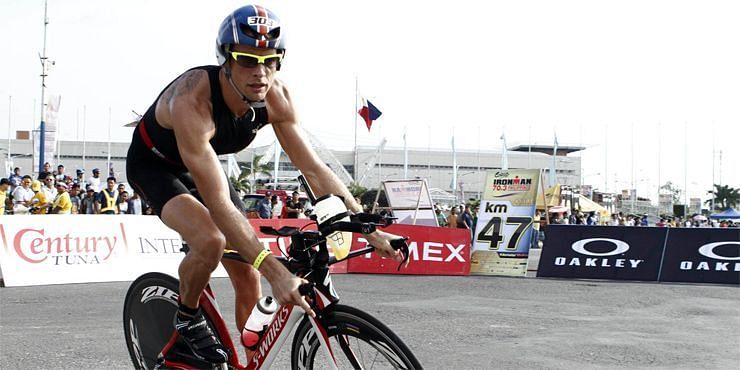 #3 Jenson Button
Button is a former British Formula 1 driver who had a fantastic career of 17 years in the sport and he bagged the World Championship title with Brawn GP back in 2009. He marked his debut in the year 2000 and drove with Williams, Benetton, Renault, BAR, Honda, Brawn GP and lastly for McLaren. He has total 15 GP wins, the last being at 2012 Brazilian Grand Prix. The 38 year old Britisher is a renowned Triathlete who is often seen making to Triathlon before the commencement of race weekends to keep himself on point.
While other players make up with their usual routines of gym and workout, Button takes part in Beach Triathlon or any other Triathlon which includes a quarter mile of swimming followed by cycling and finally running. He has been victorious several times in Triathlon events, he was often seen cycling with Alonso and hence maintains an eye-catching physique. He considered being one of the best looking F1 drivers by many.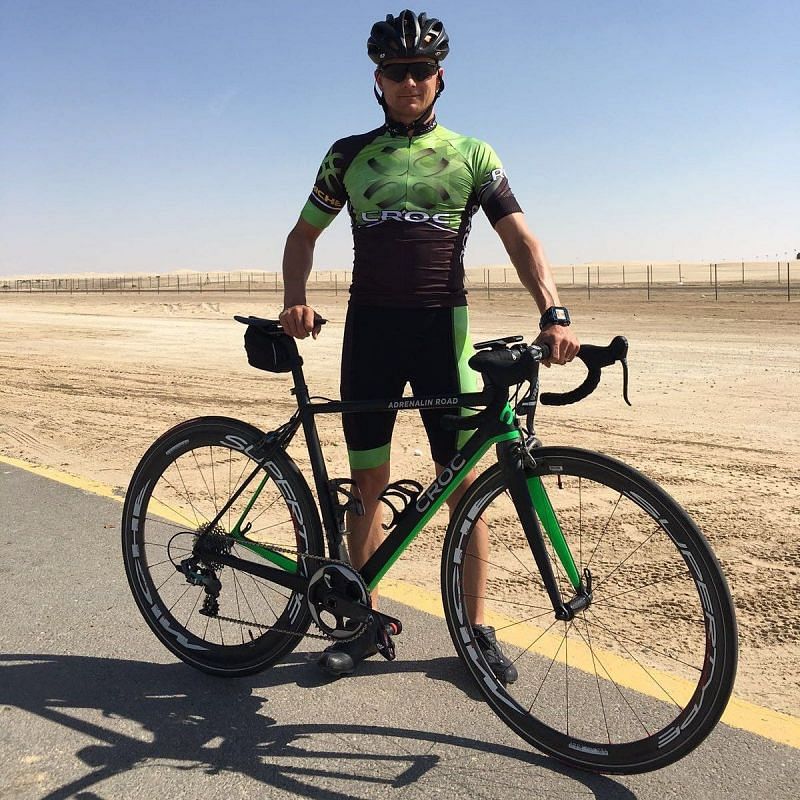 #2 Heikki Kovalainen
Heikki Johannes Kovalainen is a Finnish former F1 racing driver who was active between the years 2007-13 and drove with teams like Renault, McLaren, Team Lotus Caterham and Lotus F1. He could only achieve single Grand Prix victory throughout his career and that was at 2008 Hungarian Grand Prix but remains to "the fittest" so far. He is a fitness freak who does strenuous fitness training and workouts every week. He has been a part of regular Marathon and spring racing events and is also an avid runner.
He also does regular neck training, Aerobic training, stretching followed by Yoga and Meditation for the mental wellness. He has a keen interest in Watt Biking among other sprinting events. His phenomenal fitness levels and endurance have led his way to other motorsport events like Race of the Champions and Super GT where he won in the year 2004 with Nissan.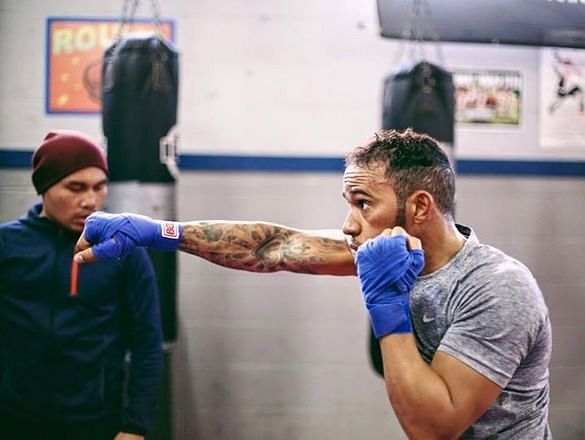 #1 Lewis Hamilton
It was pretty much sure that the top spot was reserved for one of the most ripped and competent F1 driver ever. The 4 times World Champion who needs no introduction at all is also considered best driver of his generation. He is also defending his championship title and took the lead back from his rival Vettel after a stunning victory at Circuit Paul Ricard, French Grand Prix and added on more GP wins to his credit. Hamilton is the fittest, most stylish and iconic person on and off the race track.
Hamilton believed that fitness sessions should be more of fun and less of stress exercises and maybe that is the reason he enjoys it to the level, that he maintains the best physique. During the fitness sessions, his main aim is to strengthen his core, sharpen his already-lightning reflexes and muscle building. To keep himself at the top, he also indulges in kickboxing at times.