One classy finale to the 2012 F1 season
683 //
26 Nov 2012, 20:41 IST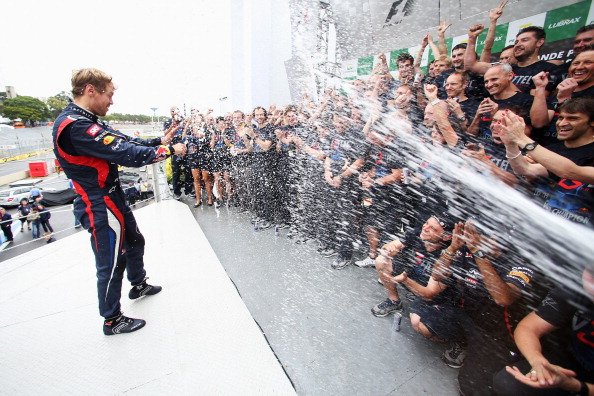 This was one exceptional year in the history of Formula One: 8 different winners in the initial 8 races, Alonso's phenomenal driving, Raikkonen's great comeback and Vettel's dominance in the late stages. When Alonso was leading the drivers' championship table, I thought I should update my Facebook status by saying the championship race is almost over. But knowing nothing is over until it's over, I decided to wait and watch until the end.
As you know, there is no written script in sport. You can win by 1 second, 1 min, 1 point or 1 day; or you can lose too. You never know what's going to happen. When I thought it was over, Vettel started winning races one after another – starting with the Singapore GP. I hate last-minute finishes; you don't want to see championships stretching to the last race of the season, that too, the last lap. Suddenly in the winter cold, I was feeling the heat, like it was summer.
And here it was, at the Brazilian GP, that the stage was set for a perfect ending. As Alonso rightly said before the race, if something like rain or a crash happens, we can still win. When Vettel's car was caught in the middle from 4th to 22nd lap, suddenly the bad mathematician in me was awakened and started calculating. This race had everything – Hamilton's bad luck was still with him as he failed to finish his last race for  McLaren, Sahara Force India drivers failed to provide a shock, Button carried the race superbly and Massa slowed his car to let Alonso pass yet still managed to finish on the podium. Not to forget Kimi Raikkonen and Michael Schumacher showed the world how to drive without crashing into each other.
There were so many cars on track at one point, I really wanted either Vettel or Alonso to crash their cars into each other or someone else, so I could breath easily. Safety cars were in and out a number of times, but you don't want the Safety car on track during the last lap of the race. Still it was not over as the commentators said, "if Vettel stays calm and does not do anything drastic, he can win." That was not helping anyway.
71 laps and 300km felt longer then ever. It was the perfect ending for the season, though many will say that Alonso should have won the Championship, but you can't change some things. Formula One had its youngest ever triple World Champion and Schumacher's legacy will be carried on by Vettel. Don't be surprised  if in the next few years you see more Red Bull flags then Ferrari flags all over the world .
Vettel won the championship but it was a team effort. His car was phenomenal. Not to forget Christian Horner and Adrian Newey, they have done a great job. What Red Bull team has done for Vettel, Ferrari failed to do for Alonso  and McLaren for Hamilton and Button. It was like a drama  film with lots of action and emotions!
Congratulations to Red Bull team for winning the Drivers Championship and Constructors championship. Hard luck Alonso, it was one thriller of a race!