Red Bull Season Review: Vettel takes Red Bull to 3rd straight title
597 //
15 Dec 2012, 00:50 IST
Red Bull have had the same driver pairing for longer than anyone else on the grid, having kept Sebastian Vettel and Mark Webber as their driver's since 2009. They had a mixed 2009 season, good 2010 season and an absolutely fantastic 2011 season in terms of dominance. For example, between the two drivers, they grabbed 18 of the 19 pole positions in the season, losing Korea to Hamilton. It was a fantastic run of form and it came as a huge shock when McLaren waltzed into Australia to really out do the Red Bull's, placing their cars on the front row while Red Bull could only manage 5th for Webber and 6th for Vettel. They pulled some good race pace out of the car though, Vettel finishing 2nd while Webber finished 4th; his best ever race result in Australia, particularly good as he had been involved in a first corner shunt.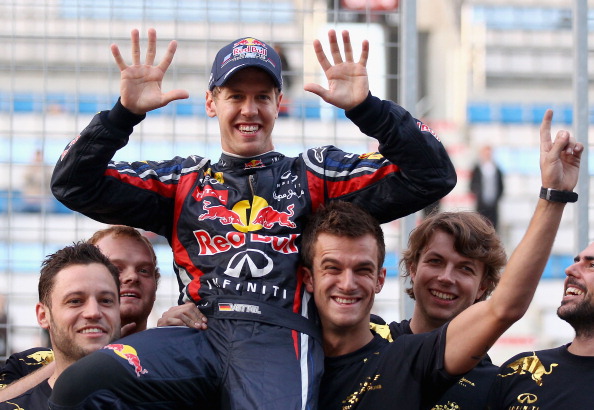 Vettel had a dismal race in Malaysia, tangling with Narain Karthikeyan who he later branded a 'cucumber'. He had a strange incident near the end of the race when his engineer, 'Rocky', came on the radio to tell him to pit as they had to retire the car. He then immediately came back on to tell Vettel to stay out, seconds later telling him to pull over immediately as they had a KERS problem.
Stats
Victories – 7
Podiums -
Pole Positions – 8
Points – 460
Standings – 1st
However, Vettel kept going for the remaining few laps, finishing in 11th, while Mark Webber raced on to finished 4th, as he had in Australia. China brought a strong enough race for the team with Webber outscoring Vettel when he finished 4th for the third consecutive time, while Vettel came home in 5th. In Bahrain, Red Bull finally claimed their first win, following on from Vettel's pole position on the Saturday. He managed to fend off a very feisty Kimi Raikkonen to grab the win for Red Bull ahead of both Lotus'. Webber finished (Guess where?) Yes, in 4th, for the fourth time in a row. Vettel in 6th and Webber in 11th in Spain was just a break from form before Mark Webber won in Monaco. He started from pole (qualifying 2nd but winning pole after Schumacher's 5 place penalty was enacted) and the Aussie could not be touched, leading to the flag as Vettel finished in 4th, just off the podium.
In Montreal, Vettel was trying to win the race on a one stop strategy while Hamilton took a two stop strategy. But when the Brit started catching Vettel at a whopping 1.5 seconds per lap, Vettel conceded and pitted, finishing the race in 4th while Webber finished further down the field in 7th. Valencia came next, and with it, a sure Vettel win. He was leading by such a massive margin, despite a Safety Car, and no one could touch him, until the gremlins in his engine made his alternator fail, robbing him of a second win. Webber, starting from 19th, had a fantastic race to finish in 4th place, right behind Schumacher on the podium.
He carried this great form onto Silverstone where he qualified in 2nd place. On race day, he pulled off a spectacular pass on Fernando Alonso around the outside of Luffield, demonstrating his skill and the enormous trust between him and the Spaniard. He won the race while Vettel finished behind Alonso, in 3rd place.
Vettel headed to Germany, hoping for to finally bag a home win. He couldn't pull it off against a dominant Fernando Alonso and when he was deemed to have made an overtake on Button off the track, he was demoted from 2nd to 5th post race. Webber had a poor enough race, finishing 8th. In Hungary, Vettel finished 4th, setting a fastest lap in the process. Webber finished 8th after being bizarrely and seemingly unnecessarily called into the pits in the closing stages of the race, and then getting stuck behind Bruno Senna.
Both Red Bull's managed to avoid the first lap pile up in Belgium, which let Sebastian Vettel close the gap to Alonso when he climbed from 10th to 2nd while Webber finished 6th, losing 2nd in the championship to the German. Monza was a dismal race for the team as both cars failed to finish in the points, both retiring in the last couple of laps, still being classified for having completed 90% race distance. Vettel was the victim of yet another alternator failure while Webber spun hard at the Ascari chicane, ruining his tires and damaging part of the underside of the car.
Singapore was much better for Red Bull, taking full advantage of race leader Lewis Hamilton retiring, to give Sebastian Vettel a win at the night race while Webber finished outside of the points when he was penalised for overtaking Kobayashi off the track. In Japan, Romain Grosjean bizarrely accelerated right into the back of Mark Webber into turn 1, spinning the Aussie who was dropped to the back of the grid, eventually finishing 9th, Webber later branding Grosjean a 'first lap nutcase' while suggesting that he 'may need another holiday', following on from his numerous first lap crashes, including a pile up in Belgium which saw the Frenchman awarded a one-race ban. Vettel went on to win the Japanese Grand Prix from pole position, setting a fastest lap in the process, gaining him a 'grand-chelem'. Alonso crashing at the start saw Vettel close the gap in the Championship by 25 points.
In Korea, Vettel led a Red Bull 1-2 ahead of 3rd placed Fernando Alonso, while he led from start to flag in India, Webber finishing on the podium, in 3rd, losing 2nd place to Alonso when he lost his KERS unit. In Abu Dhabi, a very controversial penalty was handed down when Vettel ran out of fuel on his qualifying in-lap, just after grabbing pole position. He dropped to 24th on the grid and chose to start from the pitlane. This was Alonso's chance to finally retake control of the championship but after a fantastic storm through the grid, including nearly being taken out of the race by a Toro Rosso (behind the Safety Car!), he finished 3rd, behind Alonso in 2nd. Webber was forced to retire when stupid driving by Sergio Perez caused a Grosjean/Webber crash, leaving both drivers out of the race.
Webber's luck was no better in Austin when he retired following a mechanical failure. Vettel started the race from pole position, eventually losing the lead to Lewis Hamilton, but still finishing 2nd which was ahead of Alonso in 3rd. While Red Bull celebrated winning the constructor's championship for the 3rd year in a row, Vettel would have to see his Championship battle go to the final Grand Prix in Brazil.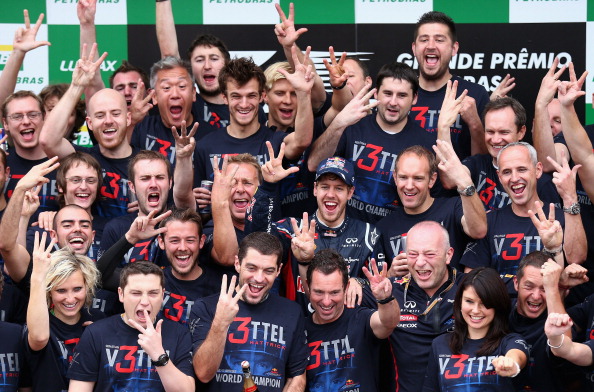 Vettel would need to finish 4th or higher if Alonso was to win the race, but it looked like there would be no worries for the German when he and Webber qualified ahead of the Ferrari's. Surprisingly, both Red Bull's were slow off the line while both Ferrari's jumped them. Vettel was under pressure, nearly getting rear-ended by Kimi Raikkonen before getting spun by Bruno Senna. It was the worst possible situation for Vettel who was left with a damaged car, while Alonso was 2nd. It was an awful challenge for the German but he made short work of the grid to soon be back in the points. Sometimes, you have to wonder if he was only playing with Alonso! He made it to 6th in the race while Webber finished 4th. Alonso finished 2nd but this was not good enough to win the Championship and Vettel was crowned the 2012 World Champion.
Season in a Paragraph:
Everyone was caught out when the Red Bull's weren't on the pace in Australia but they soon made it up, winning in Bahrain, Monaco and Silverstone. When Webber started to decline in performance, Vettel picked up and got lucky with Alonso being wiped out in Spa and Suzuka which allowed him to get back the big lead that had amounted in the first half of the season. No doubt though, Vettel really deserved a championship, as he showed when he absolutely stormed the grid in Abu Dhabi and Brazil. Love him or hate him, this guy is going down as one of our sport's greatest.