Sebastian Vettel tops Day 3 at Silverstone as test ends
931 //
19 Jul 2013, 23:38 IST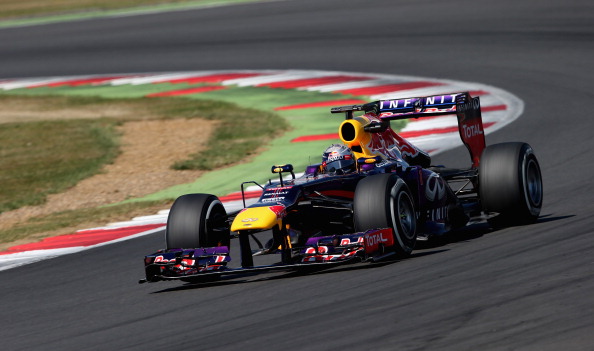 3 time World Champion and current championship leader Sebastian Vettel topped the time sheets on the final day of the 3 day test held on the Silverstone Circuit, with a time of 1:32.894. The German was one of the 7 usual Formula 1 drivers who took part in the final day of testing to sample the revised tyres.
Pirelli are going to introduce these tyres from the Hungarian Grand Prix onwards, which starts in a week's time.
Most of the teams had two drivers running today to give both development drivers and race drivers a good chance to learn the car and tyres.
Behind Vettel was another German. Force India's Adrian Sutil put in the second best time of the day just ahead of Nicolas Prost in the Lotus. The fourth quickest time went to Carlos Sainz Jr in Red Bull's RB9. The Ferrari drivers for the day were Davide Rigon and Felipe Massa who finished in 5th and 6th.
Red Bull's sister team Torro Rosso too had two drivers running today – one being Jean Eric Vergne and the other being the Russian teenage sensation Daniil Kvyat, who is just 19 years old. They posted the 7th and 11th best times of the day.
McLaren and Williams each had their development drivers Gary Paffett and Susie Wolff in the driver's seat today. They had the 8th and 9th quickest times of the day.
Caterham gave both their drivers Charles Pic and Giedo van Der Garde a session each to test the tyres today. They finished in 10th and 12th. Kimiya Sato finished in 13th for Sauber followed by Rodolfo Gonzalez in the Marussia, James Colado in the Force India. Marussia driver Jules Bianchi rounded up the time sheet in 16th place with a best lap of 1:36.744, which is about 4 seconds behind the Red Bull.
We will have to wait and see what sort of an advantage teams have over Mercedes, who did not take part in this test. The Mercedes team will still have access to tyre information from Pirelli.
We are exactly a week away from the next Grand Prix in Hungary where all teams will switch to the new tyres which will be similar to the 2012 tyres in the construction. Sebastian Vettel is the clear leader in the Championship at this point. This being the last race before the summer break, every team will want to put in their best effort to go into the break on a high.
Unofficial Friday test times from Silverstone:
1. Sebastian Vettel, Red Bull, 1:32.894, 79 laps
2. Adrian Sutil, Force India, 1:33.242, 99 laps
3. Nicolas Prost, Lotus, 1:33.256, 83 laps
4. Carlos Sainz Jr, Red Bull, 1:33.546, 35 laps
5. Davide Rigon, Ferrari, 1:33.592, 20 laps
6. Felipe Massa, Ferrari, 1:33.624, 69 laps
7. Jean-Eric Vergne, Toro Rosso, 1:33.647, 42 laps
8. Gary Paffett, McLaren, 1:34.924, 77 laps
9. Susie Wolff, Williams, 1:35.093, 89 laps
10. Giedo van der Garde, Caterham, 1:35.155, 65 laps
11. Daniil Kvyat, Toro Rosso, 1:35.281, 22 laps
12. Charles Pic, Caterham, 1:35.576, 60 laps
13. Kimiya Sato, Sauber, 1:35.642, 67 laps
14. Rodolfo Gonzalez, Marussia, 1:36.339, 24 laps
15. James Calado, Force India, 1:36.451, 5 laps
16. Jules Bianchi, Marussia, 1:36.744, 39 laps