Top 20 tweets from the Malaysian Grand Prix
871 //
24 Mar 2013, 22:11 IST
SHARE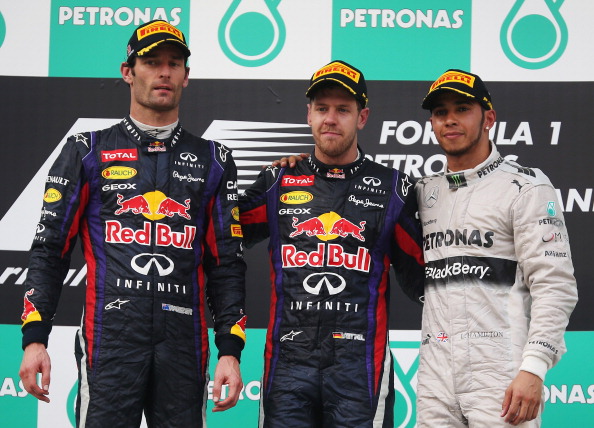 Sebastian Vettel and Red Bull took the lead of their respective championships after winning the Malaysian Grand Prix. However, the focus was on Vettel's move over teammate on lap 44 when both the drivers were asked to hold their positions (multi-21). So, this week we've got 20 top tweets from the race with a focus on fans' opinion on the same.
---
I think we also all now know that 'multi 21′ means don't overtake your teammate. Today I've lost so much respect for Seb Vettel. #naughty

— Jake Humphrey (@mrjakehumphrey) March 24, 2013
Feel free to pop in and say "hi" any time, @lewishamilton! — McLaren (@TheFifthDriver) March 24, 2013
Nico handled his situation with class. He challenged the team, and respected the decision. He's no peddler. #F1

— Fake Charlie Whiting (@charlie_whiting) March 24, 2013
#F1 Brawn – "Good drive Nico, we'll discuss the matters later" Nico Rosberg – "Remember this one" – Nico hinting he wants a return favour — Formula 1 News (@Formula1_com) March 24, 2013
No Mark, Seb uses the 'other' finger… Oh, wait a second. #makinghisfeelingsfelt twitter.com/F1PaddockPass/…

— F1 Paddock Pass (@F1PaddockPass) March 24, 2013
Here's a picture of Alonso's car in the gravel, you can see the front wing had been completely torn off #F1onNBC twitter.com/F1onNBCSports/…

— F1® Racing on NBC (@F1onNBCSports) March 24, 2013
Today that I'm not in the podium I'm missing a good moment..! I will try not leave them alone again … ;))) #goodMood

— Fernando Alonso (@alo_oficial) March 24, 2013
Vettel said he made a "big mistake today". And adds he should have stayed in position but didn't do it deliberately. "Apologies to Mark" #F1 — ESPN F1 (@ESPNF1) March 24, 2013
Wrong garage Lewis! Hamilton calls into McLaren and is waved on to Mercedes. Nicole Scherzinger sees funny side #F1 twitter.com/SunMotorsport/…

— The Sun – Motorsport (@SunMotorsport) March 24, 2013
Of the drivers on the podium, Webber thinks he should have won, Hamilton thinks he shouldn't be there, and Vettel wants them out of the way — Pablo Elizalde (@EliGP) March 24, 2013
Hamilton: "Nico should really be standing up here." #F1 #MalaysiangGP

— F1 Grid (@F1grid) March 24, 2013
It's the angriest podium in motorsport history. #f1

— Sniff Petrol (@sniffpetrol) March 24, 2013
Vettel was told "This is silly, Seb, come on" by Horner. Webber told: "OK, Mark, he was told." #F1 — F1 Fanatic Live (@f1fanaticlive) March 24, 2013
Apparently Seb ignored team instructions to hold station 'by mistake'. Think we might need to review his definition of the word 'mistake'… — Kate Walker (@F1Kate) March 24, 2013
Vettel is not sorry for what he did, he's sorry it looks bad. Don't want to lose his "media darling" status

— Jdunn (@Jdunnthx500) March 24, 2013
Can't believe how many on here defend Vettel and say he had the right to go past Webber.I think he is a disgrace,doing that to his teammate. — Didi Hamann (@DietmarHamann) March 24, 2013
Webber: "Seb made his own decision today and will be protected as usual." Boom!

— F1 Racing (@F1Racing_mag) March 24, 2013
No no Seb, you have to do it yourself. You're not in a Ferrari — Paul Boynton (@Swordsman_uk) March 24, 2013
Vettel now very contrite but if it gives him 4th title in November no-one will care and many will hail his champion's mind.

— bob mckenzie (@bobmckenzieuk) March 24, 2013
So what did we learn today? That behind the smiles & the humour, Vettel is calculated and ruthless. And that's why he's a triple champion. — Will Buxton (@willbuxton) March 24, 2013
Topics you might be interested in:
SENIOR ANALYST
News, Analysis, Results and Featured articles around the world of #F1.