Chances are if there were ever a list carrying the names of potential F1 World Champion drivers that were never to be then Colombia's Juan Pablo Montoya would probably find his name on top of it.
This, however, isn't a list any driver would want his name on.
This surely is a list you'd be compelled to have your name on provided your career was cut short by a sudden change of fortunes, arguably engulfed in sadness.
Surprisingly, none of that happened to Juan Pablo Montoya, who turns 43, away from the tectonic world of Formula 1, but still involved in Motorsports. His commitment to four-wheel racing is proven by his drives for the WeatherTech Sports Car Championship, a culmination of the merger between Rolex Sports Cars Series and the American Le Mans.
That is Juan Pablo Montoya today.
But back in the day, during the mid-2000s, Juan Pablo Montoya did one thing in Formula 1 and did it with relentless focus. He knew how to be quick inside an F1 car, in those halcyon days of the V10s.
Not a man of many words, not a man of theatrics or mind-games either; he was the bloke who proved to giants of the current grid, Raikkonen and Alonso, that even a non-European driver could own the grid like an experienced hand.
In his maiden season in Formula 1, back in 2001, where Raikkonen finished tenth and Alonso, twenty-third, Montoya exhibited class and firm control, in finishing sixth. In that same year, he would go on to win a Grand Prix.
Arguably, the Williams BMW F1 team had arrived out of nowhere that year and went on to clinch the 2001 Italian Grand Prix, with Montoya triumphing with the calmness of a Pope in-charge of the proceedings at the Cathedral of Speed.
One cannot be blamed for thinking and engaging in a bit of a 'what might have been' had Ron Dennis, then, Montoya's Team Principal at McLaren would've succeeded in talking Montoya out of his sudden F1 exit during the mid-2006 season, where his final run was at the 2006 US Grand Prix.
But guesswork and conjectures kept aside, what were the top 5 moments of Juan Pablo Montoya's racing career?
Fastest lap at Monza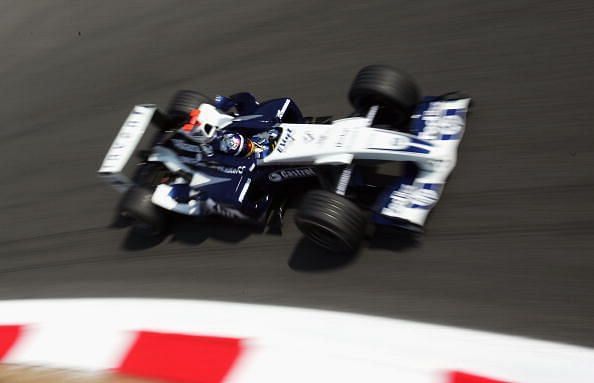 Back in 2004, Montoya lapped the famous Monza in his Williams FW26, blasting past the iconic track at a ballsy 262.242 kilometers.
This would be a record-breaking qualifying lap that stood for 14 long years as the fastest lap ever recorded in the history of the sport; a milestone that was broken only a fortnight ago by Montoya's McLaren-teammate, Kimi Raikkonen.
Maiden Grand Prix in his debut season at F1; Monza, 2001 Italian GP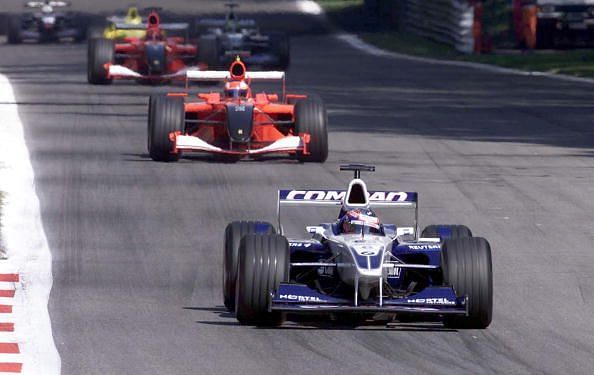 There are drivers that try to win a Grand Prix and fail. There are drivers that finally win a Grand Prix, finally after a couple of seasons or maybe three or four years running at the highest level.
And then, there are blokes like Juan Pablo Montoya, who happened to win a Grand Prix in only his maiden F1 season.
But during the 2001 Italian Grand Prix- at Monza- a track where Montoya would return, three years later to set the fastest-ever lap in F1s history, he'd take his maiden win.
In beating greats like Michael Schumacher, then in his peak years in that blood-shot Ferrari, Montoya stunned other rising names on the grid, including Alonso and Kimi. It was a win to savour not only because after retiring for 4 races on the trot did Montoya manage to complete a Grand Prix, only to win it, but he'd also achieve the feat in only his debut run at the top level of Grand Prix racing.
Beating Kimi, Schumi to clinch Monaco Grand Prix win of 2003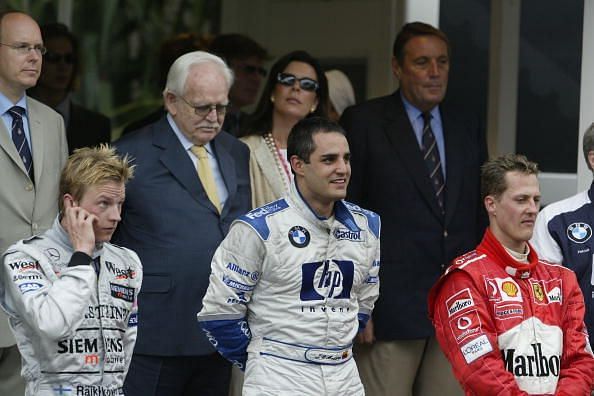 Winning a race at the famous Principality of Monte Carlo can be quite an achievement. With dozens of fancy yachts parked around in a fashionable, peppy setting emblazoned by the rich and the famous, when you win a race at Monaco, you truly become an elite, isn't it?
Well, just that for Montoya, his memorable win came at the back of beating faster guys, inarguably in better machinery such as Raikkonen in his McLaren and Schumacher in that imposing Ferrari.
Even as Kimi emerged the fastest of the driver, going fastest in lap 45, Montoya served a master-class in defensive driving, putting the tail of his Williams just six-tenths of a margin ahead of Raikkonen's McLaren by the time he crossed the checkered flag.
A successful IndyCar run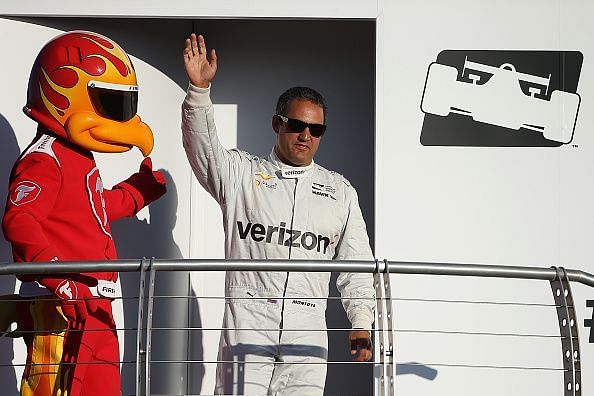 Apart from his successful but brief F1 stint, Montoya also managed to earn respect and admiration of fans in the vastly-successful and widely-regarded IndyCar series, a competition where he's been a two-time Indy500 winner.
His skill and versatility in a race car have largely remained the main talking points of his career, that has seen him participate in the famous 24 hours at Daytona, spent nearly a decade with Monster Energy at NASCAR, and his current involvement with WeatherTech Sports Car Championship.
Driving the world's fastest sports car- Bugatti Chiron- at 249 mph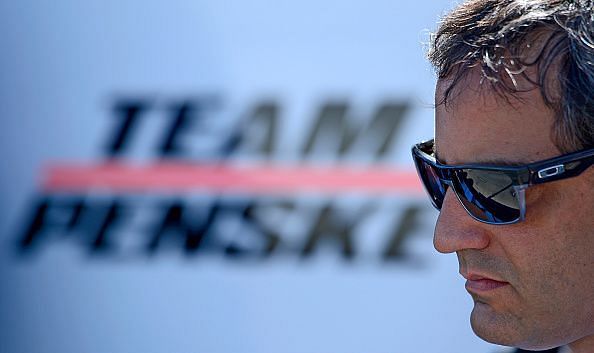 A few months back, Montoya got a chance to drive what is widely believed and regarded as the world's fastest sports-car: the Bugatti Chiron.
In a showpiece event, where Montoya clocked up a mighty impressive 249 mph of speed, in a 3.112 km run, the Colombian race driver touched new peaks of fame as he went at a rip-roaring speed in presenting the best out of an indomitable racing machine.
Thought the event was PR-supported and meant to gather a fan-base for one of the world's most admired machines, Montoya proved his might and preciseness in another car, completely different from what he'd driven until then.