"When people succeed, it is because of hard work. Luck has nothing to do with success." – Diego Maradona
"You have to fight to reach your dream. You have to sacrifice and work hard for it." – Lionel Messi
"Success is no accident. It is hard work, perseverance, learning, studying, sacrifice and most of all, love of what you are doing or learning to do." – Pele
Young players out there ought to take note that three of the best players of all time acknowledge hard work as the cause for their success. These are men who are considered the most talented footballers of their respective generations, yet credit sacrifice and a dedication to their craft as the reason for their success.
There are those who may have had similar talents to the level of a Messi or a Ronaldo, but have failed to make the most of their quite obvious skills. Here are 10 of the biggest wastes of talent in football, in no particular order.
---
#1 Adriano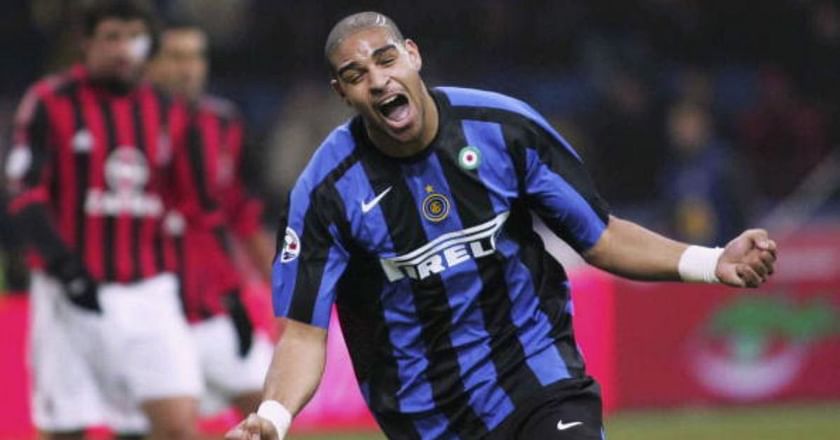 Christened L'Imperatore (The Emperor) by Inter Milan fans, little did the world of footbabout the know the staggering collapse that would befall Adriano's career. The tall, powerful striker was blessed with incredible control and dribbling skills, which when added to his powerful left foot, often left opposition defences and goalkeepers bamboozled.
His scintillating form made him the toast of Italian football in the 2004/05 season, a far cry from the poverty of the favelas of Rio de Janeiro that he grew up in. However, the death of his inspirational father, Almir, in late 2004 started a tragic downward spiral, with Adriano admitting as much, saying:
"My dad always supported me. He liked to watch me play."
"Without him I started to drown all my problems in alcohol. I was drinking heavily and couldn't not go out."
Inter persisted with the Brazilian, but after a couple of loan spells, with weight and discipline issues popping up with regularity, Adriano tore up his contract in 2009, "quitting football."
However, he signed with childhood club Flamengo, and later with Roma, Corinthians and Miami United, all clubs that have struggled to keep the striker's problems at bay.
The Emperor has fallen.
#2 Adel Taarabt
"He's got the ability of a Di Canio or someone. When he came here they called him the next Zidane."
These are the comparisons that Harry Redknapp gave to Adel Taarabt, and he is in a place to know, having managed the Moroccan for six out of his 10 years in football.
The Englishman first managed Taarabt in Tottenham Hotspur and later brought the him to Queens Park Rangeros when Redknapp became the London side's manager.
However, the Englishman's opinion had changed considerably by then, saying:
"He's not injured. He's not fit. He's not fit to play football unfortunately. I can't protect people who don't want to run and train, and are about three stone overweight."
Taarabt's ability has never been in question, blessed with silky dribbling skills married to a wand of a left foot that became famous in the Premier League and Championship for some stunning goals.
However, the fact that QPR were happy to let the Moroccan move to Benfica by releasing him of his contract shows just how much he has fallen from his early days and how much he has wasted his undoubted ability.
The 32-year-old still plays his trade in Portugal with Benfica.
#3 Ricardo Quaresma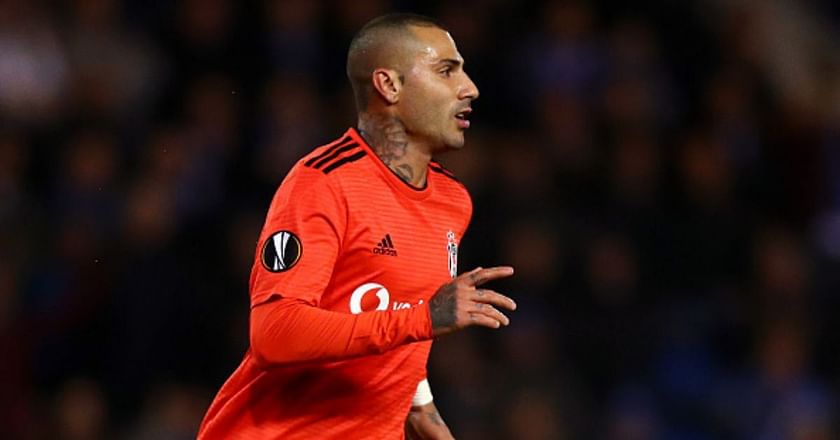 While a youthful Cristiano Ronaldo was making a name for himself at Manchester United, there was another incredibly talented Portuguese player who had made the jump from Sporting Lisbon to Barcelona. Complete with an array of dazzling skills, including the rabona and a trademark trivela in his repetoire, a 18-year-old Quaresma had the world at his feet.
However, lackluster performances coupled with a spat with manager Frank Rijkaard meant that Quaresma handed in a transfer request and returned to Portugal, this time with FC Porto.
Despite some sterling performances, the streak of selfishness in Quaresma's play hindered his career, with teammates often being critical on the pitch.
The streak continued when he signed for Jose Mourinho's Inter Milan, displeasing the former Chelsea boss, who said:
"He is a great talent, but the joy I have at seeing the way Ibrahimovic works for and with the team I do not yet have with Quaresma. He will have to learn, otherwise he won't play."
He was voted the worst player in Serie A in 2008, also known as the Bibone d'Oro award.
Quaresma began a journeyman career across Europe, playing for Chelsea and Al Ahli before finally ending up in the Turkish Super Lig at Besiktas. He currently plays for Vitoria S.C.
It has been a lacklustre run for someone once considered the heir to Luis Figo.
#4 Antonio Cassano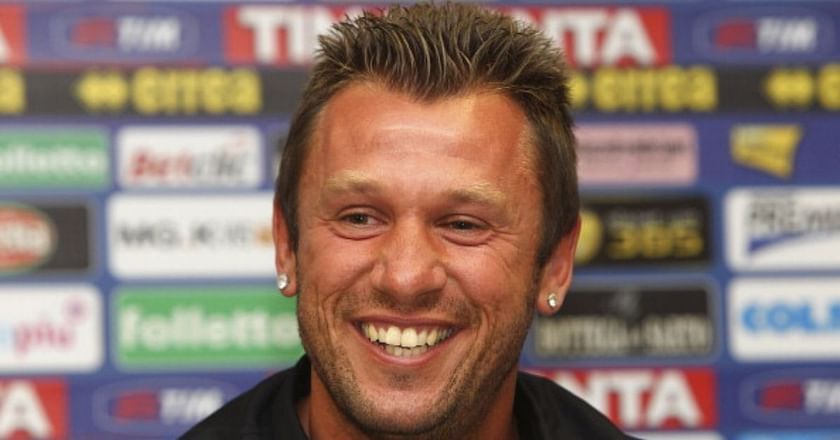 If there ever were a prototypical Italian footballer, that man would be Antonio Cassano.
His breathtaking style of play is La dolce vita expressed on the football pitch, but his famous Italian temper also prevents him from ever reaching the heights of world football.
His exploits as a youngster for Bari earned him the moniker Il Gioiello di Bari Vecchia (The jewel of Old Bari), and Roma paid a handsome €30 million for his sterling services.
However, a series of clashes with club legend Francesco Totti and Roma manager Fabio Capello led to the Italian taskmaster coining the term 'Cassanata' to describe his temper – which has since become popular with journalists when describing actions against team spirit.
Cassano left for Real Madrid, where it became quite obvious that he was more interested in things other than football.
It's no surprise that the Trequartista went down a level, moving to Sampdoria and then to AC Milan. However, the Italian wasn't happy with Milan's decision to sell the likes of Thiago Silva and Zlatan Ibrahimovic and decided to join rivals Inter.
He struggled there as well and often clashed with the manager. After a season at Inter, he moved to Parma and he re-joined Sampdoria for the third time in 2015.
In July 2017, he joined Hellas Verona but decided to retire from football a few days later. He held a press conference on the same day saying he was reversing his decision but ultimately changed his mind again and left the club on 24th July.
Despite announcing his return in 2018, Cassano decided pull down the curtains on his career and retired that year.
A poor return for one of Italy's most gifted footballers of their Golden generation.
#5 Anderson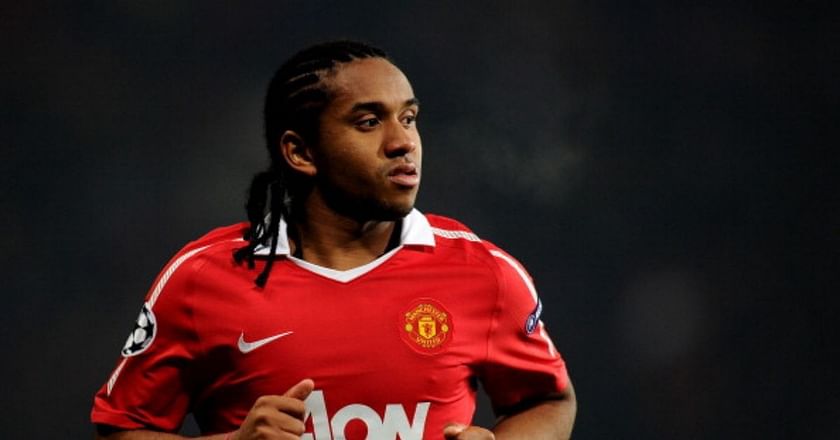 "If I want to, I can be a great player."
When Anderson uttered these words in 2011, there was still hope for his floundering career at Manchester United. The Brazilian came to United with huge promise, winning the Golden Ball in the FIFA U-17 World Cups, and then claimed the Golden Boy award for the most promising youngster in 2008.
"He was clearly the best player, but there were times when he just stood around." – This description of Anderson's performances in the U-17 World Cup ought to have been a fair warning to the Manchester United faithful, but they didn't care, christening the heir apparent to Paul Scholes with a chant that considered him better than Cesc Fabregas.
That everyone, even Sir Alex Ferguson, had been hoodwinked by the Brazilian's talent soon became apparent. Rumors of his large appetite and unintelligence leaked from former United stars such as Rio Ferdinand and Wes Brown as they left the dressing room. Ultimately, after eight seasons and 181 games, Anderson left the Red Devils, scoring a paltry nine goals.
He repeated those very inconsistencies at Brazilian club Internacional before moving to Adana Demirspor in 2018.
He finally announced his retirement from football in 2020.
#6 Giovani dos Santos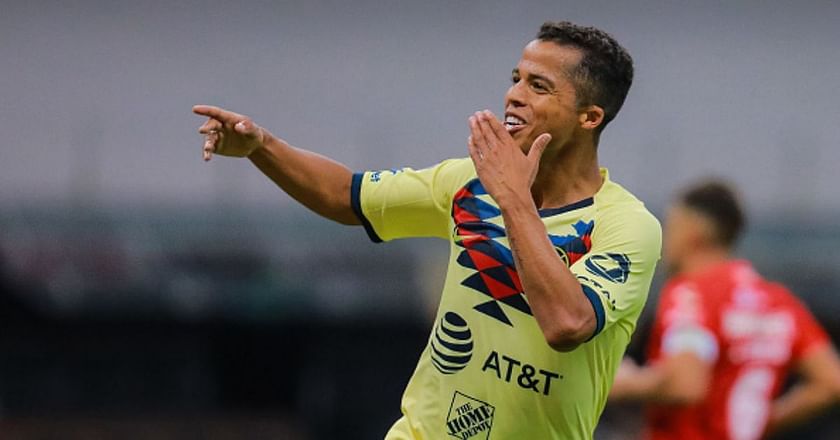 Giovani dos Santos left his native Mexico for Barcelona's La Masia academy at the age of 11. Coming through the ranks alongside Lionel Messi, the Mexican's style of play resembled Ronaldinho more than the Argentine, thus leading many to consider him a talent who would shape the world of football to come.
As things turned out, Dos Santos left Barcelona on a high, scoring a hat-trick in his last La Liga game, but was tempted by the prospect of first-team football being offered at Tottenham Hotspur.
However, a predilection for the party lifestyle upended his Lilywhite career, with Harry Redknapp saying:
"If he could pass a nightclub as well as he could pass a ball, he would be alright."
"He's got bags of ability and fantastic skill. Suddenly he was late on Monday morning – upset stomach. He'd probably been in Barcelona, partying somewhere."
A series of loan spells at Ipswich Town, Galatasaray and Racing Santander ended with a permanent transfer from Spurs to RCD Mallorca in 2012. There were brief glimpses of a resurrection in La Liga with Mallorca and Villarreal, but the Mexican opted for a move closer to his homeland, signing for MLS side LA Galaxy.
He then joined Club America in 2019 and still plays for them in Mexico.
A rather large fall from grace for someone once considered the peer of Messi and Ronaldinho.
#7 Royston Drenthe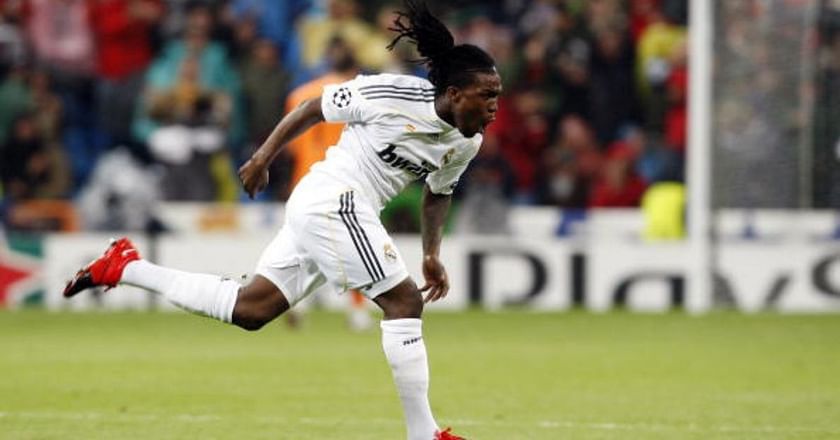 Royston Drenthe's career should he held up as a cautionary tale for any young Dutch footballers getting too big for their boots. Once considered one of the hottest young prospects at Feyenoord, the Dutchman has gone from Real Madrid and Everton to now turning out for Abu Dhabi side Baniyas.
The left-back was presented to the Real Madrid faithful alongside Wesley Sneijder, and was considered a long-term replacement for Roberto Carlos, sharing similar qualities of pace, and a rocket of a left foot. However, he was shipped off on loan to Hercules and Everton after Marcelo's rise. Drenthe's cause was not helped by his abrasive attitude.
Reflecting on his Premier League spell, Drenthe was honest about his failure, saying:
"I used to confront David Moyes, thinking I had the right to talk to him like that. But in hindsight, he was so right about me most times. Now I can't believe I blew it at ­Everton. My ­attitude and poor mentality are the reasons I ruined my career there."
Drenthe was released by Madrid, to be signed by Russian outfit Alania Vladikavkaz, who also allowed him to move on a free transfer to Reading. The English side could not tolerate the Dutchman either, sending him on loan to Sheffield Wednesday before releasing him.
Drenthe's career took a nosedive, signing for Turkish side Kayseri Erciyesspor before moving to Baniyas, who released him in 2016.
After a hiatus from the sport, he joined Sparta Rotterdam in 2018 on a one-year deal.
He then moved back to Spain in 2021, signing with Racing Murcia. In January 2022, the team loaned him to Real Murcia.
#8 Adrian Mutu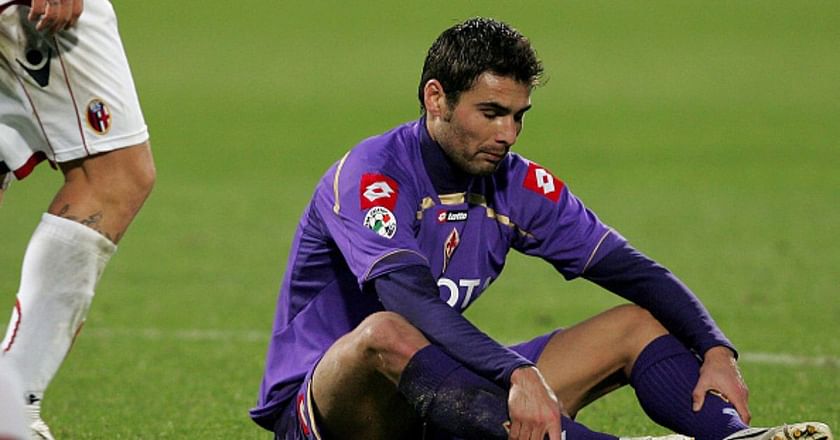 When Chelsea paid €22.5 million for a 24-year-old Adrian Mutu, a few eyebrows were raised at that figure, but followers of Italian football were not surprised, having witnessed his deadly prowess in front of goal for Parma.
Blessed with excellent dribbling skills, Mutu had an eye for a pass while being prolific, earning him comparisons with the legendary Gheorghe Hagi.
However, a promising start to his Chelsea career was blown to smithereens when Mutu was suspended by the club for cocaine use. A lengthy court battle followed, ending with the Romanian being asked to pay a £14 million fee in damages.
Mutu briefly reignited his career at Juventus and Fiorentina, but La Viola suffered from Mutu's indiscretions yet again, with the Romanian serving a one-year ban for failing a doping test.
Mutu's career took a nosedive following his release from Fiorentina, with Cesena and Ajaccio growing frustrated with the Romanian's temperamental nature.
Following a return home with Petrolul Ploieti, Mutu announced his retirement after eight months, before signing a lucrative contract as the marquee player for ISL side FC Pune City.
He returned back to Romania with ASA 2013 Târgu Mureș and retired from football in 2016.
#9 Adam Johnson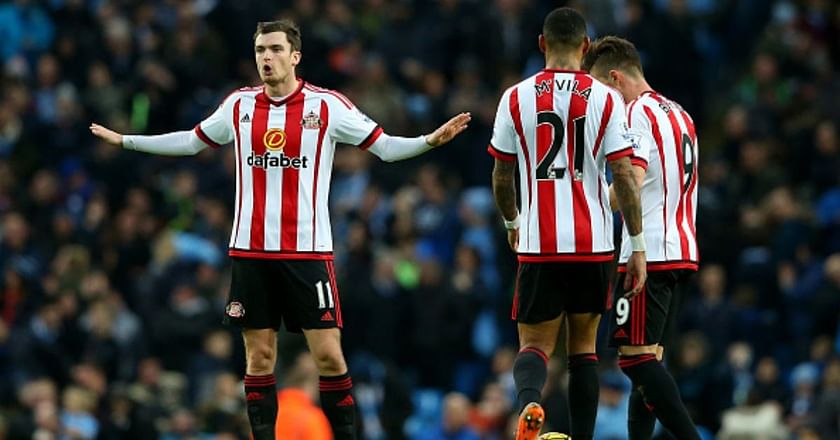 Adam Johnson was the talk of the town when he left Middlesbrough for Manchester City in 2010, with several English clubs interested. Considered the brightest young thing in English football, the winger with a wand of a left foot soon put on an English shirt, appearing 12 times for the Three Lions.
Rumours of a party lifestyle abounded as the Englishman's form began to dip, leading to a fallout with then Manchester City manager Roberto Mancini. Johnson decided to up sticks and move to hometown club Sunderland in a bid to reignite his career, but little did he know that it would prove to be the downfall of his career, and probably his life.
The winger did not set the pitch on fire at the Stadium of Light with any regularity, but it was off-field activities that proved his undoing. Convicted of grooming an underage fan, Johnson was sent to prison, serving a six-year sentence, thus surely ending his professional career as a footballer.
While speaking at his trial, Johnson blamed his own 'stupidity and arrogance', saying:
"You get put on a pedestal. People scream your name. It's the best thing in the world. You everything done for you and get a lot of things easy."
#10 Mario Balotelli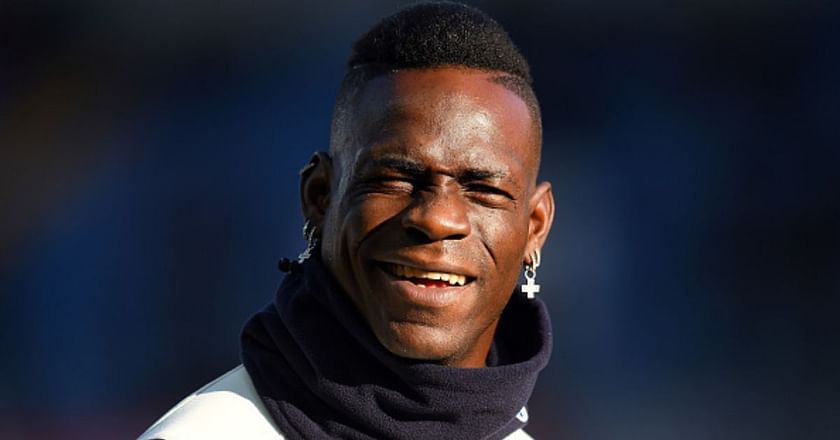 An Italian journalist once described Mario Balotelli's career, saying:
"The strange thing about Balotelli is that champagne corks are popped when he arrives but also when he leaves."
The Italian's talent is without question, as managers of the calibre of Jose Mourinho, Roberto Mancini and Cesare Prandelli have tried but failed to harness Balotelli's skills.
Steven Gerrard even went so far as to say that he was a 'spectacular waste of talent', highlighting how Balotelli plays for the Italian shirt with pride and endeavour while barely strutting about in the Liverpool jersey.
Balotelli's off-field antics are well-known, although clubs have recently begun inserting 'good behaviour' contracts in his clauses. However, Balotelli still seeks the limelight with his social media posts, often stirring up a hornet's nest with his comments.
The Italian was described as 'unmanageable' by Jose Mourinho, while Jurgen Klopp also allowed him to leave Liverpool.
After spells at Nice, Marseille, Brescia and Monza, Balotelli currently plays for Adana Demirspor in Turkey.
A rather tragic state for a player once considered the best talent in football after Messi and Ronaldo.