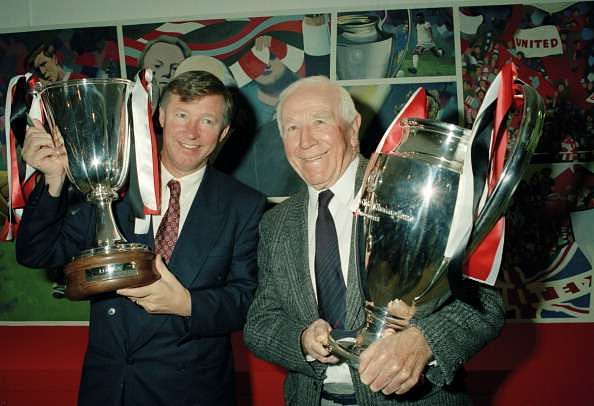 Of course, players themselves influence the game of football in England and it's not hard to guess who they might be. But what about the men who work behind the scenes and off the pitch and make the world of football go round? After all, the sport is a business that involves billions of pounds and without these geniuses, the players would be a bunch of headless chickens who wouldn't know what they were doing off the field.
These men have shaped the very nature of football in England and each of their contributions is vastly different from the others. They have transformed how the game is perceived, how it is played, how business is conducted and set the tone for the kind of ambition English football should be aiming at.
Here's a list of ten most influential people in English football who have changed the sport to what we see today:
---
#10 Kenny Dalglish
Apart from Kenny Dalglish's legendary status as a Liverpool player, it is his contributions as a manager that makes him one of the most influential personaliti in English football. Named player-manager of Liverpool in 1985-86, he led the club to a double victory in his first year – winners of the League Championship (this was before the Premier League) and FA Cup.
Not only did he help Liverpool win three league titles, FA Cups among other domestic trophies, but also helped the club navigate the horrors of the Hillsborough disaster in 1989.
He resigned as manager in February 1991 and joined second division Blackburn Rovers later that year. Within three three years he had put together the dangerous partnership between Chris Sutton and Alan Shearer that helped them win the Premier League title in 1995.
He became just the fourth manager to lead two different clubs to the league title. However, the one with Rovers was also to be his last. Thereafter, Dalglish went on to manage Newcastle United, Celtic, and Liverpool again where he bought Luis Suarez.
Dalglish's decorated career spans many decades both before and after the establishment of the Premier League and his contribution to Liverpool especially will remain unprecedented.
#9 Sheikh Mansour
The 'other' Manchester club, Manchester City, became giants of English football almost pretty quickly when the club was purchased by billionaire Sheikh Mansour. It wasn't just the injection of his billions that rejuvenated a club that never climbed above mid-table but his political associations and many investments around the world make him a very resourceful man.
Member of the ruling family in the United Arab Emirates, he is the half-brother of the current president of the U.A.E. and holds many important positions in the country's government including the post of Deputy Prime Minister.
Mansour acquired Manchester City in 2008 through his privately owned investment company, Abu Dhabi Group and helped changed the club's fortune. They went from a club that was used to fighting relegation to title contenders and have dominated the top four since the change in ownership.
Mansour helped break the monopoly that had developed in the top half of the table and didn't just stop there. Thanks to Ferran Soriano, the CEO of Manchester Cty, Mansour has been able to spread his influence to the A-League in Australia and the MLS where he owns Melbourne City FC and New York City FC respectively.
#8 Bob Paisley
Bob Paisley, the former Liverpool player, assistant manager, physio, first team manager and director is an all time legend not just in England but in Europe as well. During his time as manager he averaged 2.1 trophies per season, a record only surpassed by Pep Guardiola during his time with Barcelona.
Often overlooked for his contribution because of the looming presence of his predecessor, Bill Shankly, Paisley took over as Liverpool manager in 1974 rather reluctantly.
In his nine seasons as first team manager, Paisley won a whopping 20 trophies, three of which were European Cups. He may have inherited a very strong side from former manager Shankly, but Liverpool's rise as a European force was entirely Paisley's doing.
He continued with Shankly's training techniques but made tactical adjustments on the field. Ex-Liverpool defender, Tommy Smith said, "Bob possessed an incredible knowledge of the game and players and was more tactically astute than Shanks."
Paisley stands a head above every other football manager you can think of. He is the only manager to have won three European trophies – 1977, 1978 and 1981. Even Ferguson just won two. All those trophies weren't his only contribution to the club, a bricklayer by profession, Paisley built the dugout at Anfield that stands to this day.
His team's astronomical rise both within and outside England make him one of the greats of English football whose influence was unquantifiable in many respects.
#7 Rupert Murdoch
Media mogul Rupert Murdoch may be a heinous man but his bid to push English football and especially, the Premier League to centre-stage makes him a very influential man. Back in the days before new media, Murdoch had predicted that live sports would be the key to getting new subscribers to pay for paid television channels.
The genius behind his idea is evident from the fact that Murdoch's Sky Sports agreed to a £5 billion deal with the Premier League for broadcasting rights for 2016-19. Murdoch helped bring the League to different parts of the world through his various media interests and it's evident in India as well.
With Star Sports set to shift all its live coverage of the Premier League exclusively to its HD channels, it seems to be a far better idea to subscribe to Hotstar which would otherwise be ignored by football fans. For years, Sky Sports has held monopoly over broadcasting the Premier League across the globe and thanks to Rupert Murdoch, it is the most watched football league in the world.
#6 Roman Abramovich
Little did Ken Bates know that when he was selling Chelsea to Roman Abramovich in 2003, he was about to initiate a massive change in English football. Abramovich with his dubiously acquired billions spent £111 million on new players in his first month alone as owner.
The kind of money he threw around to assemble a trophy-winning squad had never been seen before in England and was able to break the duopoly that Arsenal and Manchester United had over the Premier League.
If you think Manchester City splurge money on buying players, then they probably learnt it from Abramovich and Chelsea. Since his arrival on the English football scene, Abramovich has consistently invested heavily in his club from buying players to refurbishing their infrastructure.
You might have missed it in the midst of all the outrage at the amount of money spent by Manchester United and City this season, but Chelsea were the third highest spenders with £122.25 million. Abramovich's contribution to English football can almost be summed as revolutionary in many ways.
#5 'Gang of Five'
So, the fifth spot goes to not one, but a group of five people. Why five people clubbed together you ask? Well, the 'Gang of Five', Arsenal's David Dein, Liverpool's Noel White, Manchester United's Martin Edwards, Tottenham Hotspur's Irving Scholar and Everton's Philip Carter were the masterminds behind the formation of the Premier League.
Prior to the advent of the League, that is before 1992-93, there was a consolidated body of football clubs arranged in divisions known as the English Football League.
The 'Gang of Five' orchestrated a breakaway of the top 20 clubs in the country to form a league independent of the Football League. The split meant the top 20 would be commercially divorced from the Football League and have the right to set the terms of their own sponsorship and broadcasting deals.
Basically, the idea was to bring in more money. Their plan succeeded. Sky Sports bought the broadcasting rights and helped the Premier League become the most watched in the world.
The contributions of Dein (also responsible for hiring Arsene Winger), White, Scholar, Edwards and Carter changed English football for good, not just financially. The quality of stadiums and infrastructure improved along with the prestige of the league around the world.
#4 Sir Matt Busby
Sir Matt Busby stands out as a stalwart of English football from the mid-20th century. After his playing career was interrupted by the horrors of World War II, he took the job of Manchester United manager in 1945.
To rebuild a team from the ravages of war must be unbelievably challenging, but to do it as successfully as Busby did must be truly special. He quickly built a team that won three First Division titles and an FA Cup. Busby eventually buillt a young side famously known as the Busby babes when the Munich Air Disaster happened in 1958.
In spite of being injured himself and the deaths of many of his players, Busby helped the club recover from yet another tragedy. Before retiring in 1969, he gave the club another two league titles and the European Cup in 1968.
The Scotsman's role in moulding United into a world-class team was tremendously significant and it is perhaps a matter of great shame that his plaque in the Director's box at Old Trafford was removed. His contributions as manager were momentous not only for the club he led but all of English football.
#3 Arsene Wenger
Arsene Wenger celebrated 20 years as Arsenal manager this past week in quite some fashion with a 3-0 victory over rivals Chelsea. Before Wenger and Arsenal became the butt of many many jokes, they were a feared side in the early 2000s. In fact, whatever they achieved in that time period was all due to Wenger's work that started in 1996 when he joined the north London side.
To put it simply, Wenger is Arsenal's longest-serving and most decorated manager. But his successful management of a great English club isn't his only contribution to football.
Practically unknown to football fans in England, the Frenchman revolutionised the way managers dealt with their teams. He began regulating the players' nutrition, fitness regimen, their overall development and physical health. Every aspect of each of his players' life was his business.
Thanks to Wenger, the days of excessive drinking were numbered in the English game. If his managerial style seemed strange to some, those doubts were silenced when he managed two doubles among numerous other trophies. While he has many detractors, Wenger has firmly stuck by his managerial philosophy and the club's management has repaid him with their loyalty for all his contributions.
#2 Richard Scudamore
Richard Scudamore is the man who, since his arrival, has kept the business of the Premier League running like a well-oiled machine. He was appointed as CEO in 1999 and has been heavily involved in all the major regulatory changes that have affected the League since then.
A lifetime Bristol City fan and a qualified level 5 referee, Scudamore has spent a vast majority of his career revolutionising the Premier League.
Following the controversy over third-party ownership of Carlos Tevez and Javier Mascherano, the Premier League, headed by Scudamore launched an independent investigation that resulted in the ban of third-party ownership of players. FIFA took their queue from the Premier League and banned it for all its members. Scudamore also advocated for clubs to maintain financial sustainability while doing business.
He wanted clubs to operate within their financial means for the long term and introduced stricter financial regulations in 2013. When the British Parliament questioned the foreign ownership of clubs, Scudamore defended their right to do so saying they bought into the English football culture, not the other way round.
Most importantly, Scudamore expanded the Premier League's reach far beyond anyone's imagination. He is singlehandedly responsible for the Premier League's overwhelming presence across the globe, especially India.
The deals he has negotiated for domestic and international broadcast right for 2016-19 is worth £8.3 billion pounds. This figure has only increased with time and Scudamore stands to receive a £6 million bonus for his work.
#1 Sir Alex Ferguson
Sir Alex didn't just influence Manchester United for two and a half decades but all of English football. Appointed as United manager in 1986, little did he or anyone else know that by the time of his retirement, he'd have won 38 trophies.
Ferguson's dominance of the Premier League extended far beyond his own men. He took a rag-tag group of young men and turned them into legends in the early years of the Premier League and continued to do so later.
His loyalty to the team and the loyalty he demanded in return is rarely seen in the modern game anymore. He amazed supporters and detractors alike with his steely resilience and his brilliant work ethic that helped him manage one of the biggest clubs in the world for so long.
Not only did he attract world-class players to England, his contribution toward the development of young talent always set United apart from the rest.
Ferguson understood the value of homegrown talent like very few do and utilised it with great efficacy. His larger-than-life presence on the sidelines not only influenced his men but the managers and players of other clubs who saw the Red Devils as the ones to beat.
For more articles like this and all news related to the wide world of football, please click here.