[Satire] 2015 Premier League All-Star game - As it happened
5.12K //
16 Feb 2015, 16:22 IST
Every year, at the half-way point of the season, there is an All-Star game in the NBA which features the best players in the league split into two teams that take on each other in an exhibition match. And that's exactly what you get – an exhibition of talent, skill and a whole lot of fun in what is usually a very high-scoring game. The two teams – the East and the West – are picked based on fans' votes online, and the respective players from each conference then team up to compete.
So what if we had something like this in the Premier League? Yes, the league and playoff system in the United States is very different to the format of the EPL, but for the sake of a fantasy game, we have split the teams based on geographical locations and picked players most likely to get into the two teams – the North and the South!
And, of course, the easiest way to select a team of All-Stars would be to use the commonly used 4-2-3-1 formation (sorry, Van Gaal). As always, there may be better choices and fans will wonder why certain players weren't picked. But in the end, they are voted by the fans, after all.
Since this is an exhibition match (treated like a friendly), more than three substitutions will be allowed. And the bench will also have more than the usual strength of seven players. The teams are managed by the manager of the highest ranked team in the league. Hence, the North is managed by Manuel Pellegrini while the South is managed by Jose Mourinho.
NORTH
SOUTH
David De Gea
Thibaut Courtois
Pablo Zabaleta
Branislav Ivanovic
Vincent Kompany
Jose Fonte
Ryan Shawcross
Laurent Koscielny
Alberto Moreno
Cesar Azpilicueta
Yaya Toure
Nemanja Matic
Daley Blind
Cesc Fabregas
David Silva
Eden Hazard
Wayne Rooney
Santi Cazorla
Raheem Sterling
Alexis Sanchez
Sergio Aguero
Diego Costa
SUBS
Joe Hart
Fraser Forster
Daryl Janmaat
Nathaniel Clyne
Kolo Toure
John Terry
Leighton Baines
Oscar
Steven Gerrard
Christian Eriksen
Angel Di Maria
Mesut Ozil
Robin van Persie
Harry Kane
Mario Balotelli
Olivier Giroud
Special guest referee: Howard Webb
Venue: Wembley
---
Live Commentary
1': PEEP! Howard Webb blows the whistle and we're off with the North kicking off!
1': We're still waiting for kickoff as Aguero and Rooney argue over who should kick off on this momentous occasion.
5': Aguero and Sterling collide as they both sprint for a long ball sent over the top by Rooney. Pellegrini screams from the touchline: "Wayne! This is NOT Manchester United! No long balls!"
9': PENALT... No, wait! South's right-back-inverted-midfield-false-forward Ivanovic makes a lung-busting run into the box only to be fouled by Ryan Shawcross. But Webb doesn't award South a penalty! Shawcross gets away with it.
16': Break in play as Jose Mourinho is held back by the fourth official as he lunges toward the touchline to have a word with Webb. "What is this? What is this? For what? WHY?"
17': Play restarts and David de Gea's goal kick finds Yaya Toure, who floors Cesc Fabregas in the aerial duel. But Matic is on hand to dispossess Toure, who looks around for support and suddenly realizes there is no other midfielder whose name starts with the letters 'F-E-R-N-A-N-D' to support him.
24': Santi Cazorla, Eden Hazard and Fabregas link up with a beautiful triangle passing move that sees them exchange 16 passes before they enter the box. But as they try to pass the ball into the net, Vincent Kompany sees the danger, intercepts and hoofs the ball out for a corner. As Fabregas walks back dejected, Cazorla smiles and ruffles his hair: "Deja vu, no?"
25': Cazorla gets ready to take the corner for the South. Shawcross is busy marking his man, chasing him wherever he goes until Aguero yells at him, "We're on the same team, Ryan!" The corner eventually comes to nothing as Cazorla fails to beat the first man.
31': SAVE! David Silva threads a neat through ball to split Fonte and Koscielny. Aguero makes the run and shoots from the edge of the box but Courtois is up to the task. Martin Tyler's "Agueroooo" scream is cruelly cut short.
37': GOAL! A solo run by Alexis Sanchez takes him past all 10 outfield players and his shot is tapped in by Diego Costa. Alexis's shot was already going in after beating a stranded De Gea but Costa relies on his poaching instincts and celebrates in his trademark manner, leaving the Chilean fuming.
37': South 1-0 North
38': INJURY: Diego Costa is down on the floor holding his ankle. It was a harmless foul in the centre of the pitch, but Koscielny 'accidentally' steps on the striker's ankle while walking back. Mourinho protests for a red card and then realizes the French defender is on his team and makes a note in his pocket-book – 'Give voyeur piece of my mind'.
40': SUBSTITUTION: Costa limps off to be replaced by Olivier Giroud. Koscielny silently gives Alexis a thumbs-up while Martin Skrtel and Emre Can in the crowd stand up and applaud.
43': SAVE! De Gea dives to his right to deny Kompany who slices his clearance and almost scores an own goal. Jamie Carragher in the commentary box heavily criticizes the Belgian centre-back: "That was so poor! How can he be so careless?" Gary Neville silently signals the producers to bring up Carragher's own goal videos to analyse after the game.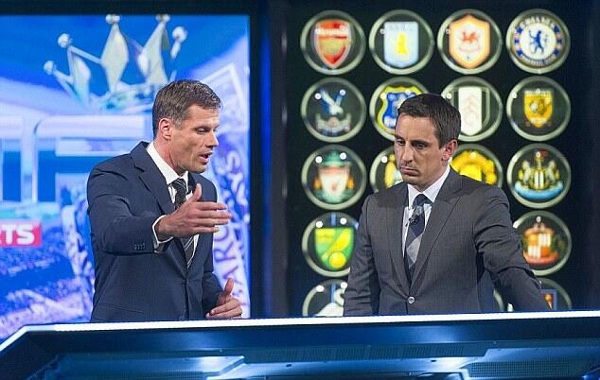 45+1': Pablo Zabaleta and David Silva combine beautifully to create a chance for Rooney whose tap-in attempt from three yards out sends the ball straight into row Z. Aguero, who was behind the Englishman, literally rips his hair out. A frowning Roy Hodgson leans over to Louis van Gaal and whispers, "You did this to Wayne with your Total Football nonsense at Old Trafford."
45+2': PEEP! Webb signals for half-time and the teams trudge off the pitch.
Half-Time +1': Alexis Sanchez finally stops running.
Second Half
Pellegrini takes off De Gea, Silva and Aguero and brings on Joe Hart, Steven Gerrard and Robin van Persie.
Mourinho substitutes Fonte, Alexis and Hazard for John Terry, Christian Eriksen and Mesut Ozil.
46': Steven Gerrard steps on the pitch and a tear rolls down his cheek. Moreno and Sterling come up to him and ask, "What happened, skipper?" Gerrard wipes a tear and says, "This might be my last game at Wembley," before running out on to the pitch. A puzzled Moreno looks at Sterling and says, "Er... Aren't we still in the FA Cup?"
49': GOAL! Eriksen's sublime chip over the defence finds Giroud who takes it first time with a volley that crashes into the underside of the crossbar and goes in. In spite of the goal, Arsenal and Tottenham fans still refuse to celebrate together, as do Giroud and Eriksen who run in opposite directions to celebrate.
49': South 2-0 North
55': GOAL! Van Persie dispossesses Fabregas deep in his half, exchanges a one-two with Yaya Toure, finds Daley Blind on the flank whose cross is headed in by the Dutch striker. He immediately runs to the seats behind the dugout to high-five Van Gaal. The United boss then turns to Hodgson and says, "That's Total Football! You clueless Englishmen don't understand my tactical genius! See these formations on how we use Van Persie..." and proceeds to show the England manager a 154-page dossier.
55': South 2-1 North
58': Van Persie pulls up after injuring his hamstring and calls the physio. Pellegrini signals Balotelli who gets ready to come on.
59': Van Persie is unable to continue and hobbles off the pitch and down the tunnel while Van Gaal shreds half his dossier.
61': Play is yet to resume as Balotelli has a hard time removing his bib. He finally comes on after the two Toure brothers pull from both sides and rip it apart.
67': SUBSTITUTION: Angel Di Maria comes on for Raheem Sterling who has had enough of this nonsense and goes down the tunnel to pack his bags and take a short vacation in Jamaica.
68': YELLOW CARD! Mario Balotelli tries to win the ball from Mesut Ozil and fouls him in the process. Ozil's injury looks bad and he's writhing on the ground holding his knee. Both Balotelli and Arsene Wenger scream in unison, "WHY ALWAYS ME?!"
71': Ozil looks okay to continue and Wenger sits back down. He looks over to Brendan Rodgers and says, "Control your boy, Brendan!" Rodgers responds instantly, "Zip it, Arsene!" Wenger bows his head and says, "I can't, I just can't!"
74': CORNER! The resultant free kick is sent in by Ozil and John Terry's header is deflected away by Hart.
75': SUBSTITUTION & INJURY! As Cazorla gets ready to take the corner, the stadium goes dark and red flames explode from the corner flags as Harry Kane gets ready to come on for Giroud. Cazorla falls to the ground, knocked senseless and in complete shock. Luckily, he escapes any burn injuries thanks to the corner flag being taller than him.
78': SUBSTITUTION: Cazorla is substituted and Oscar comes on. The corner comes to nothing as Hart punches the ball clear.
85':GOAL! Mario Balotelli is released by Di Maria and scores with a thunderbolt from inside the box. Courtois has no chance and Balotelli wheels away in celebration, takes off his shirt and flexes his muscles.
86': RED CARD! The goal is ruled out for offside and Balotelli gets his second yellow card for excessive goal celebrations. North are down to 10 men!
89': Pellegrini throws on Leighton Baines and Kolo Toure for Blind and Yaya Toure, then realizes he's the one chasing the game. The Engineer has unbelievably made a huge mathematical mistake.
90': Three minutes added on.
90+2': PENALTY! The North have a chance to equalize! Di Maria pounces on a loose back pass and is tripped by Azpilicueta in the box.
90+3': GOAL! Steven Gerrard takes his run up and slips, but his shot has just enough power to beat Courtois who goes the wrong way, gets up and dives after the ball to clear it off the line. But Goal Line Technology allows the goal to stand! Gerrard walks past Terry and says, "That's how you score a penalty – even after slipping."
FULL TIME: Webb blows the whistle and the game ends in a draw – South 2-2 North!
Man of the Match: Santi Cazorla, who smiles and hugs everyone after getting the trophy.