26 years United - Sir Alex Ferguson
1.16K //
05 Dec 2012, 20:44 IST
Sir Alex Ferguson's hunger for success is like Cleopatra's beauty – when most get satisfied, he gets hungrier. Encouraged and not burdened by the history he creates, Sir Alex Ferguson is the most decorated manager in British football history – winning a staggering 27 major honors (excluding Community Shield wins) in his 26 years in charge at Manchester United. Yet, he remains ever more focused in increasing that tally and bringing yet more silverware to the Old Trafford trophy cabinet.
Manchester United signed Sir Alex Ferguson when the side was standing at the doorstep of a bleak winter in November 1986. Merseyside was monopolizing the English first division. 19 years on from their last league title, United were feeding off scraps. At that time, they were a group of dispirited underachievers lying at the bottom of the league table. So the first task at hand for Sir Alex Ferguson was to remove the very real threat of relegation. He dealt with what he had and guided United to an eleventh place finish.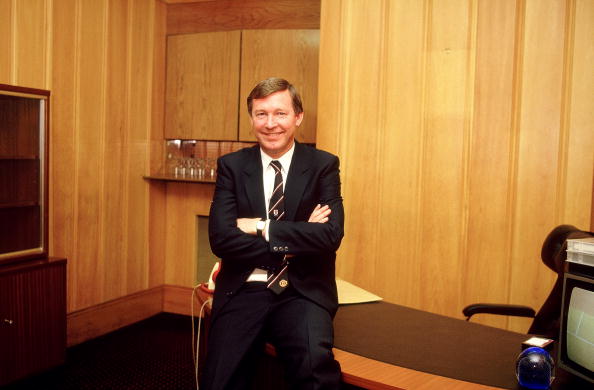 In his second season in charge, United finished second to an all conquering Liverpool side who won their 17th league title in 1987/88. During those early years, not even Sir Alex Ferguson imagined that Liverpool could be knocked off their perch. So he decided to take it in stages – winning a trophy, then winning the league and gradually, he could then talk of perches. He had a group of players who could play, but he was not happy with the culture at the club. So he got them together and made them realize that he was the boss at Old Trafford and it's them (the players) who had to change. As a result, the turning point came in the 1989/90 season when United won their first trophy under Ferguson's command, beating Crystal Palace in the FA Cup final replay.
The first trophy opened the floodgates and the European Cup Winner's Cup was won in the following season. Then in 1991/92 season, the League Cup was added to the list of Ferguson's trophies. However, the League title still remained elusive to the United fans who considered it as a holy grail after seeing 26 barren years without the league trophy. People started to think that it might never happen again, until SAF made the most iconic signing of his era – Eric Cantona arrived from Leeds United for 1m pound.
Cantona proved to be the catalyst and the missing piece in the United jigsaw in achieving league success. The long wait for the League title was finally over in the 1992/93 season, when United pipped Aston Villa for the title. The following seasons saw a period of change at Manchester United, with some senior players like Mark Hughes, Bryan Robson etc deciding to either move on or retire, which prompted Sir Alex Ferguson to rebuild his team. He took a leaf out of Sir Matt Busby's books and injected youth into his new look team, with as many as 5 academy graduates making their first team debut for Manchester United.
The perfect blend of youth and experience opened the floodgates – United won the double in 1993/94 season, did the double double in 1995/96 and won another league title in 1997. Manchester United were beginning to replace Liverpool at the pinnacle of English football. However, in order to truly achieve that, they still needed to get their hands around the coveted European Cup, which Liverpool had almost made their own during the late 70′s and early 80′s.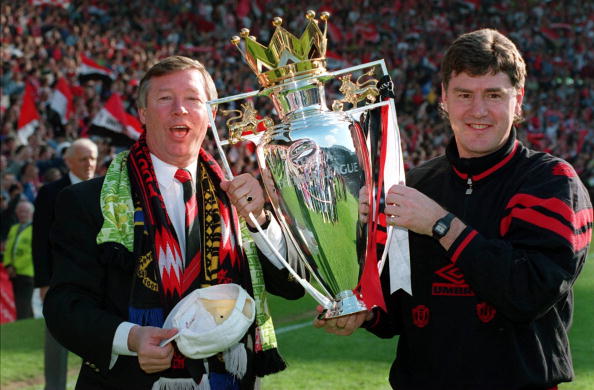 As always, Sir Alex Ferguson accepted the challenge and his greatest ever achievement came in 1998/99 season when he led United to the unprecedented treble of the Premier League, the FA Cup and the European Cup. And the manner in which he achieved that treble during that unforgettable night at Camp Nou, where United scored two injury time goals through their substitutes, could never be bettered by any Hollywood script writer.
SAF was knighted following that success and there were suggestions he would retire as he had achieved everything at Manchester United. People thought that his desire and motivation would start to fade after this. But Sir Alex Ferguson just moved on. A couple of League titles in the following two seasons made it three in a row from 1999-2001. The 2002/03 season saw him win his eighth Premier League title in 11 years.
The three years that followed were probably the bleakest in SAF's reign. He had to fight against the might of the Invincible Arsenal team and the Russian owner's money-fueled Chelsea team, which saw Manchester United go without the Premier League trophy for three years running. People started to point out at the end of an era for Sir Alex Ferguson and his team. But he again took it as a challenge to prove the doubters wrong.
He adapted to the change very quickly, accepted the new challenge and rebuilt a new team around new star signings of Wayne Rooney and Cristiano Ronaldo and delivered three back to back titles again from 2007-2009, along with his second European Cup success in 2008. In the process, he seemed to be getting younger and hungrier with age.
In 2011, United achieved what seemed almost impossible when SAF first arrived at Old Trafford; overhauling Liverpool's long standing record of 18 Premier League titles and becoming the most successful club in English football. However, in 2012 he saw his side lose the title to their neighbors Manchester City in the dying seconds of the season, and thereby sparking a new rivalry and hence, a new challenge.
His greatest strength lies in the fact that he readily accepts a new challenge, just after he has completed one. He never sets out with a list of objectives. They evolve with time – winning his first trophy, then winning the first Premier League title, then the double, the Treble, rebuilding teams, becoming the most successful manager himself, making United the most successful club in English football and it goes on and on. To be at the helm at a club of the stature of Manchester United for over 26 years speaks volumes of his character. Look at Pep Guardiola for instance, who recently quit a similar grueling job at FC Barcelona after just 4 years, which makes SAF's 26 yrs at Manchester United seem even more incredible.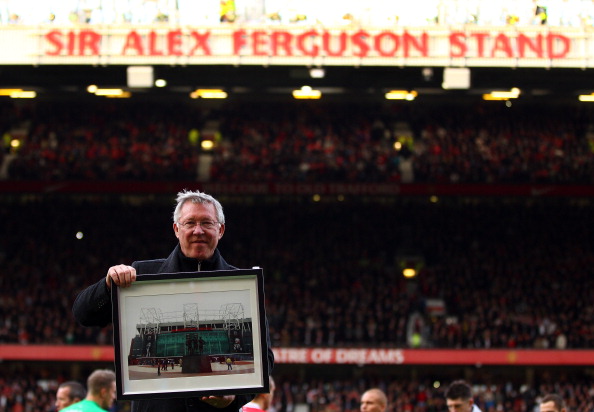 What sets him apart from other successful managers of the modern era is how easily he adapts to change, rebuilds teams, replaces star players and still keeps on winning during the process. He has moulded the character and spirit of Manchester United teams – they never accept defeat. Strong belief that no matter how little time is left in a game, Manchester United will score; that's the characteristic of the Ferguson years. It's that indomitable spirit, that belief that they are Manchester United, that they will win and come through. He'll never be anyway different, he's got that extraordinary determination. People talk about fatalism, as in knowing when you're beaten. Ferguson's attitude is that he never knows when he's beaten.
He injects his own DNA into the club. It's his personality, his character that runs through that club. Not just on the pitch on a Saturday, but behind the scenes as well and any body who joins in new becomes a part of that team unit. What he's best at is identifying the kind of players who can fit into the Manchester United way. He spends a lot of time identifying the character in the player who he buys, as much as his ability. He nurtures them like a father, protects them, motivates them and makes them realize their true potential. And then he has people like Scholes, Giggs and other senior pros who are exemplars of the United way and that's how the message passes on to the new generation of players. This is what makes his rebuilding of teams very smooth.
His impact on the lives of the people, even to those outside the football world, is enormous. People look up to him and they see that never ending desire, drive, determination, work ethic, never-say-die attitude and that too even after achieving so much success, he makes people feel inspired and motivated. They want to be like him, but in reality, there can only be one Sir Alex Ferguson.
His achievements are unparalleled, and it's almost impossible to imagine that it can ever be eclipsed. Many consider him as the greatest manager ever, and there can be no one denying that. He is approaching his 71st birthday but he defies his age and still looks as hungry, as determined and as motivated as he first arrived at Old Trafford. He seems to be ahead of his time, as he very perfectly summed it up during his statue unveiling at Old Trafford in November 2012  -
"It's really a very proud moment for me. Usually people die before they have a statue. I am outliving death!"
Sir Alex Ferguson is a superhuman, who just keeps moving on…