At 30, Fernando Torres is very much on his last legs
9.31K //
24 May 2014, 01:55 IST
It sounds bizarre to suggest that a player with Fernando Torres' trophy cabinet might still feel unfulfilled. After all, he's won pretty much everything the game has to offer, except for a top-flight league title. He is the only player in history to score in two Euro finals; he's also scored in a Europa League final and won the Champions League; won the Golden Boot at both Euro 2012 and Confederations Cup 2013. He's also won the World Cup and the FA Cup. As a striker, he was second only to David Villa in a fabulously gifted generation of Spanish footballers.
He is also the foremost player of that generation to have played for neither Barcelona nor Real Madrid, which makes his long stay in the Spanish National Team truly remarkable. And while league titles might be missing from his mantelpiece, he did fire Atletico Madrid to the Spanish second division title - in a very different era for the club and its young captain.
But Torres' career has been overshadowed by the most ironic of curses: he won little at his peak, and most of his trophies have been won by teams where he is a peripheral figure. Barring Euro 2008 and Europa League 2013, he has struggled to deliver for either Chelsea or Spain. His EPL goal scoring record for the former is pitiful: 20 goals in 110 games, and he is now perhaps the most celebrated failure in modern football – a £50m white elephant. In the summer of 2012, 1.5 years after becoming the most expensive player in English league history, he wasn't considered reliable enough to start any of the 3 finals those teams contested.
A turn of fate that no one could have predicted five years ago. The Liverpool-era Torres was the Premier League's most feared striker, and drew comparisons with Thierry Henry for his explosive pace and ruthless finishing. He reduced Nemanja Vidic, a proud and sharp defender, to a nervous wreck who would be sent off 3 consecutive times against the Spaniard (a 4th was added after Torres joined Chelsea). The afternoon of 14 March, 2009 in particular was the nadir of the big Serb's excellent spell at Manchester United. Torres twisted, turned, ran right past him and left him resorting to foul after foul, as Liverpool ripped apart their rivals at Old Trafford.
But that was also Torres' barren era – in 3.5 years at Merseyside, he won nothing at the club level. His last complete season with Liverpool saw the recurrence of a hamstring problem that literally hit him where it hurt hardest – his speed and acceleration.
"It was a real hammer blow," Torres wrote in his autobiography. "...in my case, because it was my hamstring that was causing me problems - the muscle I live by, the one that gives you acceleration and speed."
That injury ruined his World Cup campaign. When he came on in the final, late in extra time, he ran a short distance and collapsed on the pitch, clutching his thigh. It was a painful sight to witness for anyone who remembered the striker in his pomp. Minutes earlier, Andres Iniesta had sealed the first of Torres' hollow triumphs with a shot past Maarten Stekelenburg.
The decline had already set in the previous season, although few recognized its seriousness at the time. Liverpool had sold Xabi Alonso to Real Madrid, and Steven Gerrard had coincidentally picked up an injury of his own. Without their service, Torres struggled when he played. His cunning runs had always been his greatest weapon, but the damage to his hamstring was critical. As Jamie Carragher points out here about Michael Owen and Ryan Giggs, players who depend on pace are always going to be crippled by hamstring problems. Giggs could reinvent himself as a CM, but Owen was an out-and-out finisher. So is Torres.
In many ways, Torres' career has followed a similar trajectory to Owen's. Apart from the Anfield connection, both were deadly finishers in their prime, with an acceleration that gave defenders no chance. Both left Merseyside at the age of 26 in search of greener pastures and wound up at direct rivals – Owen at Manchester United, Torres at Chelsea. This has led to much brotherly love from the Kop faithful; although in Torres' case, criticizing Liverpool's functioning and saying that he'd felt 'trapped' there might not have been the best way to say goodbye. (Amusingly, another Atletico striker with a hamstring problem, Diego Costa, will move to England this summer. His age? 26.)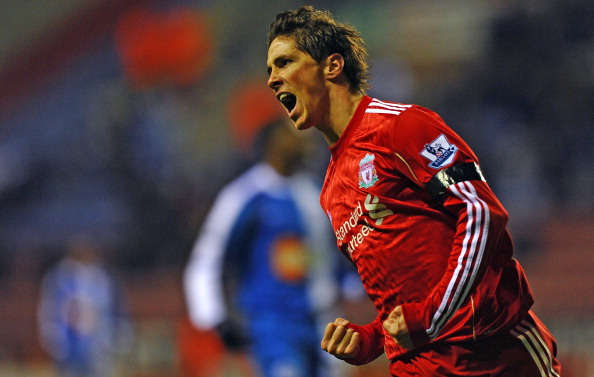 The following summer, Spain beat Italy 4-0 in the Euro final, and Torres came on late to score and assist against a flagging Italy reduced to 10 men after Thiago Motta's injury. His only previous contribution was a brace against Ireland, possibly the worst side in the tournament – but all this was good enough for the Golden Boot. A year later, he won the award at the Confederation Cup as well with 5 goals, 4 of which came against Tahiti and 1 against Nigeria – the only side Tahiti scored against.
You can see where the taunts come from. Here is supposedly one of the greatest strikers of his era, earning individual awards by scoring pointless goals when the result is beyond doubt, while not being good enough to start key matches. An age ago, his first final ended with the winning goal and the man-of-the-match award; in the span of 3 years, he's suffered an humbling series of reverses. Accumulating titles will mean little, long after his playing peak, and devoid of the adulation he once enjoyed.
Here is Sir Alex Ferguson paying his grudging tributes: "Torres was blessed with great cunning: a shrewdness that was borderline Machiavellian. He had a touch of evil, though not in a physical sense, and he had that total change of pace. In a 45-yard sprint he was no faster than several Liverpool players, but he had that change of pace, which can be lethal."
We know it's the Torres of old he's talking about. None of these attributes seemed in evidence by the time he missed an open goal against Ferguson's side in October 2011. Neither Carlo Ancelotti nor Andre Villas-Boas could coax anything out of him, whereas Nicolas Anelka and Didier Drogba usually delivered. As Torres' importance to the side decreased, he grew progressively more frustrated, earning a rash of bookings. His frustration publicly boiled over after being left out of the list of penalty takers in Munich. Being reunited with Rafael Benitez did not improve his Premier League form – except in training - and Jose Mourinho has long since given up on him.
A departure from Stamford Bridge this summer, probably to Inter Milan, may do him some good. Serie A's slower tempo will disguise his drop in pace, and he can rely on his natural striker's instincts to recover form. At 30, he doesn't have much left to play for – except perhaps to serve one final, defiant reminder of his ability, and to bring a career that has stayed at a standing start for 4 years to a dignified finish.