4 underacheiving teams in the EPL this season
2.25K //
01 Dec 2012, 00:35 IST
The EPL has been a roller coaster ride for almost all teams this season. There are teams who started badly (not up to their potential), but still managed to get some points, and there are other teams who are performing well or have very capable players, but are not well placed in the table. Here are my four teams which are supposed to be positioned above where they are, by this time:
1. LIVERPOOL
If someone with football knowledge wakes up after 5 months of hibernation and looks at Liverpool sitting in 12th in the table, he would just panic. A Liverpool hater might think he is still in a dream. It's just not been in the Liverpool blood to be below the top spots for almost 3-4 decades. They finished 8th in 1962-63 season after being promoting from second division, but since then have rarely found themselves in that position until recent times.
2. QPR
Park Ji Sung, Granero, Zamora, Taarabt, Julio Cesar, Shaun Wright-Phillips, and Anton Ferdinand are a few of the famed players at QPR. Its a dream team for any relegation surviving teams of last season. However, even this season they are fighting to stay away from that zone (currently placed in 20th). They are the only team which hasn't won a single match till date this season. Harry Redknapp's appointment looks like the saving grace for QPR fans. He did it previously with the Spurs and Portsmouth, but has failed to save Southampton in the past.
3. NEWCASTLE UNITED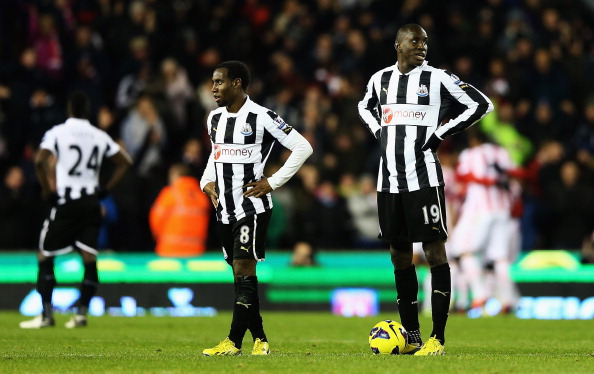 The Magpies are one of the teams that finished in a Europa League qualification spot last season. They were at one time sitting in third in the table. As a result, the owners tied their manager to a long term contract. Now, the team have become overly reliant on Demba Ba. Newcastle have scored 14 goals in 14 games at an average of one per game, out of which eight have come from Ba. It's been a while since Cisse returned from injury, and he still hasn't got back to his best. Injuries to Ben Arfa and Cabaye have affected the team. They want goals more than any other team.
4. ARSENAL
Some may argue that Arsenal's performances have not been up to mark, and are deservedly sitting in 7th place. Some may argue that they don't have a quality striker to replace the reliable RVP. But for me, it's Arsenal, and they always should finish in the top four. Arsenal are one of the few teams that make the EPL look beautiful, and deserve to be doing much better.
Other teams considered: Chelsea, Sunderland, AstonVilla