Midfielders are the players who run the game of football. They are crucial in setting up the style of play and controlling the flow of the game. These players are the link between attack and defence often playing defence-splitting passes and breaking up opposition play as and when required.
All the best teams in the world have that one player (or in some cases 3) in the centre of the park capable of making a difference with a moment of magic. While the players are on this list are all above 30, there is no doubting the fact that they are still crucial and capable of making a difference to their sides.
Here are the top 5 midfielders above the age of 30:
#5 Franck Ribery (33)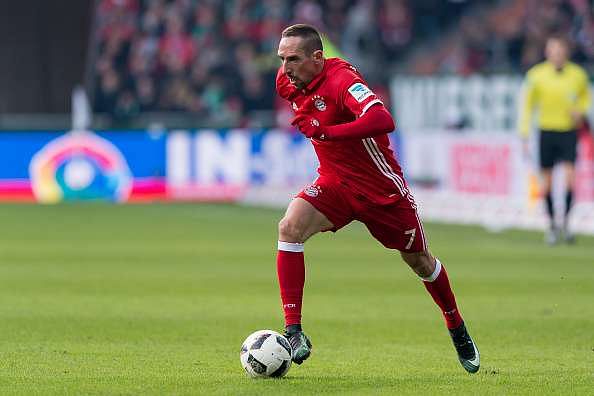 One of the greatest players of our generation, Franck Ribery at the age of 33 is still going strong for Bayern Munich. Known for his terrific pace, excellent dribbling skills and brilliant vision, Ribery has been one of the main factors in Bayern Munich's dominance in European and Bundesliga football.
A Bayern Munich legend, Ribery is currently in his 9th season at the German club and has even extended his contract for one more year keeping him in Munich until 2018. While Douglas Costa was preferred to Ribery by previous manager Pep Guardiola, under Ancelotti the Frenchman has played a much more integral role having already made 18 appearances.
Ribery even said how he felt "trusted again" under Ancelotti. Speaking to Kicker, he said:
"Under Ancelotti, I finally feel like I'm trusted again, He's an awesome coach and I need people like him or Jupp Heynckes and Ottmar Hitzfeld.
"I feel free and fully motivated," Ribery continued. "He [Ancelotti] is a gift for the club."
Bayern Munich will be thanking Ancelotti that he has managed to get the Frenchman fit and firing on all cylinders once again.
#4 Arjen Robben (33)
One of the best players in the world when he is fit, Arjen Robben is another Bayern Munich stalwart who is still at the very top of his game even though he is well above 30. The 33-year-old winger has enjoyed a renaissance of sorts this season after he has managed to keep himself injury free.
7 goals in 16 games for Bayern Munich this season has shown once again why age is just a number when it comes to Robben. Despite the many injuries in his career, the Dutchman still has explosive pace and his left-footed shots have given many memorable moments to the Bayern Munich faithful.
The Robben and Ribery combine on the Bayern Munich wings have given opposition defences plenty of sleepless nights and although both are past their 30s, they are still capable of producing moments of magic regularly.
This video shows how devastating Ribery and Robben were at their peak:
#3 Andres Iniesta (32)
The diminutive Spaniard has been astonishing the footballing world since 2005 and there are no signs of him slowing down. A true gem in the crown of the Barcelona midfield, Iniesta almost has a telepathic understanding of his team-mates' positions. Always setting up goals or scoring crucial ones, Iniesta is truly a big match player.
Iniesta relies on exceptional creative passing, intuition and inventiveness to control the midfield and dictate the ebb and flow of play. He has won 29 trophies in his stellar career making him the most successful and decorated Spanish player of all time.
Now 32, Iniesta is still among the best midfielders in the world and is a crucial player in Luis Enrique's Barcelona side. While Denis Suarez has been earmarked as a long term replacement for Iniesta, it will definitely be a tough task for him to live up to the incredibly high standards set by the Spanish magician.
#2 Luka Modric (31)
Real Madrid is a team full of superstars. The Ronaldos, Bales, Jameses and Iscos of the world will always have a place in the Real Madrid team. However, when they come across a team which has a well-drilled defence, they rely on their midfield maestro Luka Modric to break down the opposition.
Xabi Alonso was an expert in providing long passes and spraying the ball around while Angel Di Maria pulled the opposition players out of position through his direct running. Modric is a player who can do both and that is why he is absolutely integral to Real Madrid's style of play.
The Croatian's ability to tackle in defence, secure the ball and then feed the forwards is simply stunning. His remarkable calm when carrying the ball converted what for other midfielders would be uncomfortable situations into attacking scenarios.
Modric has been absolutely important for Real Madrid this season and there is a marked difference in how Los Blancos play with and without the Croatian playmaker.
#1 Xabi Alonso (35)
One of the best defensive midfielders to ever play the game, Xabi Alonso has been successful wherever he has played, be it in the Premier League with Liverpool, or the La Liga with Real Madrid or the Bundesliga with Bayern Munich.
A complete, consistent, hardworking and versatile midfielder, Alonso is capable of contributing both defensively and offensively. Although Xabi Alonso announced that he would be retiring at the end of the season, he is still Bayern Munich's main man in central midfield and has already made 20 appearances for the Bavarian giants.
Winner of multiple league titles, Champions Leagues, Euro Championships and even a World Cup, Alonso will be looking to end his career on a high by winning the Bundesliga and Champions League with Carlo Ancelotti this season.
Honourable mentions: Santi Cazorla, Michael Carrick, Thiago Motta