Chelsea and Atletico Madrid have reportedly reached a verbal agreement for the transfer of Portuguese forward Joao Felix to Stamford Bridge this January.
Multiple reports suggest that the Blues are willing to pay Felix's loan fee, which is around £9 million. They are also willing to cover his full wages for the rest of the season.
Both clubs have enjoyed a good relationship in the transfer market over time. Similarly, a couple of players have also been privileged to represent Atletico Madrid and Chelsea in their playing careers.
Notable mentions include the likes of Maniche, Jimmy Floyd Hasselbaink, Jesper Gronkjaer, Mateja Kezman, and Tiago.
However, should Felix's transfer to Chelsea scale through, he could also join a growing list of active players to play for both teams. Without further ado, this article will take a look at five of the best.
---
#5 Alvaro Morata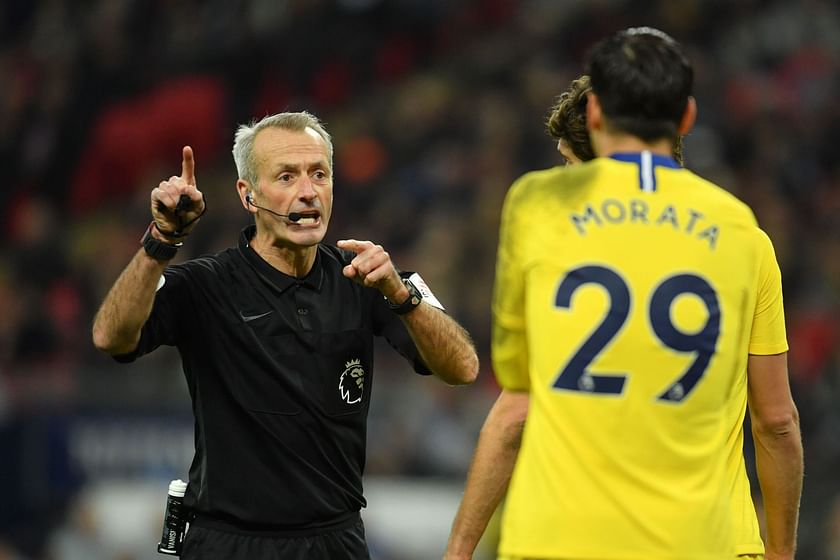 The Spanish striker is currently one of the top players to represent both Chelsea and Atletico Madrid in his career so far.
Alvaro Morata began his youth career with the Los Colchoneros where he spent two seasons between 2005-2007. He, however, didn't get the opportunity to represent the first team until 2019.
The striker joined Diego Simeone's team from Premier League side Chelsea on loan during the January transfer window of 2019. His move eventually became permanent in July 2020 for a fee in the region of £55 million.
Morata has so far played a combined total of 84 games for Atletico Madrid, registering 28 goals and eight assists. He also scored 24 goals and registered six assists while making 72 appearances during his time at Chelsea.
---
#4 Filipe Luis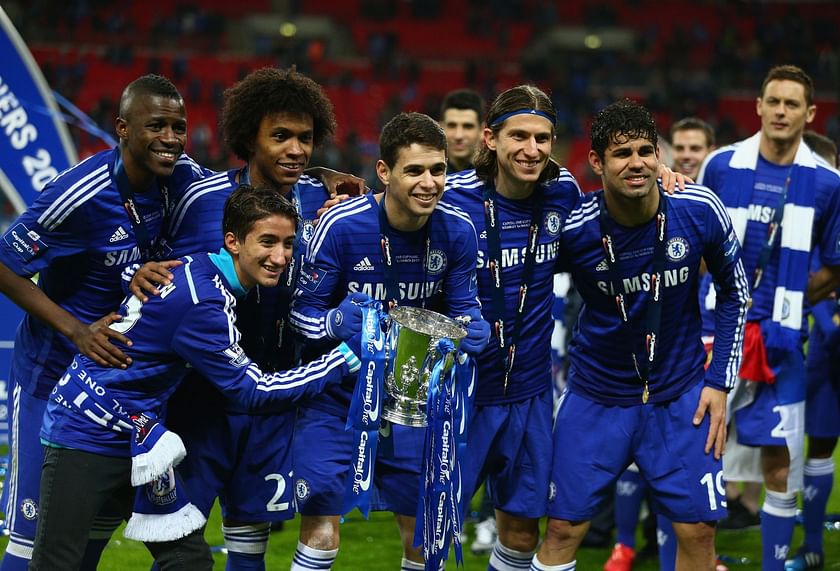 The Brazilian defender is also another top-rated player who featured for both Chelsea and Atletico Madrid at some point in his career.
Filipe Luis joined the La Colchoneros in the summer of 2010 from fellow Spanish side Deportivo Lacaruna for a transfer fee in the region of €12 million.
He went on to have two separate spells with Atletico Madrid between 2010-2014 and 2015-2019. He also made 333 appearances for the Spanish giants, scoring 12 goals and 30 assists.
Luis also had a brief spell with Chelsea during the 2014-15 season, making a total of 26 appearances and registering a goal and an assist.
---
#3 Radamel Falcao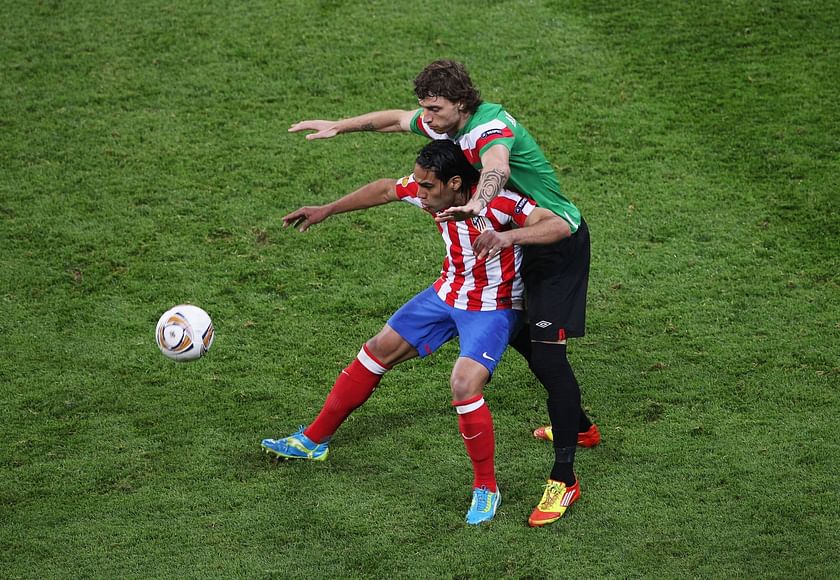 The Colombian striker is arguably one of Europe's finest centre-forwards of the modern era. Such has seen him play for a couple of top clubs like Monaco, Manchester United, Chelsea, and Atletico Madrid.
It was at Atletico Madrid that Radamel Falcao set himself as one of Europe's elite goal poachers. He joined the Spanish club from Porto in the summer of 2011 for a fee in the region of €40 million.
The striker went on to score a total of 72 goals in 91 appearances for Atletico Madrid between 2011 and 2013, before joining Monaco.
While at the French club, Falcao had two unsuccessful loan spells in the Premier League. One of which saw him join Chelsea in the summer of 2015.
He barely made any significant impact during his time at Stamford Bridge, making 12 appearances and scoring just one goal.
---
#2 Thibaut Courtois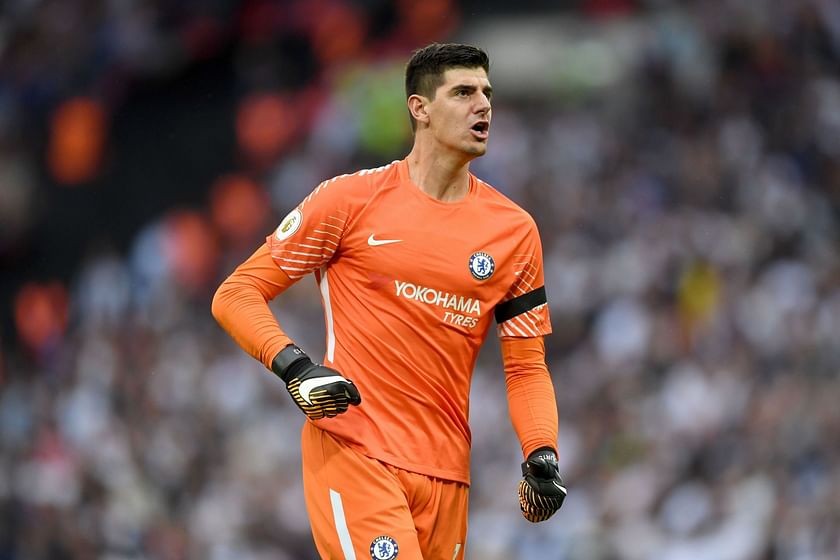 The Belgian keeper also represented Chelsea and Atletico Madrid during the formative part of his career as they both had a huge part in his growth.
Thibaut Courtois was signed by Chelsea in the summer of 2011 from Belgian club Genk for a transfer fee in the region of €9 million. However, he didn't get an opportunity to play for the Blues' first team until the 2014-15 season.
Courtois was loaned out to Atletico Madrid for three seasons between 2011-2014. During his time in Spain, he faced his then-parent club Chelsea in the semi-finals of the UEFA Champions League.
He went on to make a combined total of 154 appearances for Atletico Madrid before eventually returning to England in 2014.
The Belgian won two Premier League titles with the Blues and two domestic cup trophies. He also made 154 appearances for Chelsea between 2014-2018 before leaving for Atletico's arch-rivals Real Madrid.
---
#1 Diego Costa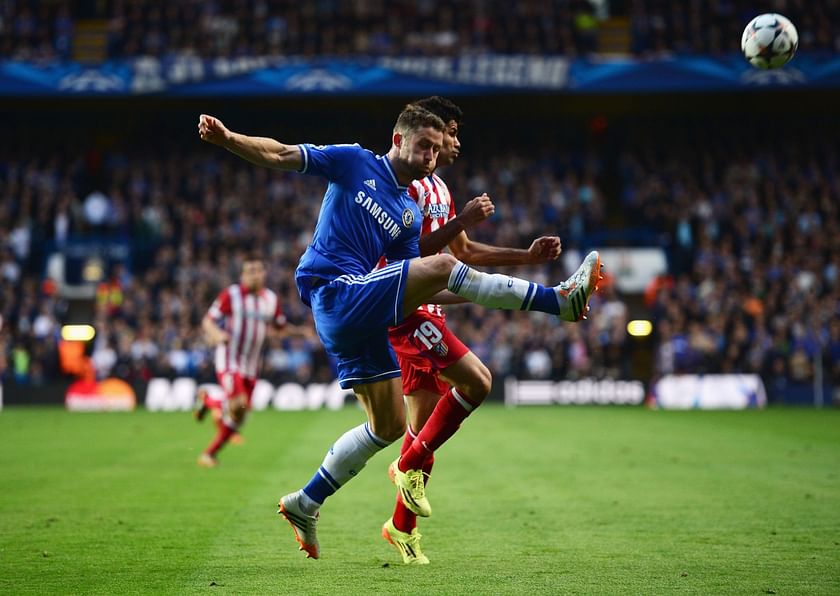 One player who had a great impact at both Chelsea and Atletico Madrid has to be Brazilian-born centre-forward Diego Costa.
Although controversial in nature, Costa was arguably one of Europe's most ruthless strikers during his peak at both clubs.
The 34-year-old star joined Atletico Madrid from Real Valladolid in 2010. He had two spells with the La Colchoneros, scoring 83 goals and registering 36 assists in 216 appearances.
Costa secured a move to Premier League giants Chelsea in 2014 for a fee in the region of £34 million. He scored 59 goals and registered 23 assists in 129 appearances between 2014-2017.
Paul Merson predicts Man City vs Liverpool and other Premier League GW 29 fixtures! Click here
Poll : Will Joao Felix succeed at Chelsea?
10 votes
Edited by Nicolaas Ackermann