Carlo Ancelotti is one of the most successful and decorated managers in the history of the game.
The 62-year-old tactician is one of the few managers to have won league titles in four different countries. He could do so in a fifth league if Real Madrid hold on to their lead atop the La Liga standings until the end of the season.
Ancelotti has managed some of the biggest clubs across Europe's top five leagues. Unlike other successful managers in the game, the Italian has a fluid coaching philosophy, adapting his tactics to the personnel at his disposal. He has a penchant for high press, though, and loves goalscoring midfielders and versatile players.
Considering the same, many top players, primarily goalscorers, have found success under Ancelotti.
On that note, here's a look at the five players with the most goals under the legendary tactician:
---
#5 Karim Benzema - 70 goals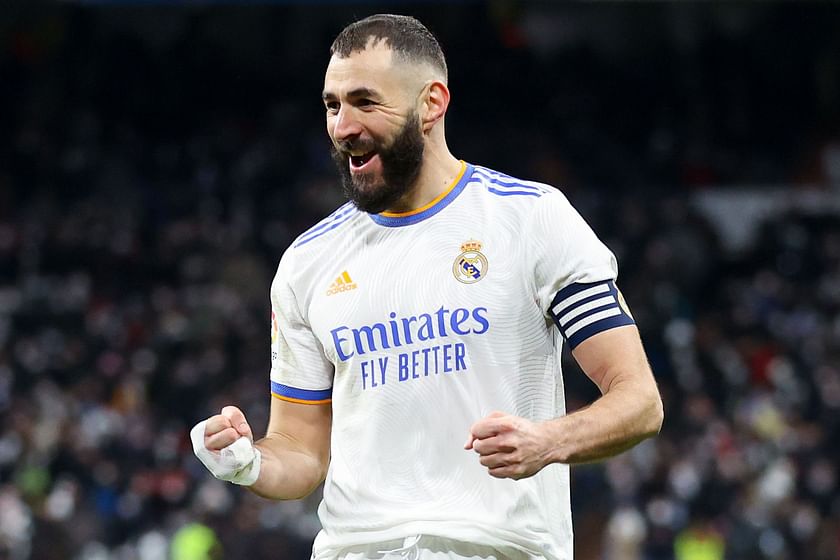 Karim Benzema is one of the most lethal goalscorers in the game at the moment. Despite being on the wrong side of 30, the Real Madrid striker has scored goals galore, especially after the departure of club top-scorer Cristiano Ronaldo (more on him later).
Benzema has bagged 70 goals and 40 assists across competitions under Ancelotti. That includes 24 goals and nine assists this campaign as Los Blancos eye the La Liga-Champions League double. The Frenchman recently became only the third player to score 300 goals for the Galacticos.
Ancelotti once said about Benzema:
"When one striker like Karim scores, everybody's happy, but I've always valued his quality even when he didn't score."
---
#4 Kaka - 95 goals
Kaka is one of the best goalscoring midfielders to have graced the game. The 2007 Ballon d'Or winner enjoyed one of the best spells of his illustrious career under Carlo Ancelotti.
In 270 games across competitions under the Italian, Kaka netted almost 100 times and also bagged 84 assists. The Brazilian netted more goals under Ancelotti than he did against all the other managers he played under combined.
Kaka's best campaign under Ancelotti came in 2006-07. He bagged 18 goals and 14 assists across competitions that season to inspire AC Milan to their seventh and latest UEFA Champions League title. His exploits that year earned him the Ballon d'Or award.
In a later interview, Kaka gushed about Carlo Ancelotti:
"Every coach that I had in my career, I learned something from them. But Carlo was the best one for me because he brought the very best out of me. The most impressive characteristic that he has got, in my opinion, is his ability to manage people. Man-management is so important. Of course, he is really good with tactics ,and he understands the game and everything, but it was how he managed the players."
#3 Andriy Shevchenko - 103 goals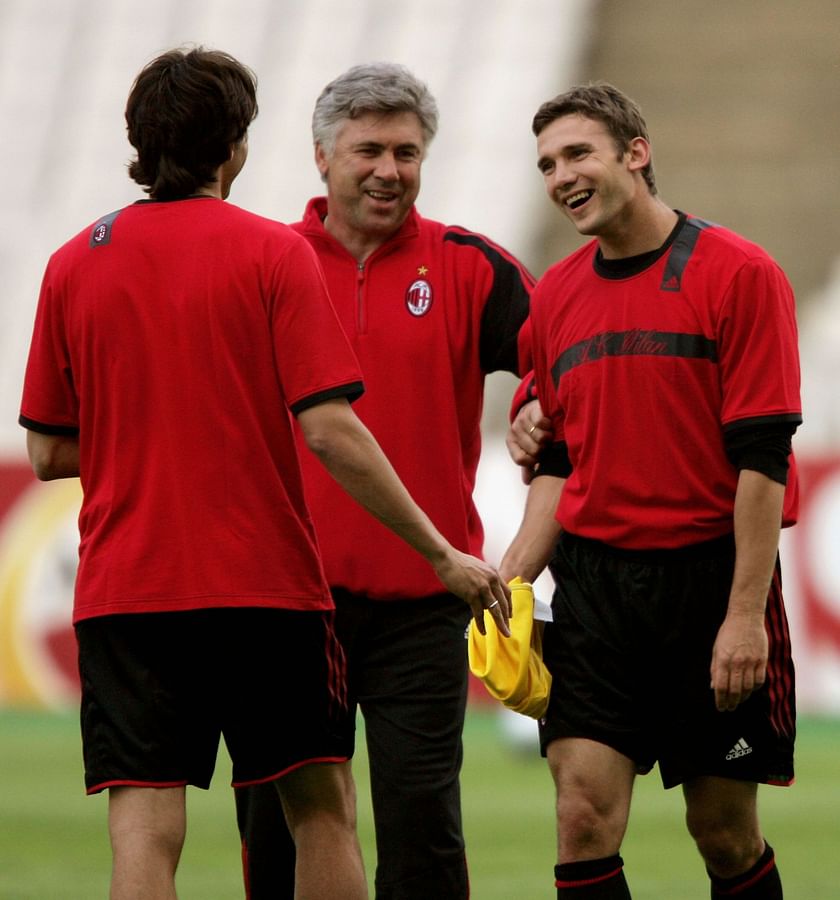 Andriy Shevchenko is one of the most prolific goalscorers to have graced the game, especially in the 2000s.
An AC Milan legend, the Ukrainian scored 103 of his 175 goals for the Rossoneri under Carlo Ancelotti. To put that number into perspective, the 45-year-old scored 165 times under ten different managers combined.
A quintessential goal poacher during his playing days, Shevchenko played a key role in Milan 2003-04 Serie A triumph, scoring 24 times. That was his second Capocannoniere award in four years.
Shevchenko once said about Ancelotti:
"Carlo has won as many European Cups as Sir Alex Ferguson, and when you consider he has only been managing at European Cup level for 10 years, that is quite amazing."
He had added:
"In the time he has been at Milan, he has been in three finals and won two. No matter how good a manager you are, if you have never played in a European Cup Final you don't know what that feeling in your stomach is like before you walk out. Carlo does, and I think that's what sets him apart."
---
#2 Cristiano Ronaldo - 112 goals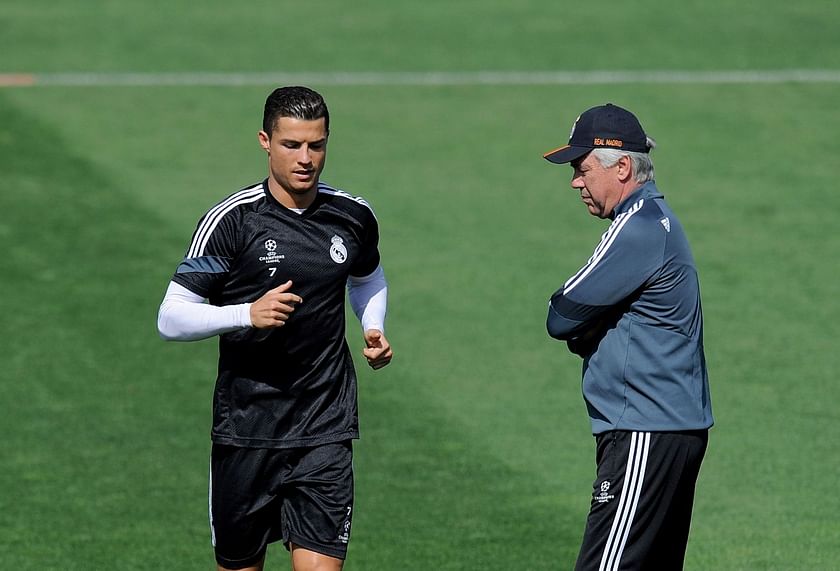 Cristiano Ronaldo is arguably one of the greatest players in the history of the beautiful game.
The all-time Real Madrid top scorer scored a staggering 450 times across competitions during his nearly decade-long stint at the Santiago Bernabeu in the last decade. That tally includes a staggering 112 strikes (and 47 assists) in just two seasons under Carlo Ancelotti.
Ronaldo was at the peak of his powers under the Italian, netting 79 league goals in 65 games and 27 in 23 Champions League outings. That includes a record 17 strikes in Real Madrid's historic 2013-14 La Decima campaign. Ronaldo netted a stunning 48 times in the 2014-15 La Liga, only for Barcelona to beat Los Blancos to the title by two points.
The acclaimed tactician once said about Ronaldo:
"There are a lot of good players, and Cristiano is in another category."
---
#1 Filippo Inzaghi - 161 goals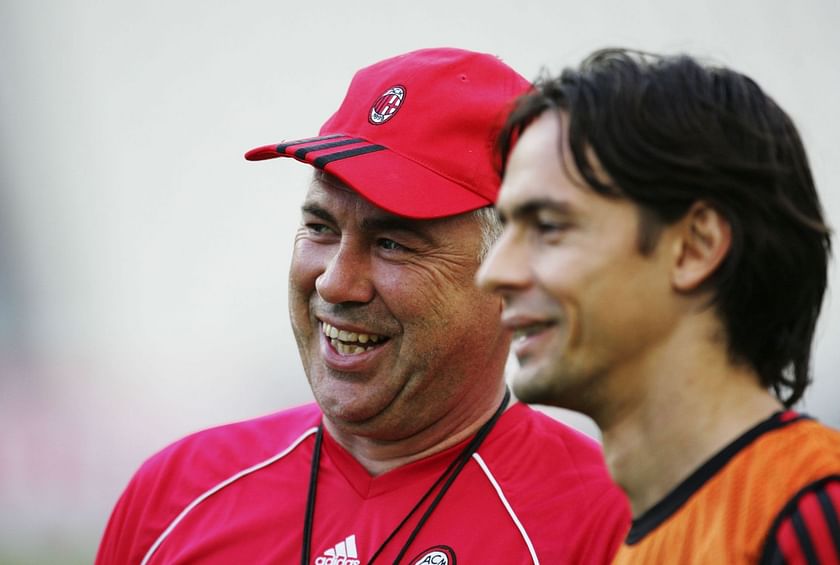 Filippo Inzaghi is the most prolific goalscorer to have played under Carlo Ancelotti. The former Italy international netted 161 of his 288 career club goals under Don Carlo. Most of those strikes came during the pair's near-eight-year association at AC Milan.
The current Brescia manager netted 14 times across Milan's two Champions League-winning campaigns in 2003-04 and 2006-07 under Ancelotti. That includes both strikes in the 2007 final win against Liverpool. The pair also won the Serie A title together (2003-04), but Inzaghi's contribution was limited that season.
Carlo Ancelotti once said about Inzaghi during the latter years of their association:
"I've been working with Inzaghi for 10 years; I can't stand the sight of him anymore! It's great to see him play like this and he may be 36, but he has the enthusiasm of a kid and that is his secret."