5 talking points from Swansea - Chelsea
1.10K //
04 Nov 2012, 18:04 IST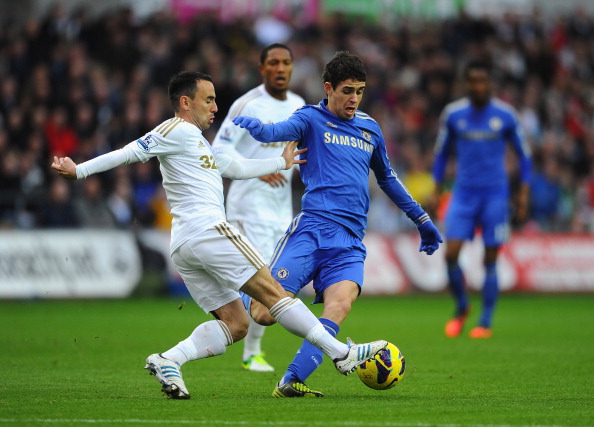 (1) – Loss of momentum maybe? -
momentum = mass x velocity 
The formula for winning something will always depend highly on momentum, with velocity being the amount of confidence the team is riding on, and mass being the weight of expectations on the young shoulders of the players.
Chelsea were no doubt off to a brilliant start but their mishaps in Europe were never reflected in England. But after the loss against Shakhtar, Chelsea went down to a lucky United side. Despite their heroics against a relatively weaker side in the Capital One Cup, Chelsea should have played better against Swansea. Momentum was terribly affected with the young players trying to win everything in sight.
(2) The holy trinity missed their savior -
Mata was most definitely missed. Despite Hazard's brilliance in finding his team-mates and Oscar's beautifully executed shots, Mata has been the most effective of our playmakers. The little Spaniard's versatility in front of the striker was missed as Hazard and Oscar found it tough to roam behind Torres, as Moses was willing only to float to the flanks.
(3) Chelsea are the biggest threat on set-pieces -
While Hazard, Oscar, Lampard and Mata are on the ball and Torres, Terry, Ivanovic, Cahill and Luiz are in the box, Chelsea are one of the most dangerous teams in the Premier League, when it comes to set pieces.
MAZACAR [ MAta, haZArd, osCAR ] under the mentor-ship of Lampard always have an eye for goal whereas Cahill, Ivanovic, Terry, Luiz and Torres can send shivers down the neck of any defender who is assigned to mark them.
(4) Don't worry, that was just Wales!
Visiting Swansea's home in Wales and coming away with all 3 points is very tough. There was a moment when the fans kept singing for 3 straight minutes to help the players. The game was lost due to a mistake from Ashley Cole. Moreover, Chelsea could have scored more goals if the players didn't lose the ball or make mistakes after being influenced by the fans.
(5) RDM was tactically perfect but negative substitutions didn't give Chelsea a chance
RDM was tactically perfect . He knew about Swansea's style of play and countered possession by forcing his players to press and play a rather high line. We lost it only when we brought on Sturridge and Bertrand. Ramires was a perfect substitute, whereas Sturridge should have been brought on for Torres, who was having a rough day in front of goal. By bringing on Bertrand, Chelsea turned defensive, which gave them no chance of grabbing a second goal.