£50 million to be spent on 4 EPL players for Arsenal to challenge once more
1.85K //
09 Mar 2013, 16:30 IST
Today's blog has been in my head for a while now but my conviction about the content has grown. I fully accept that most will not agree but read the piece first before you reach your conclusion.
Whilst I have in the past highlighted players who I feel would fit Arsenal's salary structure and playing style from abroad, I am feeling increasingly that for 2013/14 and the challenges we face, our new additions should all have Premiership playing experience. In fact, I would go further and suggest all our summer purchases should be from other EPL clubs so all our new recruits will bed in swiftly in August.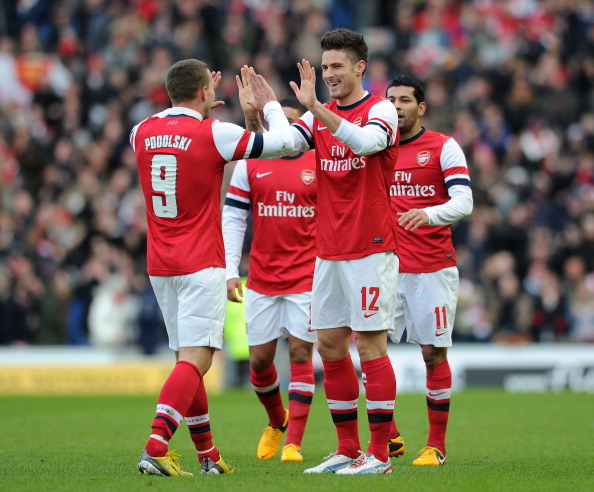 Now already those of you who are desperate for Falcao, Villa or Jovetic are wondering whether to even to read on. Here goes Dave again suggesting bargain basement or kids with potential when we want Arsenal to buy world stars!! I am not against heavy investment as you will see but can we really afford to wait a season for a player to produce what he is capable of? I said that Hazard would not shine in his first year and despite the odd flash of brilliance I would say I was right. Arsenal cannot afford to wait for success any longer we need it next season.
For me, this is not about the money or the wages necessarily but it is about installing a new spine at Arsenal. A spine who know what it takes to compete in this league, but also a spine hungry for success. Now however, I will type the bit no one wants to read but you know you need to – a spine that has top quality but that will still come whether we are playing European Champions league or Europa League in 2013/14. Don't get me wrong though, the players I think we need are good enough to play at the top table but currently they are not doing so.
Despite my misgivings about the current management structure, I am not totally disheartened by the playing staff and we do have a core of talented players. However we do seriously need to address the lack of quality and/or consistency in crucial areas. For me this will literally be the spine of the team so the 4 essential additions need to be a goalkeeper, centre back, central defensive midfield and centre forward.
Before I suggest the players I admire and would like to come in, I should first briefly explain why I feel these are the key positions that need strengthening. Huge details are not required because much of this is obvious to any Arsenal supporter and I will have touched on most of it in recent blogs.
I feel awful in some ways. Almost disloyal to a fellow Gooner but Szczesny is not quite the 'Real Deal' he thinks he is and if we are honest, most of us hoped he was. Yes, he makes remarkable saves but his decision making is erratic and his inability to either hold on to shots or parry them out of the danger area has cost us. His kicking leaves a lot to be desired as well. In short, he will be a great keeper but not many have been at such a young age and he needs time to mature without being continually in the spotlight. What I do admire about him is that his mistakes don't seem to faze him and he bounces back instantly but we need another Seaman. We need a keeper who actually wins us additional points and since 2007 we have had keepers who cost them.
In my last blog on Sagna, I touched on the woes of our central defence. I am not a Mertesacker fan and I have no idea what has happened to the Thomas Vermaelen of 2009/10. We need a dominant leader who will inspire and organise us, to play alongside probably Koscielny. In short, we need a Sol Campbell-like figure to head the ball all day long who along with a new keeper will assist in removing the crowds' collective hands in mouth every time we conceded a corner.
If we are to continue with the 4231 system or even if we finally accept that our formation can actually change from game to game, we need a stronger holding midfielder. I championed Arteta for the role and I still admire his ability enormously. He has the intelligence and the distribution required without doubt but I am beginning to question whether he has the pace and the strength. Too often our defence is left exposed because Mikel is just not able to cover the ground fast enough. I also accept that increased height in that role could be an advantage. We need a player who loves to sweep and is defensive minded first and foremost.
Lastly, if we stay with a sole striker system or with a pairing we simply must have an alternative to Giroud, who is a fabulous team player but needs to be pressured. The current manager, strangely,  has only played Lukas Podolski centrally in one game all season, for which I can see no explanation at all, but even so we need another target man.
So here we are the moment of truth arrives. Which four current  Premier League stars would jump at the chance to move to the Emirates this summer and are good enough to improve Arsenal, blend with the current talent and give us the backbone and leadership we so obviously need?
Goalkeeper – Asmir Begovic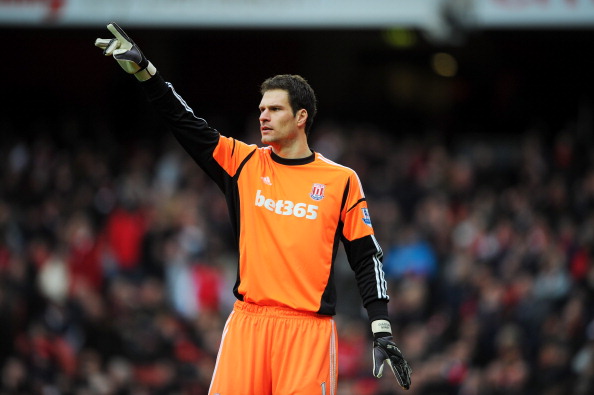 The Stoke and Bosnia keeper is for me arguably the best keeper in the league right now. Certainly he is on a par with Joe Hart. His consistency is incredible and his presence quite frankly scary. He has an aura about him which the very best have. Seaman and Lehmann had it and Joe Hart has it but our young Pole does not.
This video shows quite clearly the athleticism on this giant of a keeper but watch closely the distance and direction when he parries or clears.
What we also know is that Stoke seem to have accepted that Begovic wants to move to a bigger club by securing the services of young England stopper Jack Butland from Birmingham. The Bosnian has been linked in the press with Arsenal, Liverpool and Manchester United during the last window. Fergie seems to have come out strongly behind De Gea however so the race for this top keeper's services could be one with only 2 horses. The way I see it is that one of Arsenal or Liverpool will not be playing any type of European football next season and Begovic will go to the one that is. That will be Arsenal.
I would expect us to have to offer between £12 and £15 million but it would be well worth it.
Centre Back – Ashley Williams
Certainly not claiming an original thought here but whilst he impressed me last season, his first in the EPL, I wanted to wait and see how the Swans progressed in the dreaded second season.
He is not ideally as tall as I would like to see for the dominant centre back but everything else about him fills me with confidence. I remember writing a blog last season on Arteta and at that time only our Spaniard and Yaya Toure had better pass completions stats in the EPL than Ashley Williams. Now I knew Swansea were a passing team but to see a centre back at that time close to 90% was an eye opener. To be fair, you need this to be an Arsenal player but reassuringly he is a proper defender in the true sense, knowing that at times row Z is the best policy. I was always coached as a boy, if in doubt kick it out, and Arsenal defenders post George Graham seem to have forgotten that golden rule. Williams averages over 11 clearances a match in the league which I love to see in a centre back. For me, the best traditional centre half in the Sol Campbell mould right now is Distin and even he only averages 9 clearances per match.
There is calmness and an authority about this guy that appeals to me and he has learned his trade the hard way, in the lower leagues. Now he captains his country and a trophy winning Premiership side. Ashley Williams is a winner, a leader and a proper traditional no-nonsense centre back who can also play. The perfect foil for Kozza as Sol was for Kolo, particularly as he is a talker/organiser as well.
At 28, he is at the perfect age for a centre back and £10 million would see this one done I suspect, although he may not be in a hurry to leave his spiritual home.
Central Defensive Midfielder – Morgan Schneiderlin
I have already written a blog recently comparing this relatively unsung hero of Southampton with his more talked about French peers. All Arsenal fans seem to want Matuidi, Capoue or Gonalons but many did not even realise MS was from France. You can read the full post here.
I live in Southampton these days and therefore have many friends who are regulars at St Mary's, so trust me when I say this chap is exactly want Arsenal need in front of the back 4. He is dominant in the air, passes superbly and efficiently and currently leads the major leagues in Europe for combined tackles and interceptions. As I was writing this piece I was informed by a friend on twitter (@asrbiswas) that albeit in a losing cause, Schneiderlin managed 10 interceptions and 8 tackles in the QPR defeat, probably a league record!
He has just signed an extension on his Southampton contract as I wrote last week,  but the word is down my way that Ferguson wants him to replace Michael Carrick. If this is indeed the case and it would make perfect sense, Arsenal need to move swiftly in June and make the Saints an offer that they cannot refuse.
I feel very strongly that this player is the missing piece in our midfield jigsaw, whether in a 4 or a 3 and he could finally be the successor to Gilberto Silva. £15 million cash on the table soon would would secure his services.
Striker -  Romelu Lukaku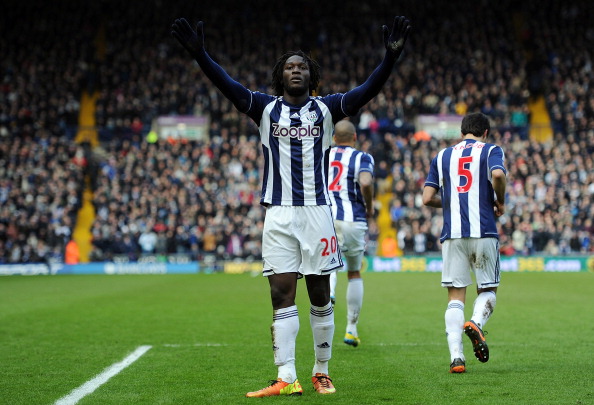 This may surprise a few but I would love to see Arsenal make an aggressive move for Lukaku this summer. As a club we were heavily linked with him in the summer of 2011 but Chelsea blew us out of the water with a crazy bid and that was the end of that.
This year we have seen his huge athletic 6 foot 3 inch frame bossing the most experienced defenders whilst on loan at West Brom. This guy is like Adebayor in his 2nd season at the Arsenal when he hit 30 goals. He has it all from my perspective, hold up play, technique, and great heading ability, the vision to bring team mates into play and startling pace for a big guy. He has one hell of a shot on him too!
However, unlike Adebayor, he is grounded, humble and willing to learn. As recent quotes from his current delighted boss Steve Clarke will affirm:
"He is very level-headed, he understands where he wants to go in the game, what he wants to be, how good he wants to be, and he's prepared to work hard at that," Clarke said. "For me as a coach, that's refreshing."
The powerful Belgian, who does not turn 20 until May, has already scored 12 Premier League goals in 25 appearances but just to put that in context he has only stared 12 of those games. Since the turn of the year, he has however started 8 out of West Brom's nine matched and has scored 6. For no other reason than I just want to type this, 6 league goals in 2013 is one more than RVP!
Everybody will have marvelled at the combination of pace, strength and skill that saw him earn his team the points at Sunderland. Here's the tribute from his team mate Ben Foster after the game
"He's a tank," Foster said. "I've given him so many plaudits already this season, but he deserves them. He is a really good lad and works so hard.
"He is always one of the last ones off the training pitch and in the gym doing that bit extra. I'm really pleased for him. He has none of that 'big-time Charlieness' about him. He's a good, grounded kid."
I have no idea whether Chelsea will sell him but having invested in Ba I cannot see the buying cease there. Even if they offload the hapless Torres there is little doubt in my mind that the Russian oil money will be making a statement this next transfer window. West Brom are making noises about a second season on loan but if we are honest they cannot afford what he will cost and we can. What is for certain though is that however humble the lad is, with a full season under his belt and by May perhaps close to 20 goals, Lukaku will want to be playing regularly.
Arsenal could offer the striker constant action and he is most definitely the type and quality of player we need. How much loyalty can the player have to a club that bought him, gave him 4 starts in a whole season and then loaned him out?
The Transfer Market website estimates his value at £16. 5 million and I would gladly see Arsenal over £17 million to tempt our West London neighbours to sell. The fact that we appear to be linked to Lukaku's younger brother Jordan adds a further dimension
So as you can now see, this is not about doing things on the cheap. These 4 players would cost a total of £50 million plus. Money we have readily available to test the resolve of the clubs in question
Here's how it might look assuming current formation:
Here's how I would like it to look:
With this investment, with Giroud to compete with Lukaku and Ramsey, Oxlade- Chamberlain, Rosicky and I sincerely hope Joel Campbell applying the pressure and proper squad competition, 2013/14 could look mighty different.
So there you have it. I am not suggesting bargain buys, far from it. Indeed, we may have to pay a slight premium to wrestle some of these guys but all of them would make an instant and profound difference to our fragile team. Crucially and whilst sincerely hoping it does not happen, if we do miss out on Champions League all of these players would still see Arsenal as a big move. If the worst scenario does occur, it is this type of spine coming in that would ensure our absence was the briefest possible.