6 key points for Manchester United from the game against Braga
1.26K //
09 Nov 2012, 15:02 IST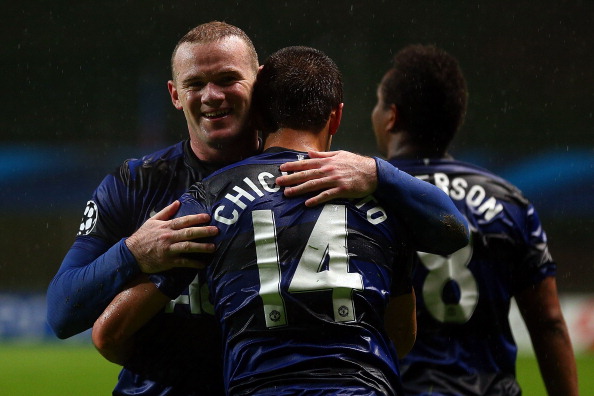 United put an end to their group duties as they qualified for the knockout phase of the Champions League with 2 matches remaining.
Here are some key points from that fixture:
1. Rooney is the answer to United's midfield problems
Sir Alex deployed the much contested Diamond formation for this match, with Rooney playing as the tip of the midfield. Since Robin van Persie has joined United this summer, Rooney has opted to play in the deeper role which he relished last year. Yesterday, he started as the central attacking midfielder, behind Chicarito and Welbeck and played in that position wonderfully. He made a total of 69 passes in the game, with an accuracy of 88% and played a total of 16 long balls, 13 of which reached their desired target. It is quite some feat for a player who has been plying his trade in scoring goals for much of his career. The comparison with Paul Scholes is not wrong, given the fact that Scholes has a pass accuracy of around 90% and plays an average of 10 long balls per game. The only difference between Scholes and Rooney is that Rooney can tackle as well. He made one tackle and one clearance in the game. Offensively, he also made one key pass and scored a goal, albeit from a penalty. He ran over 6 miles in the whole 90 mins, the highest of both teams, thus proving the fact that he can be successful in midfield too.
2. Carrick/Fletcher important for the Diamond formation
The new diamond formation, which was has been used by Sir Alex a couple of times this season, has yielded mixed results. It was a hit against Newcastle in the EPL and Chelsea in the League Cup but failed miserably in both the CL fixtures versus Braga. The main reason for the failure was the lack of a defensive midfielder. In the home game, Carrick played as a central defender and that is why it failed, as he was overpowered very easily for the first goal and his positioning was all wrong for a CB. But against Newcastle, where he played as the base of the diamond in his regular role, he was super effective. His composure, positioning and passing from the back helped a lot and thus Newcastle's midfield was run over by United. In the whole game, he mainly played around the centre circle, shielding the back four effectively. Darren Fletcher also played the same role in the League Cup vs Chelsea and again Chelsea's midfield had problems coping with United. But against Braga 2 nights ago, Anderson, who was supposed to play as the holding midfielder, wandered forward and lost the ball and thus, Rooney had to go deep to cover him. This is why the diamond failed and it did not help the cause that Nani was again off color and Giggs, after his wonderful display versus Chelsea, also had an off day. United were going more back than forward, thus proving the point, that for United's Diamond formation to flourish, Carrick or Fletcher will be essential in the team as the base of the Diamond since both are great in passing forward, starting the attack and then sitting comfortably in front of the defence, shielding it. Without them, United would just run around in circles going forward and losing the ball and then having to track back to stop the counter, resulting in no penetration, as it happened against Braga. For United's fluid play to continue, these two will be essential.
3. Nani should not play for United (at least not until his contract problems are solved)
Nani had another bad day at the office as he failed to impress with his gameplay. Instead of staying on the wing and combining with Antonio Valencia, who started as a fullback to give United width, he came inside every time he had the ball at his feet, and then would lose it. He was lost in the game and didn't know what to do, always getting confused on whether to pass to the overlapping Valencia or cross himself and thus lose the ball in the process, or try a rash shot, thus ending the attack. His doesn't seem to be with United and it looks as if he has made up his mind to leave, and there will be no shock if he is sold in January. Especially after SAF blamed him for the loss to Chelsea last week in the CoC. Nani is a great player when in form but he needs to sort out the problems he has or else looking at the way he performed, he won't be wearing the Red shirt a year from now.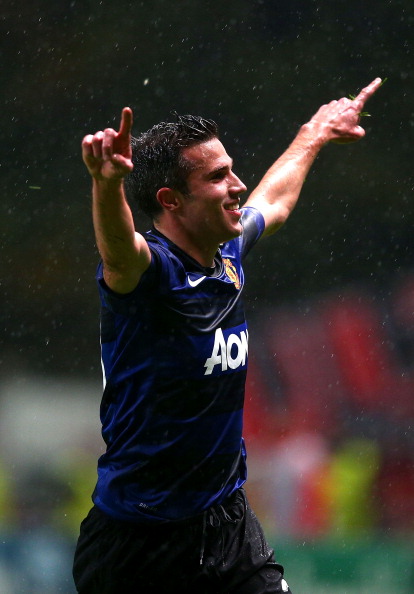 4. Robin van Persie will be the difference for United this year
When he joined United from Arsenal in the summer, it was like a dream come true for every United fan. But there were people who doubted whether he could gel into the United style of playing and whether he and Rooney would be able to forge a partnership. 13 games into the season, he has played 12 of them, scoring 11 times. So it's fair to say he has gelled in quite well. As Rooney said in the interview after the match against Braga, RVP has been the talisman since his arrival and there was no coincidence that when he entered the game, United started moving forward. He can hold up ball in the final third till others arrive, can make those important passes, can cross, can assist and can score. Thus, we can say that he is the man who will take United to the top, if he plays like this the whole season. 24 million don't look too many now.
5. Antonio Valencia and Rafael are one of the best right-sided pairs in the world
Everybody has been so infatuated with the combo of RVP and Rooney, that no one has noticed another great partnership brewing in the United team. Valencia and Rafael have forged together such a great partnership that every fullback in the world would be vary of them. As we all know, Valencia is a beast on the wing, marauding past fullbacks with utmost ease and with Rafael, who is in the form of his life, these two have took everyone by storm. Both can cross with great accuracy and Rafael, who has been good going forward, has made great improvements in his defensive abilities and Valencia can also defend really well. Their combination play was seen against the likes of Liverpool, Arsenal and also against Braga, where they ran riot on the right wing. It was no coincidence that as soon as Rafael came in the game in place of Nani, and Valencia returned to his original position higher up the pitch, the game suddenly opened for United out wide. If they go on like this, both the Wazza-RVP and AV-Rafael partnerships will be beneficiary to United.
6. Finally, United are getting the defence sorted out
Ever since Nemanja Vidic got injured last year in December with the knee injury, United have had problems at the back. This year started no differently for United, as Smalling and Jones out with long injuries. With Evans and Rio injured, SAF had to play Carrick in as CB. But now times have changed. Smalling is back, and played a full 90mins in the CL fixture 2 days ago. Jones will start training from Monday, Rio is fully fit and though Evans was taken of with a groin problem against Braga, it looks like it was precautionary measure.
So all in all, if United stop leaking those early goals and everybody stays fit, expect United to be challenging for not one, but all three competitions.