PSG have completed the signing of 21-year-old defender Thilo Kehrer of Schalke FC for 37 million euros. He is yet another product of one of the most famous academies in the world in the form of the Schalke FC Academy. With the guidance of youth coach, Nobert Elgert, Schalke has produced numerous talents over the years that have gone on to become the World's top players - Manuel Neuer, Mesut Özil, Leroy Sane, Max Meyer, Leon Goretzka, just to name a few. The German will have to compete for a starting spot with Marquinhos and Presnel Kimpembe. He will hope to take the challenge head-on and burst into the scene as soon as he can. A U-21 Euros champion with Germany, Kehrer has proven to be one of the most promising up and coming defenders and will hope to further progress his career and attain great success at PSG.
Intro
Thilo Kehrer was born in Tübingen, Germany to a German father and a Burundian mother. He started his career at Stuttgart playing for the U-17 team there. He joined Schalke in 2012 and would soon make his way in the Schalke U-19 team. He guided them to the Under-19 Bundesliga title in 2014/15. Starting as the captain of the team in the finals against Hoffenheim, Kehrer provided an assist to the team leading them to a subsequent 3-1 victory. One of the better-known members of that team, Leroy Sane, started on the bench during that game.
After the successful 2014/15 season, Thilo Kehrer took the step into the first team. Despite not playing for a lot of minutes in his first season, the young defender gained a treasure of knowledge from experienced veterans, Benedikt Höwedes and Naldo. However, in the absence of the duo, Kehrer would pounce at the opportunity and impress fans and pundits around the World. He would soon become a regular starter and scored his first goal for Schalke against bitter rivals Borussia Dortmund to salvage a 1-1 draw.
Under Dominco Teresco, the 21-year-old German made 27 top-flight starts. Leading the team to a 2nd placed finish, the 2017/18 season was Kehrer's breakthrough season. With 4 goals and 4 assists, he contributed offensively as well as defensively. His composed and sturdy performances through the season earned him praise from the likes of Eric Abidal.
Following his performances in his recent seasons, Kehrer earned his spot in the national Under 21 team. He was a part of the Under-21 team that won the U-21 Euros in 2017. He has asserted his position as a regular starter now. In the absence of Jonathon Tah, the 21-year-old has worn the armband against Kosovo, Azerbaijan, and Israel.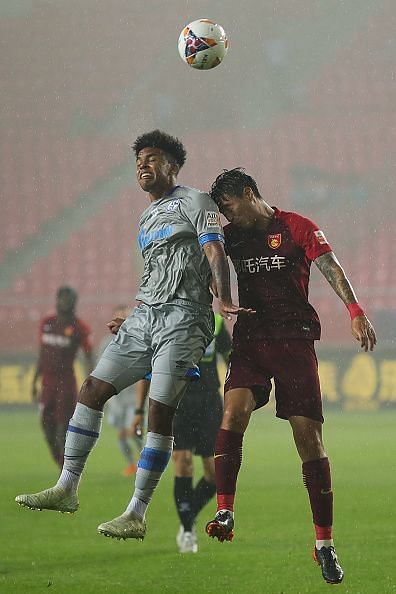 Strengths
Versatility
Thilo Kehrer has played in eight different positions in 45 Bundesliga appearances. He is confident on the ball and has the ability to play with both feet. This allows him to move forward with the ball and play in more forward positions as well. Providing 4 assists, the young centre-back can fill in at any position in the backline and is even capable to play as a defensive midfielder.
Composure and Tackling
Many big defenders tend to be sloppy tacklers of the ball and tend to switch off during key moments. But Thilo Kehrer doesn't show any such weakness averaging 3 tackles and 2 interceptions per game. The defender is aware and composed at all the times. He times his tackles well and usually wins the ball when he goes to ground. He also uses his physical stature to his advantage as he pushes off the opponents off the ball. This composure and tackling ability will be key in determining his success in France.
Weaknesses
Combative
Despite having a good physical advantage over his opponents and often putting it to good use, Thilo tends to get more physical than needed. Along with winning the ball, he might get a bit too combative and concede unnecessary free-kicks. With a majority of these free-kicks coming from just outside the box, the opponents might capitalise and score.
Passing
Thilo has an amazing ability to dribble and carry the ball forward. However, he lacks the ability to play the final pass. He is unable to switch play from one side to another or play important passes. With a pass success rate close to 80%, the German is prone to losing the ball unnecessarily due to failed pass or cross. This can prove highly costly in a league with fast-paced players like Memphis Depay and Florin Thuavin.
Best Positions
As I stated before, Thilo Kehrer has played in various positions and in various formations. This would help Thomas Tuchel as he could deploy him anywhere on the pitch or use him to fix any position on the pitch. However, the position where the young German feels best suited is the position of centre-back.
He has all the attributes of a modern centre-back - physicality, composure, and awareness. He is more of a sweeper centre-back as he is not afraid to go forward. Thilo Kehrer can easily impose himself as one of the best centre-backs in the league in the coming years and even score a few goals in the process.
How he can fit into Thomas Tuchel's system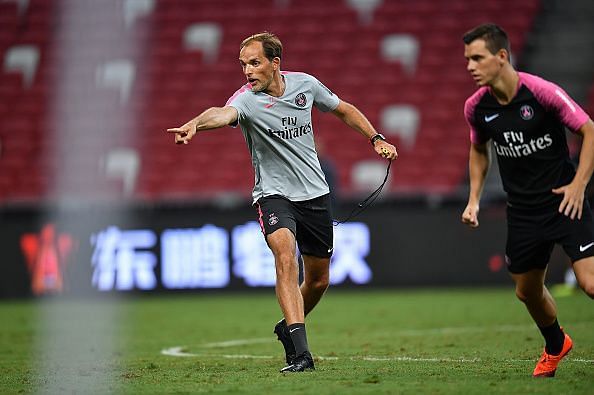 Thomas Tuchel is one of the most well-suited managers to Thilo Kehrer. The versatility of the 21-year-old can be used to great effect as Tuchel is known to play various formations ranging from a 4-1-4-1 to a 4-2-3-1 or even a 3-3-2-2. Having played in various formations and various positions during his time in Germany, Thilo Kehrer can easily fix any problem for Tuchel and prosper as a player at the club.
Tuchel tends to emphasise heavily on his central midfielders. With one midfielder filling the no.8 position roaming up and down to create chances, the other midfielder is expected to play more defensively and assist the centre-backs when the full-backs push up. Along with playing as a centre-back, Kehrer can also fill in this defensive midfielder position. With good awareness and well-timed tackles, Thilo can easily thwart build-up play of the opposition and carry the ball forward to create a chance for his own team.
Thomas Tuchel is known to trust young players with some of the most important roles in the game. The likes of Julian Weigl at Dortmund and Johannes Geis at Mainz prove that Tuchel is no stranger to youth players and utilizes them to their maximum potential. With a hungry and optimistic youngster in the form of Thilo Kehrer, Tuchel has another player in his arsenal to play in the deep-lying role as well as a player who could be a top centre-back in the future.
Video
All in all, Thilo Kehrer is an exciting prospect and could shine at PSG. The Schalke academy is known to have had world-class products over the years and Thilo Kehrer could be no exception. Backing up the relatively high price tag of 35 million will be a tough task, but the German may rise to the occasion and become a future captain for the German national team.