Always a Liverpool legend: Rafa Benitez and his new affair
1.00K //
24 Nov 2012, 13:26 IST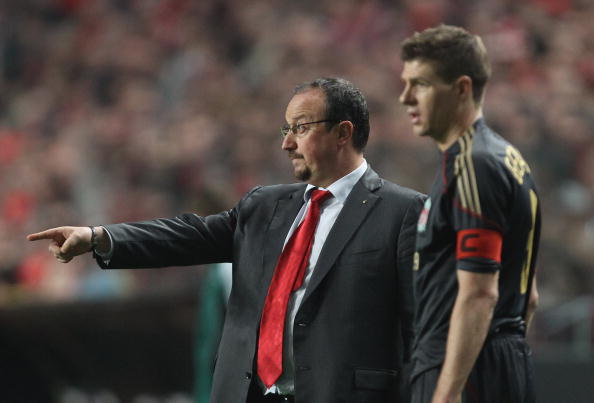 "If Chelsea are naive and pure then I'm Little Red Riding Hood." - Rafa Benitez (2007)
After the shock "sacking" of Roberto Di Mateo, Chelsea have appointed Rafa Benitez as their interim coach till the end of the season. Rafa, who was a free agent, agreed to manage Chelsea, where he will join his former "World Class" recruit Fernando Torres.
This will be Rafa's second trip to England as a manager as he has already managed Liverpool before. Notwithstanding the fact that Rafael Benitez holds a legendary status in the Red side of Merseyside, we cannot deny that he is a professional and would be expected to act like one. It was heartbreak for most of the Liverpool supporters to see Rafa accept the job and join a club he personally despised while in charge of Liverpool.
"Chelsea is a big club with fantastic players, every manager wants to coach a big team. But I would never take that job, in respect for my former team at Liverpool, no matter what. For me there is only one club in England, and that's Liverpool." - Rafa during a press conference in 2007.
"We don't need to give away flags for our fans to wave – our supporters are always there with their hearts, and that is all we need. It's the passion of the fans that helps to win matches – not flags." - Rafa said in regards to the semifinal clash in Champions League in 2007.
This quote was later immortalized in the Melwood training ground alongside many other memorable quotes from legendary Liverpool ex-managers and players.
Rafa Benitez reportedly shared a very strong rivalry with Jose Mourinho, the then Chelsea manager, and once commented, "We were good friends until Liverpool started winning, then he started changing his mind." 
Rafael Benitez has always proved to be a huge fan of Liverpool as he still has a house in Merseyside. Benitez also attended the Hillsborough memorial service in 2011 at Anfield. He, alongside Kenny Dalglish and other notable Liverpool legends, paid respect to the 96 "angels" who died during the Hillsborough disaster. He was unable to hold on to his feelings and was found in tears while listening to Kenny Dalglish's memorable speech on the 22nd anniversary of Hillsborough.
Meanwhile his appointment as the Chelsea manager surprised a lot of football fanatics around the world, including Chelsea supporters themselves. 
"This was a strong surprise for me, as I did not expect Roberto to leave in the first place and appointing Rafa is probably going to create a lot of controversy in and around Stamford Bridge" - a Chelsea supporter said.
Meanwhile Rafa has already started with his coaching classes with the Chelsea team as he has roped in Boudewijn Zenden, his former recruit for Liverpool, as his assistant. He will now face Manchester City this weekend to begin a new career in a black suit and "BLUE" tie.