Are Everton the real deal?: A tactical analysis
4.28K //
15 Nov 2012, 20:11 IST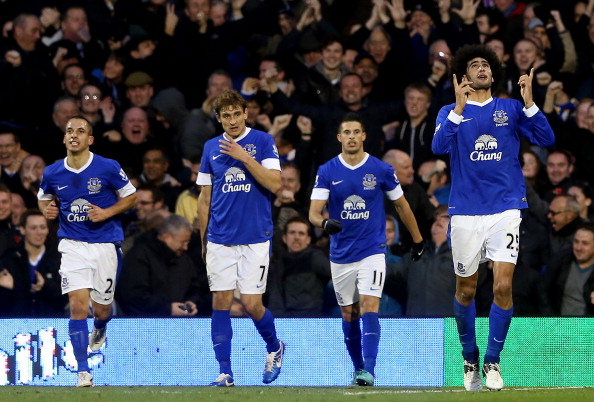 With David Moyes and Everton, there were no surprises. Not many would envision the Toffees as relegation candidates when they languished around the bottom of the table at the start of every season, still reeling from their summer breaks. Neither would many be surprised to suddenly find them fishing in midtable at the turn of the year, nor as the side vied for a European berth come May. With the Blue end of Merseyside, inconsistency in the Premier League had become more the norm than the exception. That is, of course, until this season.
While much of the attention over the last few months has been on Chelsea's new attacking Holy Trinity that has added a continental flavour to their otherwise brash sensibilities, and Manchester United's immaculate abilities to pull themselves out of a hole time and again, Everton have been quietly doing the business for the first quarter of the season, and despite a disappointing number of draws in recent weeks, still cling onto fourth spot in the Premier League.
Many are easily reminded of their sterling campaign in 2004-05, when the side chose not to use Wayne Rooney's departure as an excuse for poor performances, and stormed their way into the Champions League for the first time in their history. To repeat that feat this season would be an arduous task, especially given the fierce competition for that elusive Champions League spot behind the league's big three, but certainly worth consideration is what Everton have in their favour this time around, in their efforts to show a road to success without the involvement of gargantuan wages and transfer bills in an environment where money spells success.
Moyes, as Moyes is every other summer, was pragmatic in his dealings in the transfer market during pre-season, in the process spending lesser than he made off player sales, but still making his team look very much for the better. If anyone ever doubted David Moyes' credentials as a miracle worker in the transfer market, then this statistic should set things right. Moyes joined the Toffees in 2002, and since 2003, has spent a total of £128 million on players. In that same timeframe, the club has sold players for a sum of £122.5 million, effectively keeping the club's expenditure over the period of a decade at a meagre £5.5 million.
For a man handed one of the shortest pockets in the Premier League, Moyes' astute buying sense has helped keep the club afloat in the higher embers of the English league hierarchy year after year, despite their frugal means. Given the ineffectual campaign Tim Cahill had last time around, the £1 million that Everton got for the 32-year old Australian was handy, while the £12 million offer for Jack Rodwell was probably one they couldn't refuse. The biggest coup for them however was the £2.5 million sale of Joseph Yobo, given that they already had three accomplished centre-halves in Phil Jagielka, Sylvain Distin and Johnny Heitinga in their squad already.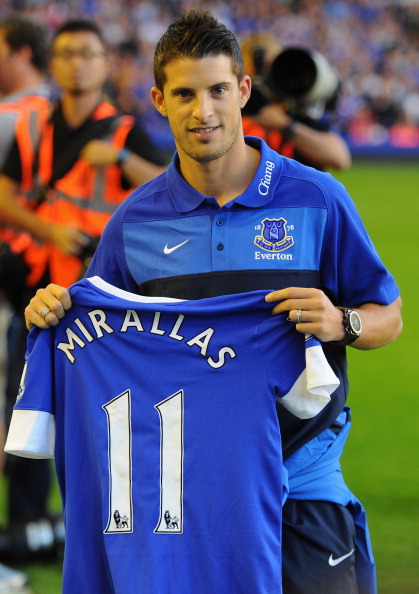 In return, Moyes brought in Steven Pienaar, a man who had spent four long years at the Goodison in the past and didn't require time to bed in. Along with him came the reasonably-priced £6 million signing Kevin Mirallas, a transfer target for the league's big guns and a welcome addition to the Toffees' squad given their goalscoring problems and the Belgian's exemplary record in front of goal for his previous club Olympiacos (he was the league's top scorer last season). 22-year old Bryan Oviedo has not yet been handed a fair chance to prove himself worthy of his £3.5 million price-tag, but has time on his side, while exploiting the Rangers' financial difficulties to get Steven Naismith was another rather shrewd move.
In Mirallas, the club have gained a different dimension to the one that most oppositions have been used to playing against when facing Everton in recent years. The Belgian is a player who easily would frustrate his own fans, what with his preference for a dribble or a shot over picking a pass. However, the 25-year-old has made a considerable impact since his arrival at Goodison Park this season, simply because of the variety he provides on either flank, and the ease at which he has linked up with his compatriot Marouane Fellaini.
Pienaar was, in his previous stint with Everton, predominantly a left winger who liked to drift infield, thereby opening up spaces for the club's greatest creator Leighton Baines to run into. However, he did most of that running without the ball at his feet, preferring to come inside to pick up flick-ons and passes, thus leaving huge pockets of space for Baines to cover in attack. In recent weeks, the South African has spent a lot of time switching flanks with Mirallas after the latter's arrival, something that has helped the Toffees find more space when trying to stretch a rival defence.
While both right-footers are more accustomed to playing on the left flank and moving into the centre, they are very different in the way that they function when Everton have possession of the football. While Pienaar likes to drift into the centre for the second ball or a pass, making his move into space without the ball at his feet, Mirallas prefers much rather to stay higher up the field and hug the by-line, running at defenders and moving infield only when he has the ball at his feet.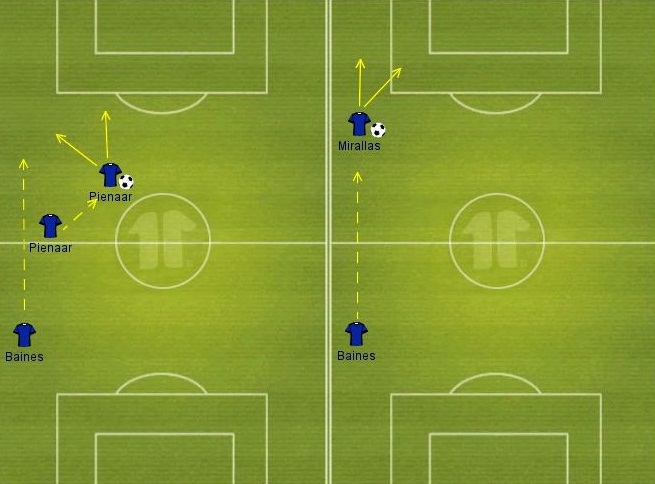 The Premier League is known for a lack of defensive pressure, as not many sides press on the ball in their attacking half when the opposition is in possession, especially against stronger opponents, in the fear of committing too many men forward and being found out at the back. As a result, the superior team is allowed effectively to play from the half-line when required, thereby pegging the defending team further into their own half.
However, it also hands the superior team a further challenge, requiring them to break down a packed and resolute defensive line, making spaces harder to find in the final third. Everton, with their strong start to the season, have been afforded that respect by more teams, which as a result has seen the Toffees sometimes finding it tough to create openings in rival territory. It is in these situations that Mirallas' width has handed them an advantage, as they are able to find the Belgian with further ease because of the positions he takes up close to the sideline, therefore ensuring that he is available more often than not.
Their biggest trump card this term, however, was handed to them inadvertently after the sale of one of their brightest young talents in Jack Rodwell, who the club was resigned to losing when Manchester City came looking for the 21-year-old this summer. Having clocked up some decent gametime in the last few seasons despite his alarmingly high injury regularity, Rodwell was finally looking like the prospect that many pundits around England had made him out to be for years. A few months later, Rodwell now finds himself a small fish in a huge pond at the Etihad Stadium, inadvertently handing Leon Osman a new lease at life, and Everton a new purpose in the centre of midfield.
With Fellaini playing much further in attack and not too many other replacements available, Moyes fit Osman into a deeper midfield role alongside Phil Neville at the start of the season, a role that the veteran has taken to like a duck to water. Grossly under-utilised as a winger and an attacking midfielder for time immemorial, the 31-year-old 'almost man' has finally realised his potential, and has settled in perfectly in his new role at the heart of Everton's midfield, displaying a consistency that was never on offer from the player before. Nimble on his feet and possessing an ability to distribute the ball that would make Barcelona's pass masters nod in approval, Osman's almost 90% pass completion rate this term shows an innate ability to play in a role he had never donned at Goodison Park before. While benefiting from the extra space he has found to kickstart attacks, his defensive capabilities have been a revelation thus far this season, with the player justifiably rewarded for his efforts with a first national cap against Sweden, one that the man has surely earned.
However, even his contributions have not matched those of Marouane Fellaini, who apart from bringing the Afro back in vogue, has added enough and more to the Toffees side to justify the £15 million that was spent on bringing him from Standard Liege in 2008. Moyes was surprisingly candid in his admission earlier in the week that the Belgian could leave the club in the near future in search of Champions League glory, and the midfielder's performances this season have done no harm to his chances at one of Europe's elite. However, there is still a hope that a possible Champions League berth for the Merseyside club can hold off the 24-year-old's exit, at least for another year or two.
While Nikica Jelavic's form has eased slightly from the previous season, Fellaini has taken off, scoring six crucial goals and forming the focal point in the Toffees' attack. Another player who saw a change in position this season, Fellaini's strength and close control was not optimally utilised in his central midfield role last season, but with his role as the target man when a long ball needs to be played, and a free license to roam otherwise, the Belgian has taken the league by storm, and has for the most part, scripted Everton's impressive climb to the top. And while it has been his goals that have drawn a lot of attention, his ability to drop into pockets of space on the left and through the centre on a regular basis has helped the likes of Baines, Mirallas, Osman and Jelavic play around the 24-year-old.
Assisting him has been Leighton Baines, another player who has been rumoured with a move away from Merseyside for years now. Leading the league in chances created from left-back, Baines has proved a vital cog in the Everton line-up, and is the biggest reason why over two-thirds of Everton's attacks still come from the left flank despite a better balance to the side following the arrivals of Mirallas, Naismith, and Pienaar; thereby strengthening the right flank when the side goes forward, especially during counters and in their link-up play.
Everton have also been quicker in their transitional play, and have used the shorter pass much more than in previous seasons, belying Steven Gerrard's accusations a few weeks back that the Toffees play a Stoke-esque style of football. In fact, against the tiki-taka preferring Reds, Everton had attempted more passes than Liverpool, and with a better accuracy as well (79% to 76%).
Despite Sheamus Coleman's defensive frailties (as was seen against Fulham), picking him over Tony Hibbert gives the side a stronger attacking impetus from defence, while the reduction of their percentage of long-balls played (from around 13-14% to 9-10%) bodes well for their chances against weaker opponents who are going to start respecting them more and drop deeper, as it would give them a Plan B if playing the lofted pass to Fellaini and looking for knockdowns and flick-ons didn't do the trick.
After two winnable fixtures against Reading and Norwich, the Toffees have successive encounters against Arsenal, Manchester City and Tottenham Hotspur before the festive season. Moyes' men have already shown against Manchester United and Liverpool this season that they are capable of standing up and being counted against the big teams. Get past those tough games with some points and their respectability intact, and into the halfway stage still in the top four, and the clamour for Champions League football could get a whole lot louder.