Arsenal: Do they need a new start?
1.42K //
04 Nov 2012, 16:51 IST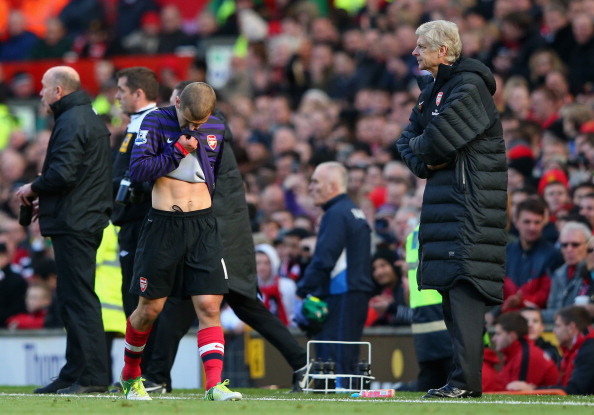 United 2 – 1 Arsenal.
Firstly, I would like to congratulate United on their victory. Well deserved and it could have been better for them, had they been more clinical.
I am certainly not pleased with the performance shown by the Gunners. Arsenal were defensively not good enough, bad going forward and clueless in the final third. But to me the problem is crystal clear. It's the confidence, it's the charisma, it's the fortitude, it's the authority to take charge of the game. What Arsenal lack is a winning mentality. I have absolutely no problems with the players they have bought. The line up looked pretty decent. Considering the game at Reading, this was the best line up one could come up with on Saturday. I just question the mindset, the ambition, the direction of Arsenal FC. These players will never achieve anything, any trophy until they believe they can, and quite honestly, I don't see them being believers. I don't think that they can win anything with this sort of mentality. When an Arsenal fan watches a match, he's never confident. He's never confident of his team being good enough to beat either Barca, Birmingham or even Leyton Orient (3rd tier). That is because the team lacks confidence. I don't have any complaints with the team players, and their quality.
I saw many Arsenal fans targeting Andre Santos, the left back at Arsenal, for their defeat. They say he's not good enough to wear the shirt, he's mediocre etc. Arsenal fans need to know, it wasn't his fault. The 2 goals that went in were because of Vermaelen. Santos swapped shirts with RvP at half time, which I agree was completely wrong, but there's a video which shows the other Arsenal fans laughing and being casual with RvP. I don't see anyone commenting about that. There are rumors that Santos' car was damaged after the games with graffiti all over it. This is definitely wrong and should not be tolerated. Arsenal have bought in mediocre players before and the fans have never complained much. I think because of such a huge defeat, they will always need a scapegoat. Last season, it was Arshavin. Before that it was Eboue. There is no end to this, unless we win, because I never see anyone talking bad about anyone after we win, even if a particular player was poor. To me, Arsenal fans are very fickle. Piers Morgan is a prime example.
Finally, the 'Wenger Out' army. I understand the frustration at not winning. I understand that Wenger has changed. His ideologies have changed. But he's still the same man he was before. His ambition, commitment and direction to make this the club the best in the world has never changed. He's definitely not the manager he once was, but he always is giving it his all, and always competes, for all. Arsenal fans need to understand that Wenger is not the problem. Arsenal just can't compete financially with the other top clubs. We have very limited resources. Inspite of that, Arsenal still manage to be at the top and compete for everything.
Let's say we remove Wenger. What after that? Do you think even Guardiola/Ferguson/Mourinho, with so limited resources would be as competitive? They wouldn't last 6 months.  There is not ONE club in this world that will not hire Wenger. Not ONE. I wouldn't trade him for anyone, and I really believe that. Winning is just not everything, it matters in what way one does it. Chelsea winning the UCL is the best example.
Special mention for the away fans though, you're a gift.
Treasure what you have and be careful what you wish for.