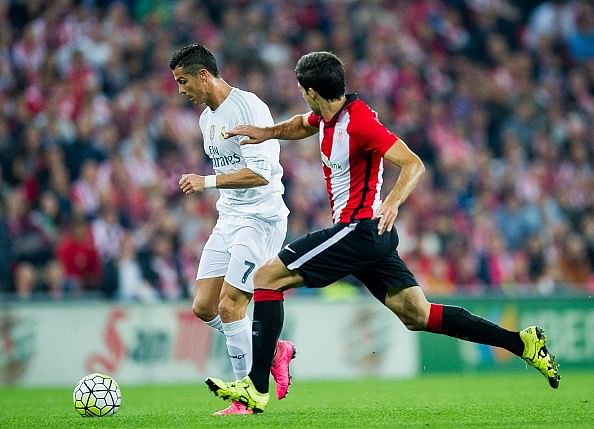 As Real Madrid left the pitch at Nuevo San Mames, a huge sigh of relief could be felt within the fans and players alike. It was a win that came after a hard-fought struggle and many missed chances. Karim Benzema scored both the goals for Madrid—once again working testament to his importance for the team as the only time Real failed to score this season was when he was unavailable.
Sabin Moreno scored the only goal for the Basque club in a largely impressive display that was marred by some stupid mistakes and hiatuses in attentiveness.
4-3-1-2 didn't work as hoped for, but Real should persist
One of the interesting spectacles in the match was watching Madrid field a 4-3-1-2 formation against Athletic's 4-2-3-1. With Gareth Bale out injured, and Lucas Vazquez not doing enough against Granada to retain his starting spot, Mateo Kovacic started.
To play the Croat and Isco together meant that one of the two would have to play in an unfamiliar territory. However, Benitez opted to play both in their comfort zones; Isco at number 10 and Kovacic in a 3-man midfield with Toni Kroos and Luka Modric.
This, on paper, had to work. In fact, a 4-3-1-2 is the best possible formation for Real Madrid looking at the players they have. But football, as the cliché goes, is played on the pitch and not on the paper.
For most of the second half, Real Madrid were suffocated and could barely get the ball out from their half. It was a half that was characterized by Athletic's relentless pressing to expose Madrid's unfamiliarity with the formation.
However, Rafa Benitez shouldn't be disheartened with the lack of cohesion. The fact that the Blancos could squeeze out a win playing in an unorthodox formation should be enough reason for him to keep trying this and it could still turn out to be their best formation.
Also, the Galacticos' performance in the first half should bring excitement, to say the least. Isco and Kovacic were exploiting the lines exceedingly well, especially the latter who could have been on the scoresheet twice if it weren't for Gorka Iraizoz's presence.
Benat was finding it extremely hard to cope with the young Croat's surges with the ball and hence, in the second-half, the entire midfield were pressing higher up the pitch and suffocating Madrid in their own half.
Athletic superb but lost concentration in patches
What Athletic Bilbao did last night was commendable, especially in the second half. In the first half, if it weren't for squandered chances, then the away team might have been up by 2 or 3 goals. Valverde's men couldn't find an answer to Real's surging full-backs—their only source of width in the 4-3-1-2—but some excellent pressing the second half meant that both Carvajal and Marcelo were pinned back in their half.
Looking at Athletic's goal would give one a good idea of how the Whites were in a disarray due to the ruthless pressure from the Basques. As Pepe pushed himself out of the defense to intercept an onrushing ball, he miscued it and before Madrid knew it, Markel Susaeta's cross found the head of Sabin who placed it beautifully onto the bottom corner.
If it weren't for some good last-ditch defending from Raphael Varane and Daniel Carvajal, coupled with Luka Modric's unbelievably complete display of midfield marshalling and Keylor Navas' terrific saves, Real Madrid might as well have left with their heads hung down.
Despite Athletic's sturdy display, their sudden drops in concentration cost them the game. In the first half, Mikel San Jose's somnolent pass was intercepted by Benzema and he made no mistake. Later on, Benat's failure to mark Kovacic gave the Croat almost infinite space and time, but he failed to find the net.
And then the criminal amount of space that Isco was provided on the right wing. Isco had so much space that the entire population of China could have fit in it and yet have free space and the Spaniard didn't let go of the opportunity and provided a crisp cross to Benzema.
It was small let-ups that undid Athletic and ruined an otherwise good performance.
The dual role of Isco
From the moment he joined Real Madrid, he has only ever started a handful of times in his natural attacking midfield position. This season, with James Rodriguez and Gareth Bale out, Isco has once again found himself playing in his natural position—and the results are apparent.
2 assists in 2 games, despite being underwhelming for the majority of the game, shows how much he loves playing in a familiar zone.
Against the Basques, he was assigned two roles: to be the number 10 as well as the right winger when needed. And it was because of this that Balenziaga and Mikel San Jose were left confused while marking the former Malaga man. In the end, it worked as it from the right that Madrid's second goal emanated.
Conclusion
Both the teams pressed obstinately and basically canceled each other out for most of the game. The irony with Real Madrid playing such a system--with four genuine number 10s in the lineup--is that resembles Ancelotti's 4-3-1-2 at Milan with Clarence Seedorf, Rui Costa, Kaka and Pirlo playing together at times, On Real's end, Luka Modric's fine presentation of how a midfielder should play will remain a focal point for aspiring midfielders. It was his work in both attack and defense that kept the team ticking.
For Athletic, Raul Garcia was the first line of defense. You can take out Raul Garcia from Atletico Madrid, but you can't take out Atletico Madrid from Raul Garcia. His monstrous hunger to win the ball back troubled Benitez's men and dismantled Toni Kroos for long periods.
Real Madrid now top of the table, however, there are some glaring weaknesses in defense. The Pepe-Varane combination doesn't seem to work and playing two attack-minded full-backs in Carvajal and Marcelo leaves a lot of gaps at the back.
On the other hand, the miserable start for the Basque club continued. However, once they cut out the lapses in concentration, they will start winning games and do so on a consistent basis.
---