Barcelona - Silence before the storm?
1.63K //
07 Mar 2013, 21:05 IST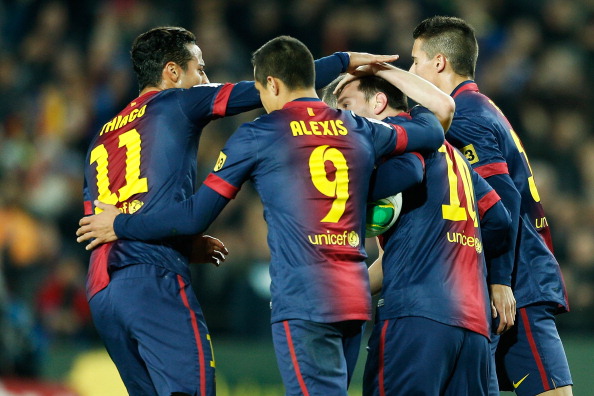 Now there is a law of nature that says everything that goes up has to come down, everything that lives has to die, and ultimately everything that progresses has to at a stage, regress. Barcelona, whether you like them or hate them, have undoubtedly been the best team in the world in the last 5 years. What is interesting though is how they seem to have fallen from their own graces.
As Xavi said, "It is a tough time for the team, loads of fixtures coming in, and many of the boys are carrying niggles". That is something I have never associated with Barcelona, they have had injury problems in the past but it is not their absentees but those who grace the field who seem to be off-color.
I am not one of those who is saying that the end is near for the Catalan giants, but it seems that Barcelona reached top gear too fast. After a whirlwind start to the season the magic seems to have faded, notably since the defeat to Real Sociedad. The Barcelona team of earlier seasons and even at the beginning of this season always found a way to score.  But since January, even the matches they have been winning seem to be just stolen. Yes, they dominate the ball, but much of the cutting edge seems to have been blunted, and a lot of it can be put down to Vilanova's absence of course.
Barcelona, in previous seasons, was based on a strong defensive foundation. In 2009, arguably the best season Barca have had, they had a dominant Pique, a younger and quicker Puyol, a Dani Alves who defended and Abidal and Maxwell who were defensively strong. Barcelona's habit of conceding too many is a worrying fact for them.
Milan of course are next on Barcelona's agenda. We all know that Barca are strong enough and if they are in the zone they can absolutely wreck havoc against the Italians. A two goal cushion against a rampant Barcelona can be blown away easily. It is up to Barcelona to make sure they don't implode as they did against Real in the last clasico. The after-match behaviour by Barca was most uncharacteristic, something they scoff at.
I think Barca, in terms of pure all round quality, are better but they need to make sure they tighten up their defense and stop conceding goals on the counter-attack. Messi again, I feel, has to be the difference. The runs that made space for him need to be more frequent, and as Ronaldo arguably took Real through against United, Messi will have to take centre stage. For the love of football, I want Barcelona back to their best, because when in tune there is not a team on the planet that plays more beautifully.
As Guardiola recently said, "I won't say Barca are in a crisis or even a mini crisis, it has a few bumps and all teams have them, I think the recent defeats will bring back a better team". Pep, I agree.