Barcelona vs Atletico Madrid: Match preview
1.03K //
16 Dec 2012, 10:01 IST
Stadium: Camp Nou
Referee: Miguel Perez
Kick-off: 1:30 AM (IST), Monday, 17th of December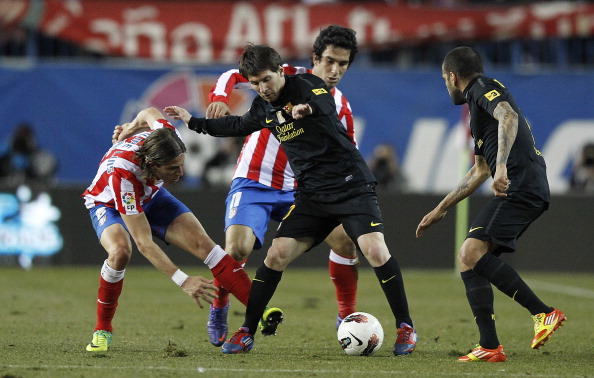 It is a top-of-the-table clash that awaits tonight at the Camp Nou, as second placed Atletico travel to the home of leaders
Barcelona
hoping to slash their six point deficit in half. With Barcelona sitting pretty on a goal difference of +33 compared to Atletico's +22, the points are all that will really matter for Diego Simeone's side, as a race in terms of goal difference shall likely favour the Catalans who have already scored a remarkable 50 goals in their 15 league games this season. Atletico do bring the third best defence in the league though, and will be hoping to prove themselves as big match contenders, especially after the debacle in the Madrid derby.
Barcelona: W W D W W
After being outdone by Real Madrid last season, Barca have regrouped well and are coasting along this season, scoring goals for fun. There isn't really a problem in sight for the Blaugrana, with the exception of the injury that Fabregas sustained last weekend, which rules him out of contention for tonight's game. They do seem to slightly lack discipline at the back though, having conceded an average of more than a goal per game, with 17 in their 15 league matches. With three clean sheets in their last six games, and an attack which scored an average of 3.33 league goals per game, however, one doubts that much sleep will be lost over the defensive concerns. They also enjoy a superior record against Atletico, having won all four of their most recent encounters, conceding just 2 and scoring 12 in the process.
Atletico Madrid: W L L W W
Atletico's loss to Real was followed by another away loss to Viktoria Pizen on their trip to the Czech Republic, which saw them lose their seven match winning streak to two consecutive losses. They were quick to make amends last weekend though, as a 6 – 0 thrashing of Deportivo la Coruna in front of home fans was followed by a 3 – 0 win over Getafe midweek in the Copa del Rey. With four clean sheets in their last six games, i.e. in all matches except the two they lost, Los Rojiblancos are used to wrapping up games with clean sheets; something any team is very unlikely to do against Barcelona. Thus, it may be up to the attack to produce a rare moment of brilliance or two to give them a lead, allowing them to sit back and absorb Barca pressure, being one of the few teams in the league who might actually be able to do so.
Injuries, Concerns & Suspensions
Barcelona: Eric Abidal, Marc Muniesa, Isaac Cuenca, Francesc Fabregas.
Atletico Madrid: Cristian Rodriguez, Radamel Falcao, Adrian.
Lionel Messi vs Thibaut Courtois
With 88 goals in a calendar year, and a handful of games left to play, Messi's mind will be set on reaching three figures if possible, but the team's cause is equally important to the skilled Argentine. Having scored a brace in each of the last six games that he has started, Messi is odds on favourite to score, and tip the scales in favour of Barcelona. However, while even a seemingly serious injury couldn't stop him, young Belgian 'keeper Courtois might just succeed. The starlet, on loan from Chelsea, has seven clean sheets in fourteen league games and will want to send his reputation soaring higher by blanking out these Spanish giants.
Radamel Falcao vs Carles Puyol
In most leagues around the world, Radamel Falcao would currently be runaway favorite for the golden boot, having scored 16 times, and being instrumental to Atleti's bright first half of the season. However, he still sits a whole seven goals behind Messi, in spite of scoring a whopping five goals against Deportivo last weekend. Numbers apart, Falcao has proven himself to be a striker of the highest quality, who can score with both feet, as well as his head, and from predatory situations as well as long range. Thus, in spite of possession likely to be with Barcelona most of the time, he could give Puyol a real work out, especially considering how the veteran defender had to be withdrawn at half-time last weekend and might not be at his peak.
A tough resistance from Atleti, but Barca dominance on the pitch. After the Madrid derby, people were quick to brand Atletico as chokers, and point out their failure to stand up and be counted in the big matches. While last weekend's result was just what they needed to recover from the loss of three points, their mental conditioning will need a good performance against Barca to well and truly leave the Madrid game behind. With an adaptable manager at the helm, one expects that it is exactly what shall happen.