Bayern Munich 0 Arsenal 2 – Pride Restored!
605 //
17 Mar 2013, 21:43 IST
Bayern Munich 0 Arsenal 2 (Giroud 3, Koscielny 86)
Man of the Match – Laurent Koscielny (Arsenal)
There are very few occasions in life where you feel pride brimming from inside. Unmatchable pride. Very few days have I walked into college/office, completely sure of not having to face abuse, or vitriol, or taunts related to Arsenal.
And, well the day after this was definitely one of those occasions. Like the Milan game last season, where I had loads of friends come up to me and say, "What a performance from Arsenal!" and "The first half was the best football I have seen from any team this season".
And just like the Milan game last season, I had completely resigned to the idea of getting knocked out, as I arranged some snacks in front of the TV. All I wanted was a strong performance from the boys, and even a 1-0 loss where we battled hard wouldn't have been a bad result at all.
I mean, what chances did we have. This was a squad full of German internationals. They had beaten us 3-1 on our own turf. They had not lost a game of football since the Berlin wall had fallen. They had world class players at every position. Add to that, they were 20 points (right?) clear in the domestic league, and were all set to rip us apart in the second leg as well. Like I was describing to a friend earlier, they were the mean, lean, bloodthirsty, super efficient, ruthless German machine that trampled everything that lay in its path.
And us? We are a club that has been in decline ever since 2005. A club that moved stadiums, and in an effort to pay off the debt of building a new stadium, has had to sell its stars year after year. Add to that, a trophyless sojourn that has spanned 7 years, and barring a miracle on the night, would become 8. To make matters worse, the club is slagged off on a daily basis, by this baseless and soulless platform called the English media. And there's more. 4 first teamers out owing to injury/rest. Wilshere, Podolski, Sagna and Szczesny.
"Ah, what chance on earth do we h…oh wait, Walcott has the ball, and he's clear of the defence. Oh my, score you fast fool..passes…Giroud bangs in the ball..1-0! "
As I jump around the living room like a fool, Bayern have already kicked off, and it really is Bayern Munich 0-1 Arsenal. My first thought was "F*** this shit! Bayern, we are not going down without a fight, because we are The Arsenal!"
All of a sudden, the loud Bayern fans were stunned into silence, and chants of "We love you Arsenal, we do" echoed around the Allianz. Some ownage, that. However, on a slippery pitch, on a snowy night in Germany, Arsenal were struggling to come out of the traps.
Bayern, blessed with attacking talents like Kroos, Mandzukic, Mueller, the selfless Robben (sarcasm intended), and the defensive midfield duo of Gustavo and Martinez were clearly holding the upper hand against an Arsenal midfield, devoid of the presence of Jack Wilshere.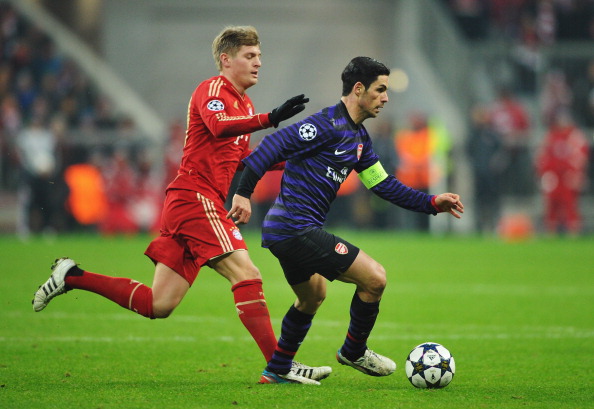 Aaron Ramsey, playing in his new deeper role, alongside Arteta, lost possession far too often, even as Rosicky and Cazorla tried to squirm out of tricky situations and drive the team forward.
Quite quickly after the goal, Bayern had a few efforts. Kroos went close, Fabianksi making a save. Yes, you heard right. The Pole making his first appearance for nearly a year now. Bayern were upping the ante, with a barrage of crosses, but Arsenal were dealing with them efficiently.
Laurent Koscielny, in for the beleaguered Thomas Vermaelen was particularly impressive, and so was Fabianski. However, an Arteta error almost proved costly, when he gave away the ball, but Kroos could only straight at the keeper.
On the right flank, Carl Jenkinson was putting on a solid display, defensively as well as offensively, constantly running at the opposite full-back, young Austrian international David Alaba.
Arsenal were making things hard for themselves, as a Fabianski-Mertesacker moment of miscommunication almost resulted in a goal, but Mueller could only manage to hit the side netting. Arsenal did get a rare chance on goal, when Walcott's cross narrowly missed the outstretched leg of Giroud.
The referee too was unflinching, as van Buyten thumped into Giroud, and then Gibbs seeing yellow, for a nothing challenge on the egg-headed Robben. Arsenal were getting increasingly weary, and a Walcott miss pass went straight into Robben, who fluffed his effort wide.
Toni Kroos took a chance from outside the box, which went close. The defence made several late and well-timed challenges to keep the Bavarians at bay. And, Arsenal again got a bad decision against them, as Walcott was judged to be offside after having been played through by Rosicky, despite TV replays showing he was onside.
Rosicky picked up a yellow for tackling Robben when he seemed to be getting away, as Bayern wasted more chances through Gustavo and Kroos. Arjen Robben then was sent clear of Arsenal's defence, and forced a brilliant save from Fabianski.
Arsene Wenger threw on Gervinho and Alex Oxlade-Chamberlain, with the Ivorian almost scoring minutes after coming on. Excellent linkup with Cazorla, and a turn later, only a good touch was required to put the ball in. But, he fluffed it narrowly wide, with no one to follow it in.
Arsenal got their first corner of the game in as late as the 85th minute, and voila, it went it. Laurent Koscielny rose the highest, and it sailed past Neuer. However, the German displayed extremely poor sportsmanship, as he latched on to the ball, rather disgustingly. Even as the ref was sorting the melee out, Bayern players were falling to the floor like a group of sissies.
In the end, as the final whistle blew, it was a case of too little, too late for Arsenal. For the second season running, they almost did the impossible possible.
The game demanded big performances, and the defence was absolutely staunch and unflinching. Koscielny played, well, like a Boss. Jenkinson was the Corporal, and Mertesacker proved why he is the real Big F***ing German.
Rosicky's endavour, Gibbs' tenacity, Arteta's resilience, Giroud's hard work, Ramsey's work rate, Fabianski's saves, Cazorla's trickery and Walcott's flashes of pace, all in all, combined for yet another memorable performance, on a rather forgettable culmination of Champions League dreams.
That should take back seat for now, though. It is performances like these, that make me want to watch this team every week and every night. It is such games that really do reignite the Gooner within. There's hope after all.