Blue half of London will probably go empty handed this term
698 //
18 Dec 2012, 21:10 IST
A trophy less season could await Rafa Benitez's Chelsea who look out of sorts. Their loss in the Club World Cup final in Japan to Corinthians was the latest debacle. Chelsea won the Champions League and the F.A Cup last season and the possibility of adding trophies for the new campaign gave them enough to start with, but that's where they fizzled out. The sacking of Roberto di Matteo was baseless and their record signing forward (Fernando Torres) too has drawn blanks in the big matches. This could leave their cabinet empty in 2012-13.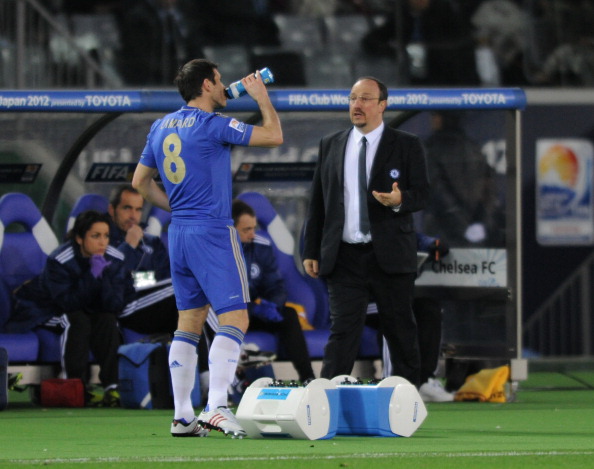 Chelsea is gifted with one of the best goal-keepers in the world (Peter Cech) who played a crucial hand in making them the champions of Europe in May. His rise to dominance against Barcelona gave Chelsea enough impetus on the night to rightly deserve their passage to the final. What happened then against Bayern Munich at the Allianz Arena is what many consider down to sheer luck, but that seemed baseless. Chelsea took everything that Bayern Munich offered as the latter, though superior, failed to take the chances. Chelsea won and it was the biggest night of their history. That didn't matter for their one-man ruler Mr. Roman Abrhamovic whose demands played the sacking tone for Roberto di Matteo. It was harsh for a manager who had just won two trophies, but like his predecessors, he too was hanged.
Their 2-2 draw against Juventus at Stamford Bridge made all the difference in the end and the holders became the first team to be knocked out in the group stages of the Champions League history. Their European crown gave them the chance to win two trophies associated with it 1) UEFA Super Cup and 2) CLUB WORLD CUP. The first one saw Europa league winners Atletico Madrid wreck havoc on a shabby Chelsea outfit that remained jaded for the entire 90 minutes against Falcao, who like a 'Falcon' preyed on them. If that wasn't enough, they seemed weak against Brazilian side Corinthians in Japan and a second trophy too got robbed from them.
Their two trophy losses, the sacking of Di Matteo along with their exit from Champions League and their woes in the title chase in Premier League have been their tale of failures as a whole. Chelsea have quality players and play a good brand of football, but their instincts have been the weak link that have gone on to play a pivotal role in seeing them collapse every time they try to pick themselves up from the ground. Chelsea's new boss Rafa Benitez will look to land the League Cup and try his hand at the FA Cup as these are the only two trophies which they can probably win. But if their sorry state of football continues, they will lose this as well and be eluded in the end. Even a consolation prize wasn't to come with Manchester City being worthy winners at Wembley in the Community Shield battle this season. Altogether, it's been an unfortunate Chelsea group who now will look to push for everything they will face.
Fernando Torres' recent goals have come against weaker teams and in the big matches, the 50m pound striker has failed on all fronts. This is a well known fact for everybody that even with this conversion rate he still out runs the other strikers with his selection in every game. Getting Falcao from Atletico looks a good link but it looks impossible as Atletico are pushing for a top four finish in La Liga and selling their hitman will be an abnormal bargain. Fernando Torres needs to find the form which he had for the Reds earlier, before he transferred to the Blue shirt.
Rafa Benitez too knows at what he has missed in Japan recently and his place is also in doubt ,like the other Chelsea managers who faced Roman's wrath. With this form, a same story could unfold like last season where they finished sixth in England. Arsenal and Tottenham will give them the music and it's upto Chelsea how they set the tune. If a trophy does land with the two tournaments they are in, then it provides some respite but going by how they started the 2012-13 campaign, that too looks likely a distant possibility.