Bradford City 0-5 Swansea City - Trophy glory for Swans against brave Bantams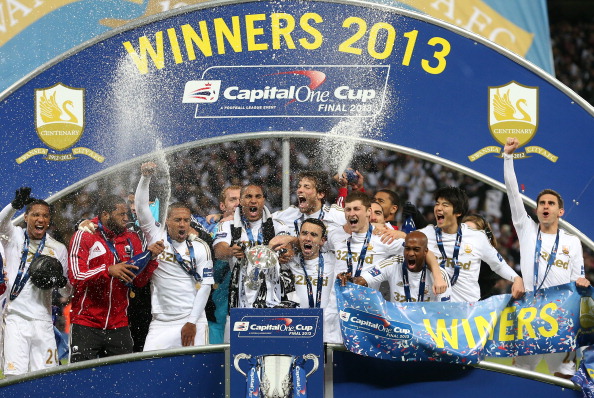 Swansea City proved to be a bridge too far for Bradford City as the Welsh side put five past their League Two opponents who were reduced to ten men after Matt Duke was sent off in the 57th minute for conceding a penalty after bringing down Jonathan de Guzman.
A brace apiece from Nathan Dyer and Jonathan de Guzman and a strike from Michu emphasised the gulf in class between Michael Laudrup's Swans and Phil Parkinson's Bantams, who will still take pride in their exploits right up to the final.
Little Jake Turton led Bradford City out on to the hallowed Wembley Turf as they looked to end their momentous Capital One Cup run with a glorious flourish.
Manager Phil Parkinson elected to line his side up in a 4-4-2, with Matt Duke starting in goal. He was protected by a back four consisting of Stephen Darby, Rory McArdle, Curtis Good and Carl McHugh. Skipper Gary Jones, Will Atkinson, Nathan Doyle and Garry Thompson were fielded in midfield behind Nahki Wells and James Hanson.
Swansea boss Michael Laudrup had decided to rest all his key players in a 5-0 demolition at the hands of Liverpool last week, and all of them started today.
In the absence of defender Chico Flores, the Dane decided to field Ki Sung Yueng alongside Ashley Williams, with young Ben Davies filling in at left-back and Angel Rangel occupying the right-back berth. For what was to be a high-pressure game, Leon Britton, Jonathan de Guzman, Pablo Hernandez, Nathan Dyer and Wayne Routledge all lined up in a five-man midfield behind lone striker Michu. Gerhard Tremmel, who is Swansea's first choice League Cup keeper, was between the sticks.
It was – as expected – Swansea who started on the front foot, with Nathan Dyer hoisting a couple of chances into the box which went unanswered with no one present to receive the ball.
Bradford had begun the game on the defensive, with the centre-back duo of McArdle and McHugh having to deal with a salvo of lobbed passes, including the first Swansea corner as early as the third minute, all of which were comfortably dealt with. But the League Two side were seeing too little of the ball to influence proceedings their way. A good move from James Hanson in the eleventh minute saw a hoisted ball towards Wells in the box, but that was the only attack foray the Bantams attempted in the opening stages of the final.
What they lacked in attacking capability without the ball, though, was made up for in defensive nous when the team moved in unison without it. It was an interesting contrast of styles to watch at Wembley. Swansea were playing the tiki-taka football with an English twist while Bradford's passes took the air very often.
The Swans nearly made their less famous opponents pay in the 15th minute. A Nathan Dyer cross from the right was found by Ben Davies, who snuck past a static Garry Thompson to plant a header goalwards. A scrambling Matt Duke saw the ball bobble wide past his upright.
Their next attack would give the Welsh side the lead.
On the break after a Bradford attack, a barnstorming run by Jonathan de Guzman saw him feed the ball to Michu, who fired goalwards, only for Duke to parry low to his left. Unfortunately for the former Hull City man, Nathan Dyer was on hand to prod home the rebound and give Swansea the lead just after fifteen minutes.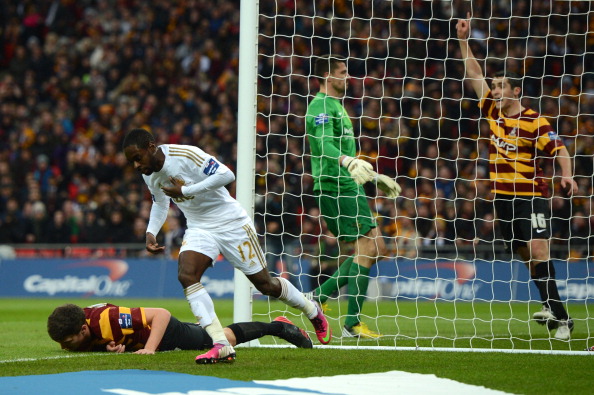 The goal seemed to spur Bradford on. Nahki Wells was the Bantams' most willing outlet, but his industry was always closed down by three or four Swansea players when on the ball.
As the first half wore on, Swansea continued to dominate possession, with Bradford defending deep. Any attacks the Bantams attempted to orchestrate broke down quickly, but despite the the abundance of the ball that Swansea had, chances were far and few between.
Their next chance after the goal came only in the 28th minute, when a Leon Britton drive from long range whistled wide of Duke.
But they would eventually turn possession into punishment, courtesy that man Michu.
A lovely exchange of passes saw the Swansea goleador receive the ball from Pablo Hernandez and shape to shoot. McHugh gave the Spaniard too much time and space and he scored number 19 of the season with a classy finish past Duke.
Swansea could have made it 3-0 with three separate opportunities just a minute later. Nathan Dyer rounded Duke but the ball wriggled away from him as his touch to control it turned out to be too heavy, Duke parried a Routledge effort from distance and the resulting direct shot from the corner was saved well by him.
Referee Kevin Friend blew for half-time a few minutes later. Swansea looked to be in absolute control of the game, while Bradford appeared to be overwhelmed by the occasion.
Bradford boss made one chance at half time, with Andrew Davis coming on for Curtis Good, a move which saw McHugh move into full back.
The change seemed to have little impact on the game, with Swansea tripling their lead inside the first five minutes of the second half.
A Swansea attack ended in Wayne Routledge feeding the ball to Nathan Dyer, who was waiting inside the box to plant home his second of the night and make it 3-0 to the Welsh side, all but sealing the game in the process.
Less than ten minutes later, Bradford's night went from bad to worse. Jonathan de Guzman was felled by Duke as he ran through on goal, and referee Friend pointed to the spot and had no option but to send off the hero of so many scalps for Bradford, a decision that was extremely harsh given the circumstances.
While John McLaughlin was readied as Nahki Wells prepared to be sacrificed, an altercation between de Guzman, who'd won the penalty, and Dyer, who was now on the hat-trick broke out inside the box, with Dyer insisting he should be allowed to complete his hat-trick from the spot to write his name into the history books on the night.
With Michu intervening in the end, it was de Guzman who slotted home with ease to only rub salt in hapless Bradford's wounds. De Guzman made it a point to include Dyer in his celebrations by method of consolation for the winger.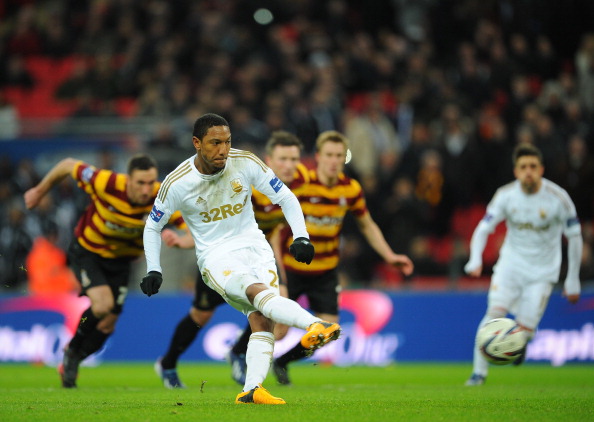 Soon afterwards, Swansea club captain Garry Monk entered the fray in place of Ki.
With the match now petering out as fatigue and reassurance both took over, Swansea were able to concentrate solely on ball possession. Zavon Hines was given a chance to taste a cup final, coming on for Garry Thompson in the 73rd minute.
Nathan Dyer was denied a chance to collect his hat-trick, having been withdrawn for Belgian winger Roland Lamah in the 77th minute of the match.
As the match entered its final throes, the Swansea fans, who had been singing lustily all game, increasing the volume of their chants. Swansea conceded a couple of free kicks in their own half, leading to ironic cheers from the Bantams fans. With Swansea allowing themselves to relax, Gary Jones registered his team's first shot on goal in the 87th minute.
But as three minutes of stoppage time were signalled, there was still time for de Guzman to bundle home his second and his team's fifth to give Swansea the League Cup final's largest ever winning scoreline.
And as Kevin Friend blew the whistle for full time, Wembley exploded in a fanfare of noise and colour. Swansea City had won their first ever trophy in their centenary season.
But Bradford have made history of their own in Wembley. They will be remembered as heroes for decades to come. Not a single Bradford fan left the stadium early. But in the end, Bradford's assault appeared to be reminiscent of the charge of the light brigade: they were absolutely mowed down by the Swansea bombardment.
And at the end of the day, Bradford will be remembered as the gallant gladiators who fought right till the end.
But that is the allure of cup football.
Lineups:
Bradford City FC 0-4 Swansea City FC (Dyer 16′ and 47′, Michu 40′, de Guzman 59′pen and 90′+1)
Referee: Kevin Friend
Bradford City: Duke (s/o 56′); Darby, Mc Ardle, McHugh, Good (Davies 45′); Jones, Atkinson, Thompson, Doyle; Hanson, Wells (McLaughlin 57′)
Subs not used: Ravenhill, Reid, Turgott, Connell
Manager: Phil Parkinson
Swansea City: Tremmel; Rangel, Williams, Ki (Monk 62′), Davies (Tiendalli 84′); De Guzman, Routledge, Britton, Dyer (Lamah 77′), Pablo Hernandez; Michu
Subs not used: Vorm, Augustien, Schechter, Moore
Manager: Michael Laudrup
Stats:
Bradford City: Shots (on target): 3 (3), fouls: 3, corner kicks: 1, offsides: 1, yellow cards: 0, red cards: 1, saves: 7
Swansea City: Shots (on target): 15 (10), fouls: 4, corner kicks: 8, offsides: 2, yellow cards: 1, red cards: 0, saves: 1
Possession: Bradford City 40%-60% Swansea City
Next Fixture:
Bradford City vs Dagenham and Redbridge (H), Valley Parade, Bradford, 27/02/2013
Swansea City vs Newcastle United (H), Liberty Stadium, Swansea, 02/03/2013