Can Sir Alex better Mourinho again?
1.13K //
28 Mar 2013, 14:58 IST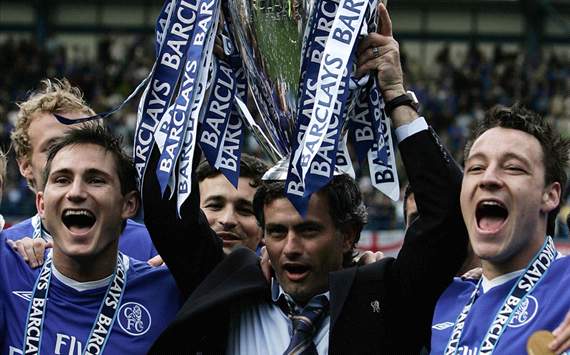 With a 15-point lead and just nine games to go, Manchester United have all but wrapped up this year's Barclays Premier League title. Now, the attention shifts to a different kind of victory – one that Sir Alex would want to have over his past rival Jose Mourinho.
Mourinho's Chelsea won the Premier League in the 2004/05 season with a record 95 points – the most points ever accrued by  a team over a single Premier League season. With 74 points in 29 games this season, Manchester United need 22 points from their last 9 games to re-write the record books. This amounts to seven wins, a draw and a loss – tall order for any team, but United haven't been just 'any team' this season.
With clean sheets in their past five matches and an unbeaten run of 17 matches (15 wins, 2 draws), United are in form, to say the least. There is nothing to suggest they won't carry this form into the run-in. With the manager and players stressing on the fact that the league hasn't been won yet, it can be expected that United will give their best right down to the last match. In fact, in a recent interview, Sir Alex has stressed on the fact that the record is something he wants to beat.
Can they do it? Can the master outdo the prodigy again? Here are some predictions.
1. Sunderland (Away)
Probability of win – 90 %
United first face the Black Cats away in a match just after the international break. With the FA Cup quarter-final replay with Chelsea looming around the corner, Sir Alex will no doubt rest a few key players, but Sunderland have been in terrible form of late (they couldn't win against a 10-man Norwich team with an hour to go), and with a season-ending injury to Steven Fletcher, the future looks bleak for them. United should win this comfortably.
2. Manchester City (Home)
Probability of win – 50 %
In an explosive match at home, United face their noisy neighbours in a game that could seal the title if a few other results go as required. With City's recent loss to 10-man Everton and general lack of form, United will go into this match as heavy favourites. But this Manchester City side has quality within them, and if the City side of last year turn up, it could be a mouth-watering clash. This one is really unpredictable.
3. Stoke City (Away)
Probability of win – 60 %
United next go to what was once the meanest defence in the league, at Stoke. The Potters have also been hit with a wave of poor form – three losses and a draw from their last four, with only a single clean sheet. However, their home form has been good in general, and United will have a tough time breaching the Huth-Shawcross-Begovic wall in front of the Stoke goal. I still tip United to have the firepower to grab a tough win.
4. West Ham United (Away)
Probability of win – 80 %
The Hammers always play brilliantly at Upton Park, which is generally regarded as a difficult place to visit. But with only 2 wins in their past 6 home games, United will be expected to push home a relatively comfortable victory.
5. Aston Villa (Home)
Probability of win – 90 %
At home, United's form this season has been immaculate, with only a loss to Tottenham marring an otherwise perfect home record. The Villans are currently 17th in the league and, with two consecutive wins, have some momentum, but this match will take place three game-weeks later – in this time, they would have entertained Liverpool at home and travelled to Stoke – not enticing fixtures. United should comfortably win this match.
6. Arsenal (Away)
Probability of win – 50 %
Arsenal have been traditionally one of United's classier rivals, but in the topsy-turvy season that they have had, it is just impossible to predict this match. It all depends on which Arsenal show up – the one that plays beautiful football, or the one that sleeps during the first half. It will be a hard-fought game, but I can see United sneaking a win in the dying embers of the match (perhaps by a certain Robin van Persie left-footed strike).
7. Chelsea (Home)
Probability of win – 40 %
Chelsea's side looks so good on paper, it is difficult to imagine that their season hasn't reached the heights it should have. In any case, the Mata-Hazard-Oscar trio with Ba up front is such a good attack that should all of them have a good day, Chelsea can beat United. The controversy surrounding United's trip to Stamford Bridge earlier in the season should provide added intensity to a blockbuster match. Even if United have wrapped up the title, I expect Sir Alex to put out his strongest team for this match – he doesn't like to lose to his rivals. This is one match in which United could be beaten.
8. Swansea City (Home)
Probability of win - 90 %
If all goes according to plan and United have to win their last two to beat the points record, you can expect strong teams for both matches. In such a case, the Swans (who have had an excellent season, winning the Capital One Cup) would be visiting a fortress that has been breached by only Tottenham and (possibly) Chelsea. It is rather difficult to see United slipping up in this one, when they would know that the points record is within their reach.
9. West Bromwich Albion (Away)
Possibility of win - 80 %
Away matches are always tougher than home games, and hence the match away against a Brom side that has been excellent up to this point in the season could be a tough one. However, this being the last match of the League season, one can expect United to give it their all, and win handsomely to seal the deal on a hallmark season.
In short, United have to get 4 points from three fixtures (MCI (H), ARS (A), CHE (H)) and win all others. Should they do this, they would have thoroughly deserved their record.
Interestingly, in the event that United win all 9 of their remaining matches, they would have 101 points, thus beating Real Madrid's record of 100 points in the 2011/12 La Liga! Added incentive, anyone?