Champions League Preview: Manchester United vs Real Madrid
2.11K //
04 Mar 2013, 16:10 IST
What: Manchester United vs Real Madrid, 2nd Leg, UEFA Champions League Round of 16
Where: Old Trafford, Manchester
When: 5th March, 2013
Kick off time: 1:15am IST (6th March), 19:45 BST
Referee: Cüneyt Çak?r (Turkey)
Match Preview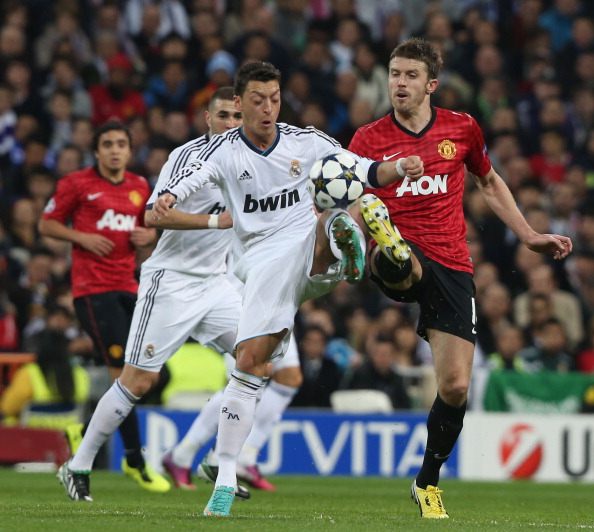 This is truly a battle of the giants! Manchester United and Real Madrid lock horns in the second leg of the UEFA Champions league Round of 16 fixture. The match is very delicately poised after a gripping first leg which ended 1-1, and both teams head into this fixture on the back of confidence boosting victories in their respective leagues this weekend.
Sir Alex will want his side to assert their authority at home and be on the front foot from the word go after their crucial away goal at the Bernabeu. After the win against Norwich and the league title firmly in their grasp, United will look to improve their European record, which isn't as good as some of the other big clubs of Europe, and what better than beating Real en-route another Champions League title?
It will be anything but easy for the Red Devils as Madrid are looking in prime form, after back-to-back Clasico wins, which will surely have sent their morale sky rocketing. In spite of the fact that they are playing away from home, Madrid will look to their dominating 3-1 win at the Nou Camp in the Copa del Rey as inspiration coming into this fixture. The Champions League has always been Mourinho's dream, and has won it twice already, with Porto and Inter. He will be looking to shock the Red Devils at home and grab a Champions League trophy in three countries.
Team News
Manchester United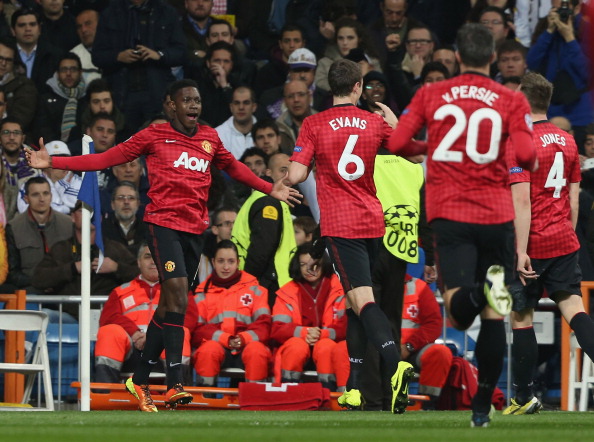 For Sir Alex Ferguson's side, this will be the biggest test of their character and ability. United are going through a transition phase with youngsters coming in, and it will be interesting to see how well they can step up to the challenge and fill the void that will soon be left by ageing pros like Scholes and Giggs.
United have been superb this season, on top the table and topping the goal-scoring charts too. Led superbly upfront by the talismanic Robin Van Persie and brilliantly partnered by Wayne Rooney, they've been irresistible. The flying Dutchman has not scored in his 4 previous fixtures and will be raring to go against Madrid. He has scored some very crucial goals this season and United will be banking on their top scorer to recapture that form. Rooney too, after his goal-scoring appearance against Norwich, will be looking to set his record straight of going missing in big games.
What has been striking off late though has been United's defence. After leaking in goals at the start of the season, they seem to have shut up shop, conceding only twice in the last 6 matches. Custodian David de Gea will look for an encore of his performance in the first leg and keep the Madrid strike force at bay.
After surprisingly starting many key players against Norwich, Sir Alex will be looking to most of that core to replicate that performance against Real. Ronaldo restrictor from the first leg, Phil Jones, is still doubtful, but United will want him to be on the field to keep their former hero under check.
Real Madrid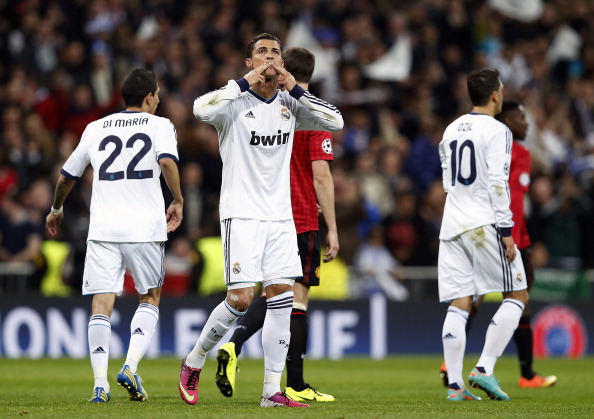 Jose Mourinho has been there and done it. His sides (Porto, Chelsea) have beaten United at Old Trafford before, and he certainly knows a thing or two about unlocking Sir Alex's side. Real have eased a lot of their nerves and pressure arriving at Manchester on the back of two victories against arch rivals Barcelona and will be looking to continue that superb form. They will be looking to grab an away goal as soon as possible to cancel out the one United scored in the first leg and will look to build from there.
Who better to do that than easily than the most in-form player in the world currently, but Cristiano Ronaldo? Ronaldo will be on an emotional return to his former stomping ground, and Real will be counting on him to replicate his first leg performance and provide the fireworks upfront against his former team mates. It's not just about him though, as in Higuain, Benzema, Ozil, DiMaria and the likes, Real boast of a world class and very potent forward line to harrow the Red Devil's defense.
Defensively, Real have looked strong off late, with Sergio Ramos and Raphael Varane in top form, with both scoring in the the Clasicos. They have not conceded more than a goal in the last 14 games. What will make it more difficult for United is the return of Iker Casillas in the travelling squad, so now Real can pick their best eleven for the battle at Old Trafford.
Injuries and suspensions
Both sides enter this fixture with a near clean bill of health.
Darren Fletcher remains sidelined for the entire season with the chronic bowel condition that has affected him for over a year now. Also, United will be sweating over the fitness of Phil Jones, who was excellent in the first leg and will be sorely missed if he fails to make the cut.
Real Madrid have only one concern, that of skipper and no.1 Iker Casillas, who has been out with a broken thumb for a month now. He has made the traveling squad and might very well start, considering the magnitude of the game.
Expected Lineups
Manchester United (4-4-1-1/4-2-3-1)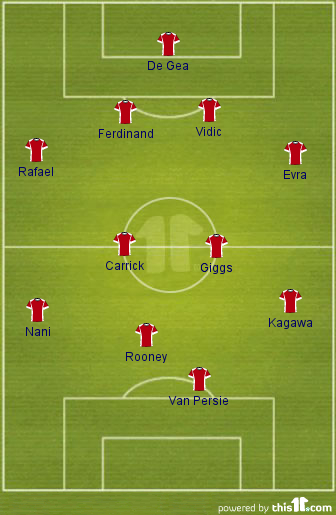 Real Madrid (4-2-3-1/4-2-2-2)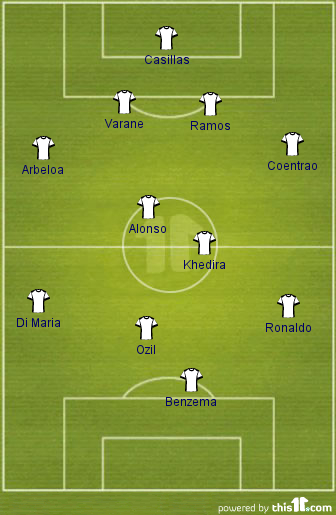 Facts and Stats
Real Madrid are one of two Spanish teams to have beaten Manchester United at Old Trafford in the Champions League (Deportivo La Coruña won 3-2, 19 April 2000).
The two Champions League encounters between Manchester Utd and Real Madrid at Old Trafford have produced 12 goals.
United have only lost once in their last 14 Champions League home games (nine wins, four draws), the last one against CFR Cluj during the group stage this season.
Real Madrid have only won once in their last five away games in England in the Champions League (two draws, two defeats), against Tottenham at White Hart Lane in April 2011.
Angel Di Maria's four assists in the Champions League this season have all been delivered against Manchester teams (3 against City, 1 against United).
Cristiano Ronaldo has scored seven goals in 23 Champions League games at Old Trafford. He has 16 goals in 18 games at the Bernabeu.
Under José Mourinho, Madrid have lost just two of 15 away fixtures in the UEFA Champions League. They drew 1-1 at Manchester City FC in the group stage, Karim Benzema scoring their goal. Overall, their record in England is W4-D3-L5.
Madrid have been held at home in the first leg of eight previous UEFA competition ties – all in the European Cup – and have recorded only one aggregate victory, against United in 1999/2000. They have drawn 1-1 at home four times and subsequently been eliminated in every tie, most recently by FC Dynamo Kyiv in the 1998/99 quarter-finals (0-2 away).
United have won nine of the 12 UEFA competition ties in which they recorded a first-leg away draw, including three where the score in the first match was 1-1: against Willem II (1963/64 European Cup Winners' Cup preliminary round, 6-0 second leg); AS Saint-Étienne (1977/78 European Cup Winners' Cup first round, 2-0 second leg); and Olympique Lyonnais (2007/08 UEFA Champions League round of 16, 1-0 second leg).
Recent Form
Manchester United (WWWDW)
02nd March, 2013:  Man United 4-0 Norwich(EPL)
23rd February, 2013 : QPR 0-2 Man United (EPL)
18th February, 2013 : Man United 2-1 Reading (FA Cup)
13th February, 2013 : Real Madrid 1-1Man United (UEFA Champions League)
10th February, 2013 : Man United 2-0 Everton (EPL)
Real Madrid (WWWWD)
02nd March, 2013:  Real Madrid 2-1 Barcelona(La Liga)
26th February, 2013: Barcelona 1-3 Real Madrid (Copa del Rey)
23th February, 2013: Deportivo 1-2 Real Madrid (La Liga)
17th February, 2013: Real Madrid 2-0 Rayo Vallecano (La Liga)
13th February, 2013: Real Madrid 1-1 Man United (UEFA Champions League)
Key Clashes
1) Cristiano Ronaldo vs Manchester United
Cristiano Ronaldo will return to his former home knowing very well that his side will look to him to unlock United's defence and score a crucial away goal. He also knows how much the United fans love and adore him in spite of his move to Madrid 4 years ago. It will be very interesting to see how he reacts if his goal results in United being knocked out of the competition.
2) Iker Casillas vs David de Gea
In a classic case of the king vs the prince, both the keepers will know that a huge task lies before them. United and Madrid both boast of a brilliant forward line and both back fours will be hoping that the men behind them can keep the ball out of the net. Casillas might well start after making the travelling squad, and De Gea has firmly cemented his place as United's No. 1
It is well worth noting, though, that De Gea has conceded 11 goals in five straight derby losses to the Merengues, a record that he will be looking to correct and see his side through to the next round after a brilliant performance in the first leg.
3) Midfield
Michael Carrick alongside whoever he partners will have the unenviable task of keeping Xabi Alonso and Sami Khedira at bay and off the ball as much as possible. Bayern employed the tactic of marking Alonso out of the game so that he would not be able to spray balls out to Ronaldo. Expect something similar from United too. Ryan Giggs would make his 1000th appearance in a United shirt, and SAF will look to his most experienced warrior to guide his team on the field.
4) Front Line
United and Madrid will have singled out Ronaldo and RVP respectively as the men to watch out for in this fixture. Both are in hot form, and it will be up to the tactics and the players ultimately to keep them out. As Ruud van Nistelrooy very rightly pointed out, "For me the difference will be the form of Cristiano and Van Persie. I think that one of these two players will make the difference".
5) Managers
Jose Mourinho and Sir Alex have locked horns several times before, when Mou was at Porto, Chelsea and Inter Milan, and for all of their off field friendship, expect no favors from either manager in this game. The tactics that both managers currently employ are pretty much similar, and it will be no less than a game of chess to see these two master tacticians try to foil each other.
Predictions: Manchester United 2-1 Real Madrid