Champions League Round of 16 predictions - Manchester United
3.50K //
15 Dec 2012, 15:06 IST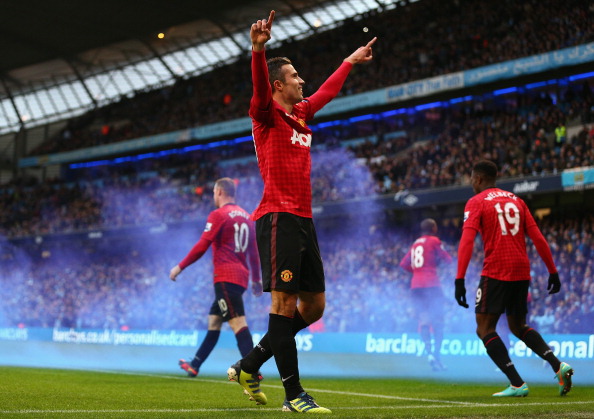 We are now halfway through the UEFA Champions League season 2012 – 13, with the group stages sorted out. We have witnessed the best teams in Europe battle it out to qualify for the knockout stages and have been enthralled by some quality football along the way. Like every season, this too was no exception with passion, commitment, skill, flair, controversies, disappointment and ecstasy all on display. From 32 teams at the start of the tournament in September, we now have 16 teams which have progressed to the first knockout round, each one equally deserving of their qualification. The usual suspects – the power houses of Europe – have made it through and we also have the lesser fancied teams like Shaktar and Celtic in the final 16.
Out of the 16 clubs is one such club which has always been considered as a favourite in this competition every season and apart from an odd season or two, it has always managed to be among the top 8 teams in most of the editions of the UCL.
Yes, Manchester United has been a major force in Europe over the years, more so in the Cristiano Ronaldo era. And with the arrival of RvP this season, they look like going all the way again. Last season, they had to exit in the group stage in spite of a relatively easy group and they certainly would be looking to put that disappointment behind them and atone for their poor performance. But they haven't been at their best in the group stage matches so far and would need to improve on their performances a lot if they are to have a shot at the UCL this season.
Let us have a look at their performances in the UCL over the years (2012-13 season not included) –
Played – 194, Won – 107 (55%), Drawn – 52* (27%), Lost – 35 (18%)
* 2007/08 penalty shootout win vs Chelsea considered as a draw
Most United appearances: Ryan Giggs (139)
Most United goals: Ruud van Nistelrooy (38)
Most played opponents: Bayern Munich (9); Barcelona, Juventus (8)
Finals reached: 5 (Won 1967/68, 1998/99, 2007/08; Lost 2008/09, 2010/11)
Hat-tricks scored: 5 (Andy Cole x2, Wayne Rooney, Ruud van Nistelrooy, Michael Owen)
And their performance this season –
Played – 6, Won – 4 Drawn – 0, Lost – 2
Goals scored – 9, Goals conceded – 6
Top goal scorer- Robin Van Persie – 3; Most assists – Wayne Rooney, Shinji Kagawa – 2
As the numbers suggest, things haven't been all too rosy for Manchester United so far this in this edition. Averaging only 1.5 goals scored a game and conceding 1 goal a game – they have yet to find top form in the Champions League.
So, which teams can Manchester United face in the Round of 16 in the Champions League? For that, let us first have a look at the teams who have qualified –
| | |
| --- | --- |
| Group Winners | Group Runners up |
| Paris Saint – Germain | FC Porto |
| Schalke | Arsenal |
| Malaga | AC Milan |
| Borrusia Dortmund | Real Madrid |
| Juventus | Shakhtar Donetsk |
| Bayern Munich | Valencia |
| Barcelona | Celtic |
| Manchester United | Galatasaray |
Now, according to the rules of the UEFA, Manchester United can face the following teams in the next round – FC Porto, AC Milan, Real Madrid, Shakhtar Donetsk, Valencia and Celtic
Let us analyze the teams one by one and see how a clash with any one of them could pan out for Manchester United –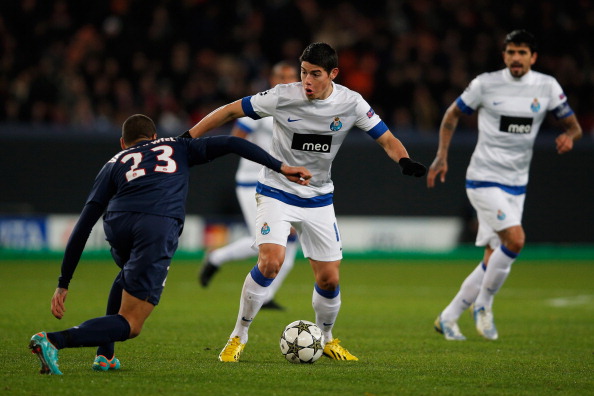 After last year's frustrations and their top stars leaving for greener pastures, FC Porto wrapped up qualification into the knockouts this season after just four games. Along with Malaga CF, Vítor Pereira's side became the first team to qualify for the knockout stage and even managed a win against big spending Paris Saint–Germain in the process. Porto are even being touted by some as outside contenders for the final, nine years after last winning the trophy in 2004
Key players – Jackson Martinez, James Rodriguez, Lucho Gonzalez
Where they could trump Manchester United – In midfield maestro Lucho Gonzalez, they have a quality midfielder pulling the strings from the middle, much like Paul Scholes does for United. Also, their young Columbian duo of James Rodriguez and Jackson Martinez have proved to be a handful for defenders in their group. Add Joao Moutinho to that and you get a quadruplet capable of terrorizing the best teams in Europe. With the United defence proving to be very inconsistent this season, FC Porto can take advantage of any slip – up by the Red Devils.
How Manchester United can hurt them – In Van Persie and Rooney, United have one of the most potent attacking force in the competition, and Sir Alex can blindly rely on them to perform whenever the team needs them. Also, Manchester United's experience in the latter stages of this competition will prove to be handy for them, unlike Porto who are relatively inexperienced in this stage of the competition.
Prediction – A comfortable win for Manchester United, but they will have to work hard in both legs.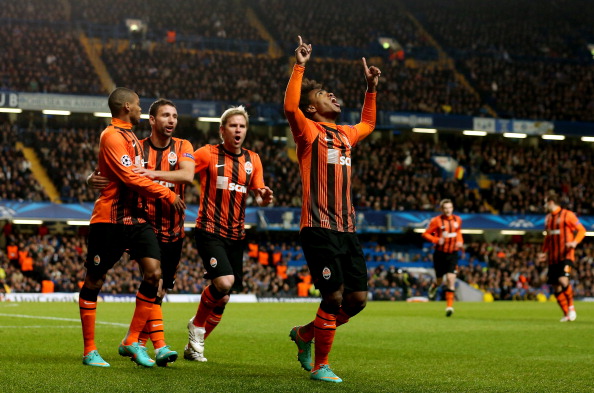 Shakhtar Donetsk, in spite of being drawn in a tough group alongside Juventus and Chelsea, managed to qualify to the knockouts, more so with a game in hand. They would have been group leaders only to be undone by an own goal against Juventus in their last group game. Shakhtar have been gradually improving over the years on the basis of typical Eastern European strength coupled with Brazilian flair.
Key players – Willian, Fernandinho, Luiz Adriano
Where they could trump Manchester United – Shakhtar's forward line is laced with pace and firepower. Backed by attack – minded midfielders who provide more than their fair share of goals and assists, they can easily do damage to the fragile United backline. The Ukrainian champions' all-for-one attitude helped them to eliminate holders Chelsea FC from the competition and they can never be taken lightly at any cost
How Manchester United can hurt them – Sir Alex has been following a very cautious approach with teams who press high up the pitch, like Manchester City and Chelsea, i.e. defend together and attack together as a team. And that's exactly what he'll be looking to do against Shakhtar too and with most of Manchester United's defence back from injury, they shouldn't be too much worried if they continue with their current form. And again, their experience in the latter stages of the competition will certainly prove to be an added advantage.
Prediction – Narrow win for Manchester United in both legs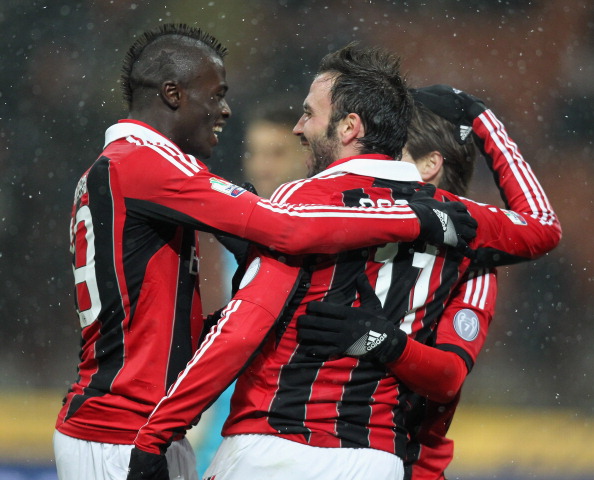 With the departure of Zlatan Ibrahimovic and Thiago Silva, AC Milan looked like a spent force. But they have managed to pull through to the knockout stages riding on the performances of the impressive El Shaarawy and even their centre-backs scoring spectacular overhead kicks. Though they haven't been impressive in Serie A at all (currently 14 points off the leaders Juventus), they do have the quality to surprise teams in Europe and will definitely be a force to reckon with.
Key players – Stephen El Shaarawy, Alexandre Pato, Riccardo Montolivo
Where they could trump Manchester United – In Alexandre Pato, Robinho and El Sharaawy, they have the pace, skill and flair to break through any defence in Europe. They are very good at getting crosses in to the box and are also a threat from set – pieces given the physical presence of their defenders. In addition, Manchester United have been very poor this season in dealing with crosses in to the box as well as defending corners.
How Manchester United can hurt them – AC Milan's defence lacks pace and apart from Mexes, it is also inexperienced when it comes to playing against quality opposition in a competition of such magnitude. Manchester United can easily take advantage of this given their fire power upfront. Also, another chink in AC Milan's armor has been their dismal home form. They managed just 2 points at home in the Champions League Group stage and have already suffered four losses at home in Serie A so far, where as United have been ruthless on their travels this season, having won 7 of their away matches, more than any other team in the Premier League so far (Chelsea and Tottenham are next best with 4 games each)
Prediction – Draw away and a comfortable win at home for Manchester United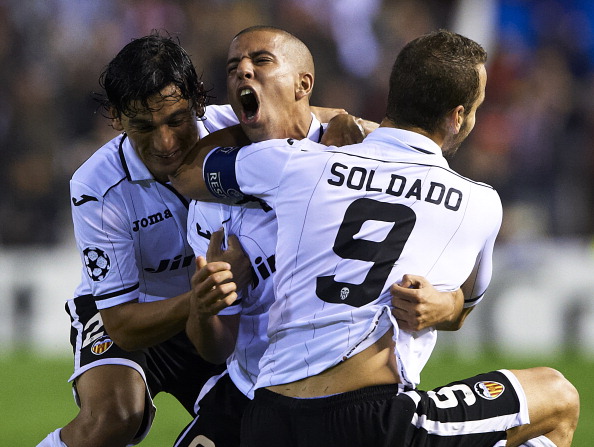 Valencia qualified from Group F after finishing level on points with Bayern but were 2nd best on head to head record against the Bavarian side. On their way to qualification, they scored 12 goals with Soldado their top scorer with 5 goals to his name. However, their run of poor performances in the league has led to the sacking of Mauricio Pellegrino, with Ernesto Valverde being appointed as his replacement.
Key players – Roberto Soldado, Sofiane Feghouli, Adil Rami
Where they could trump Manchester United – Sofiane Feghouli has been sensational for Valencia this season and has already notched up 3 goals in the Champions League this season. Along with Soldado, he forms a potent attacking partnership for Valencia. Also, Valencia have kept 3 clean sheets in Europe so far, which means it might be difficult for Manchester United to break them down.
How Manchester United can hurt them – Valencia have just got a new manager in and they are still in transition period. So it would be difficult to say whether they will be in tune with the ideas of Valverde by February, when the knockouts take place. Also, Manchester United would be looking to put an end to their disappointing run against Spanish sides in recent times.
Prediction – Comfortable win for Manchester United in both the legs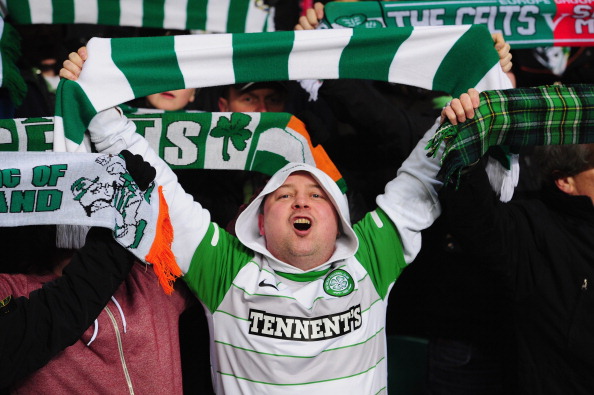 Having been drawn in a tough group against the likes of Barcelona, Spartak Moscow and Benfica, not many expected Celtic to progress. But they rose against the odds and even managed to beat Barcelona 2 – 1 at home on their way to qualification. Celtic is a perfect example of 'Money doesn't buy you success ', as we've seen the likes of Chelsea and Manchester City exit prematurely despite spending huge amount of money on players. On the other hand, Celtic spent only around £15 mn to build their entire team.
Key players – Victor Wanyama, Gary Hooper, Fraser Forster
How they could trump Manchester United – Looking at the current squad, it would be foolish to suggest that they have enough quality to beat Manchester United (Without any disrespect to Celtic). But as Sir Alex himself said after the 1999 Champions League final win, "Football, Bloody hell", we can never write any team off. Celtic's fighting spirit and determination were evident in both their clashes against Barcelona (They lost their away tie with the last kick of the game)
How Manchester United can hurt them – Again, Manchester United's firepower and European experience will come in handy against the Scottish opponents.  They have enough quality to see off Celtic but should however not be complacent at any point during the tie at all. And even if Celtic do defend deep and 'park the bus' like they did against Barcelona, Manchester United have the ability to dig deep and score a goal out of nothing and that makes them all the more dangerous.
Prediction – Manchester United to win comfortably in both legs.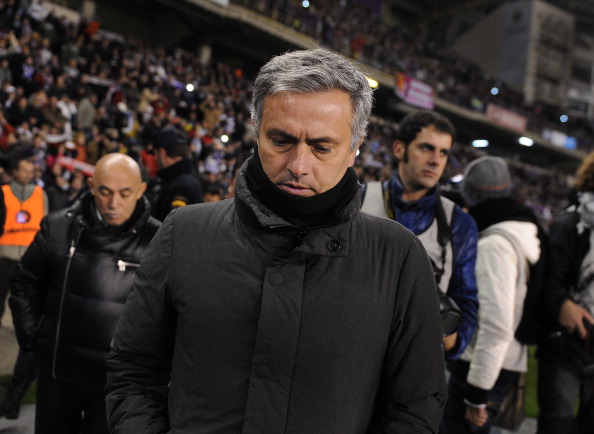 Real Madrid were drawn in the Group of Death alongside Manchester City, Dortmund and Ajax. Though they were expected to top the group given their star – studded lineup, they finished second to Dortmund and were far from convincing in their group stage encounters against the German champions. Their domestic form has also been woeful this season and they are already 11 points off the league leaders, Barcelona. Many suggest that Mourinho is only interested in winning the Champions League this season after piping Barcelona to the LaLiga title last year. Well, we will have to wait and find out how much of that is true.
Key Players – Cristiano Ronaldo, Karim Benzema, Iker Casillas
How they can trump Manchester United – With Manchester United's fan favourite Cristiano Ronaldo now among their ranks, they are a serious threat to any team in the world. Their counter attacks are one of the best in world football and Mourinho has drilled them very well in that regard. It will also be an emotional return for Ronaldo, who is the darling of the fans at Old Trafford, but rest assured, he will be at his professional best during the game and Manchester United cannot expect any favours from him. Another advantage that Real Madrid has is that Mourinho knows the English game very well, having spent 3 years at Chelsea, and is also aware of Sir Alex's tactics and mind games. This might just prove to be the difference that could tilt the tie in Madrid's favour.
How Manchester United can hurt Real Madrid – Just thinking of players like Ronaldo, Benzema, Ozil, Modric, Rooney, Van Persie, Valencia, Hernandez – all playing on the same field gives you goosebumps! With the attacking flair that these two teams possess, it is certainly going to be a high scoring affair. More so, because the Real Madrid defence has been a complete shadow of what it was last season. Though injuries to key players at crucial times have had an impact, it will be very difficult for them to keep the likes of Van Persie and Rooney at bay, if they continue to defend like this. Also, Real Madrid were stifled by Dortmund in both their fixtures against them, mainly because the Dortmund players rarely gave them time on the ball and kept pressing high up the pitch. Though this is something Sir Alex's team rarely puts into practice, the gaffer should seriously give it a thought if he wants to take anything away from the match at all. Another factor that could influence the tie is the fact that Manchester United have that hunger and desire for European glory this season especially because of last year's poor performance, which is why they will go all out in this season in Europe.
Prediction – Real Madrid to win on away goals
So having gone through each of the possible opponents Manchester United could face in the knockout stages, it seems certain that Real Madrid will be the team that they would want to avoid.
Teams like AC Milan and Shakhtar Donetsk could prove to be tricky opponents and Manchester United will have to be at their very best to see them through.
And FC Porto, Celtic and Valencia are the teams that they would want to face realistically so that their passage to the Quarter Finals becomes a bit easier.
But irrespective of the outcome of the draw on the 20th of December, it is obvious that Manchester United will have to face tougher opponents at some stage of the competition, be it in the Round of 16 or the Semi Finals. Can Manchester United go all the way this season or will they face another disappointing outcome similar to the last edition? Well, we will have to wait until May for that.
Until then, enjoy the action from the different European leagues! Cheers!