Chelsea 0-0 Fulham: Frantic but Effective
725 //
29 Nov 2012, 10:00 IST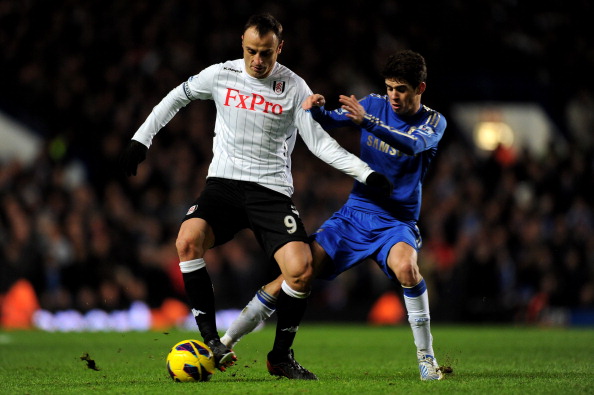 In one of the more tactically exciting 0-0 games (at least the second half, if not the first), Fulham were able to grab a point at Stamford Bridge against one of the better teams in the league.  The last 10 minutes were very back and forth, and Fulham did well to not let one fall in under very heavy pressure. I'll take it.
In the last 6 matches, Fulham have gone DLLDDD. They haven't won since the 1-0 win at home over Villa. They've won 1 match in their last 9. And yet, this one match on its own, it's a good result.
The defense was frantic and required lots of last minute clears that weren't incredibly effective, but did the job.  There were chances on the other end, including a volley that Riise completely flubbed, but I'm not mad we didn't convert.  Getting any points at Stamford Bridge are a positive.
Remember, this is still "survive till January" mode and with all the injuries and depth issues, so it's not the end of the world where we are.  The losses to Stoke and Sunderland were killer, but the situation isn't unredeemable, even though Fulham have now dropped out of the top 10.
The Good:

The center-back partnership- Aaron Hughes in particular, was good, after a few matches where he's been below par. He and Senderos were serviceable today, especially after the last match where the Swiss was an abomination. The wing backs were good too; Riise piled up blocks and Riether was his usual rock solid self.  Good showing without Hangeland.
The senior squad – Karagounis and Diarra were excellent in the middle today, and despite giving way for the final quarter of the match after clearly being winded, they were excellent in slowing down the attacks and allowing the defense time to regroup after each assault.
Hugo Rodallega – I was very impressed with Rodallega's defending.  It was obvious Jol told Hugo he would be needed in the back, and that he would be up on counter attacks.  His numbers shocked me (1/5 clearances), but I thought he looked solid helping out.  His aerial play was great, despite being 0/3 in aerial clearances, and 2/4 in aerial duels.  However, clearance numbers are misleading to me, because a successful clearance will sometimes fall back to the attacking team, but it still helps at least delay the attack enough to stave off the pressure.
The Bad:

The finishing – typical Fulham finishing.  They only had precious few chances in this match, which is to be expected, but they didn't convert anything. Riise absolutely botched Fulham's best chance of the game by almost whiffing on a volley and then losing the ball over the back line after.
The clearing – Fulham defended very well, and cleared very poorly. We could have had way more chances had the clearing been effective in alleviating pressure much quicker.  They're a bit lucky to have not allowed a cheap goal on a failed clearance falling to a Chelsea striker in a good position.
Where from here?:
Upcoming December fixtures are very important.  There are a ton of winnable fixtures that Fulham must take advantage of.  They weren't able to do this against Sunderland and Stoke, they couldn't finish against Reading, they couldn't finish against Southampton.  They've shown today they can hang with a team like Chelsea, so it's time to get a point at home to a surging Spurs, and then pick up 3 points against a reeling Newcastle club, QPR, and Southampton and Swansea at home. They've dropped points in the last 2 months, and it's time to man up. Every club, even the champions, have stretches where they don't play their best.  Top 10 teams learn from their mistakes and in the end use that to beat the teams they should.  That's this time for Fulham. Jol knows it too. More reactions below, but here's the quote that struck me from his reaction, and it pertains to what I was just talking about:
"I am a little frustrated. The team is well organised and created chances against a team that works hard, so you can see us going forward, but still we have to improve…We have the players who can change the game and we need to link with them and do it quicker, but overall I think we are watching things that are positive. We have to play with a higher tempo for the players that we have up front."
Jol's reaction to Chelsea:
On Riise's miss:
"Our shape was good, they had a lot of pressure but we have three or four good chances – nine times out of ten we would have broken them. John Arne Riise's miss was disappointing. I told him that he should have shot across the goalkeeper and into the bottom corner. He covered 80 or 90 yards and not to score was disappointing."
On players returning:
"We had a lot of players coming back; Mahamadou Diarra was playing his first game, Giorgos Karagounis was lacking a bit of rhythm, and we leave here thinking we could have nicked it."